The Best Webinar Microphone Kit You Won't Miss for Your Live Events
Talking about the ways to hold a successful webinar, a lot needs to fit in. There are huge lists of webinar etiquettes illustrating the steps or tips in an attempt of satisfactory webinar performance. On the top of that, the high-quality equipment is the essential and fundamental for all good events. Below we list the webinar microphone kit including the cam, mic and speaker from different price range.
You can choose according to your budget and preference: 
$100 to $200: Logitech C920 + Sennheiser SC 60 (Logitech H800) or Logitech C920 + Samson Meteor + Z150 ;
$200 to $400: Logitech C922 + Blue Snowball (or Blue Yeti )+ Logitech Z625;
Above $500: All-in-one ezTalks Meet Mini or Logitech C922 + GROUP Microphones + Logitech Z625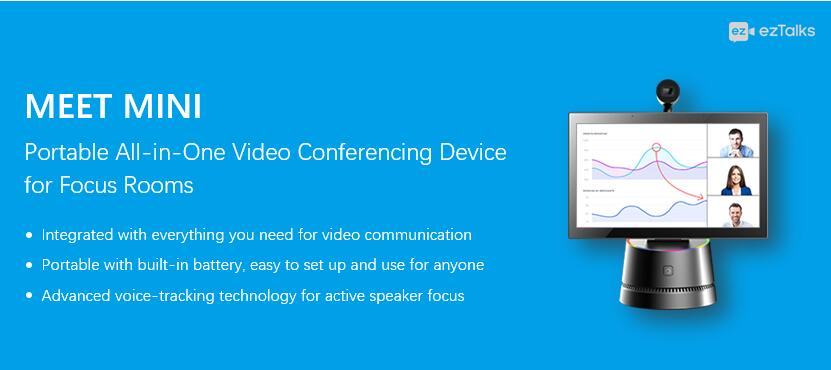 Understanding the necessity for external devices
Many may ask this question: My laptop has all the facilities and why should I spend extra money on extra devices? Yes, you are right, your desktop has all in. But that does not qualify as the professional equipment, especially for large events or live streaming. A good live event requires good delivery of audio and video experience. No matter how attractive you are or how important your topic is, if your video is blurry or audio fails out, the audience will not stay waiting hours for your team to fix the problem! So to make sure you will make the excellent presentation, you need to take the external devices such as webinar microphone, cam or headset.  
Budget from $100 to $200
If you have very low budget for a set of equipment and using it for yourself, the headset is ideal because you only need to buy a camera and headset. It's done! Or you can buy the mic and speaker separately if you like. We have listed the following three options.
Option 1: $119.99  Logitech HD Pro Webcam C920 + Sennheiser SC 60 USB CTRL
We recommend the Logitech C920 ($79.99) not only by its brand but its higg quality. It is most popular camera that professional for conference rooms and large events. It has a camera with auto-focus and digital zoom, delivering high quality video up to 1080p FHD with its glass lens. Although it has microphones to capture sound (quality not good), we still offer the headset from Sennheiser for its great reputation as the best headset for webinars. The SC 60 ($40) is the affordable webinar headset with maximum focus in noisy environments. The double-sided headset offers quality sound and plug and play performance with smooth deployment. This is the best headset for webinars if your budget limited.
Option 2: $152  Logitech HD Pro Webcam C920 + Samson Meteor + Z150 STEREO SPEAKERS
Some people do not want the tight and brain-squeezing headset because it will make them extremely uncomfortable. Then we have sorted this second package for this group. We can use the same cam as in Option 1. The webinar microphone we recommend is the cost-effective Samson Meteor ($53). It is chrome-plated body that includes a fold-back leg to adjust to the optimal position for acoustic recording. This webinar microphone delivers sound and solid audio to your audience and is also suitable for any professional musical recordings. The speaker in this kit is from Logitech. The Logitech Z150 ($19.99) is the stereo speaker that provide clear sound in small spaces. The control is super easy and there is an auxiliary jack on the speaker.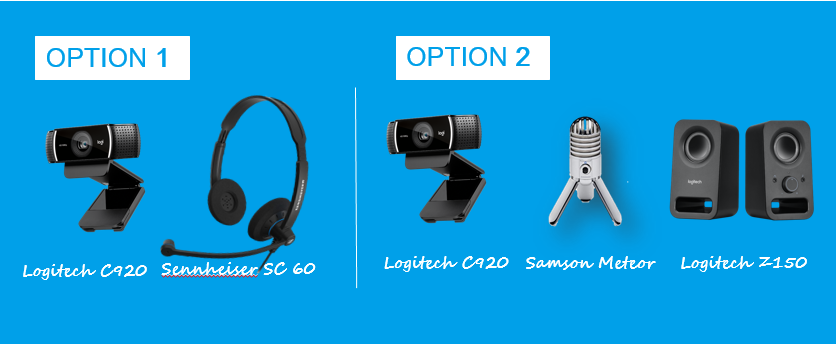 Option 3: $199.98  Logitech C922x Pro Stream Webcam + Logitech H800 Bluetooth Headset
If you need a best headset for recording webinars with high-end quality, you can consider this option. The webinar cam we recommend is Logitech C922, it offers Full HD 1080p at 30fps and 720p at 60fps streaming with superior clarity. With auto-focus and light correction, the C922 adjusts the light conditions to create the HD images even if you are in a dim environment. The headset is also from Logitech with both Bluetooth and receiver connection. You can connect the Logitech H800 ($99.99) to your desktop using the nano receiver and to your mobile using Bluetooth. The headset is equipped with voice technology like noise cancellation for better voice capture and background noise reduction.
Budget from $200-$498
If you get a little more budget, we recommend the below two options. This type of webinar microphone offers more features than the first type. No webinar headset but webinar microphone from Blue and Speaker from Logitech. The voice pick-up range is wider and the speaker gets clearer as well as higher quality. In a word, the audio performance rates higher than the former type.
Option 4: $349.97  Logitech C922x Pro Stream Webcam + Blue Snowball iCE + Logitech Z625
We still use the Logitech C922 in this webinar microphone kit for its great performance in the market. Known as the best microphone for webinars, the Blue Snowball iCE ($49.9) is the fastest, easiest way to get high-quality sound for recording and streaming. The polar pattern is cardioid powered which delivers crystal-clear audio no matter you are at home or in the office. It is also Skype certified. The Logitech Z625 ($199.99) is the THX certified speaker to deliver the gaming grade audio. The RMS power is 200W (peak: 400W) which can deliver crisp voice with most designed bass.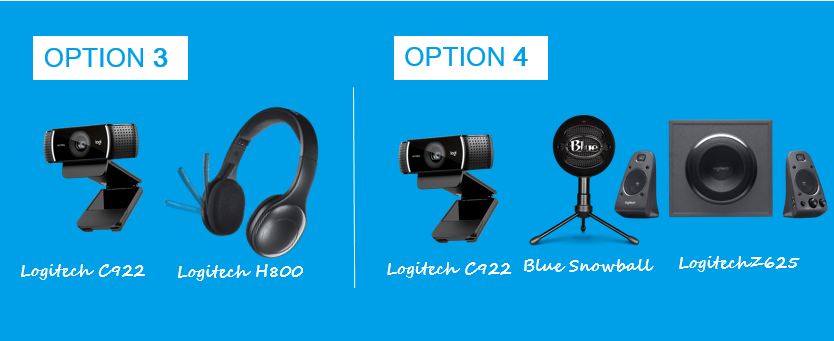 Option 5: $429.97 Logitech C922x Pro Stream Webcam + Blue Yeti + Logitech Z625
This option is the same with Option 4 but we replace the Snowball iCE to Yeti ($129.9). Yeti is also regarded as one of the best webinar microphone for its great popularity and powerful features. The tri-capsule technology makes the studio grade voice. There are four patterns which makes great flexibility for different use cases from professional podcasting to music recordings. This webinar microphone even cover the scenarios that require more than one microphone. Thus this webinar microphone places larger flexibility for your webinar purpose. Whether an individual host or multi-panelist discussions, the Yeti captures your voice clearly without any loss.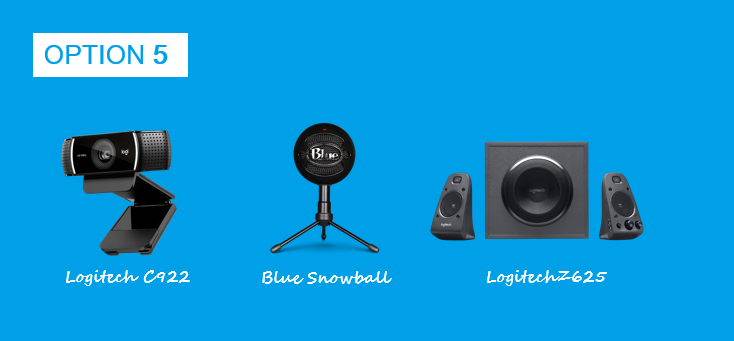 Budget above $500
If you budget is not a problem and only need the best performance packages, you can consider below Option 8 and Option 9.
Option 6: $599  Logitech C922x Pro Stream Webcam + GROUP Expansion Microphones + Logitech Z625
This option is suitable for webinar events in a large conference room. The webinar microphone we choose is Logitech Group Expansion ($299.9), which is the best webinar microphone in large spaces. It can hold up to 20 people in one space and everyone can be heard. The indicator status shows the ON/OFF mode and the Bluetooth connection is also available when the call is on.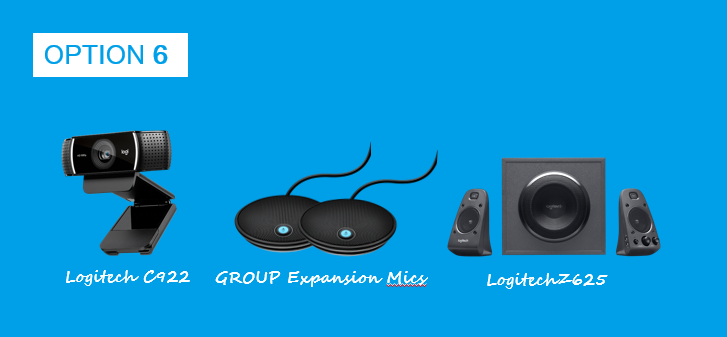 Option 7: $499 ezTalks Meet Mini
This option is the most outstanding by its all-in-one feature. You do not even need a desktop in your room, just a Meet Mini ($499) is enough. It has a cam, mic and speaker as well as codecs like your computer. Nevertheless to say, the audio and video quality are far more advanced than that of the computer. Professional 1080P HD wide-angle camera, two built-in high-fidelity speakers, 5-meter voice pickup mic and automatic voice tracking makes this device the perfect solution in your personal rooms. The all-in-one design delivers super easy installation process. Even your grandma can do it herself.
As listed above, you can choose the most suitable solution for your live webinar event on the basis of your budget. Whatever option you chose, please make sure that it is suitable for your use cases and of course, your budget. With the external devices, your audience will see your clearly and hear your solid voice, which pave the way for your successful webinars!