How to Live Stream?
Live streaming is no longer a novelty nowadays. With the help of live stream software, the potential to reach thousands (or more) of customers with the click of a button becomes a reality. This increases your public exposure while providing viewers insight into your content provided. So how do you do a live stream for an event?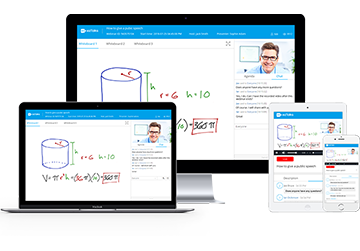 ezTalks- Best Live Stream Software
Free for up to 100 Participants
Fluent HD Video/Audio Quality
Easy Live Streaming
Screen Sharing and Whiteboard
Polls, Survey and Recording
Sign Up Free Now
How to Live Stream?
A good live streaming experience should be guaranteed by an amazing platform which comprises plenty of satisfying features and gives affordable pricing plans. ezTalks Webinar must be the best one to do so! How to live stream for free with ezTalks Webinar?
Step 1 Download ezTalks software which is compatible with Windows, MacOs, Android, and iOS operating systems. Make sure you use the latest version to make the most out of software.

Step 2 Sign up for ezTalks Webinar account. Once your identity has been verified is when you will be able to sign in and proceed further.
Step 3 Schedule your live stream using the 'Schedule A Webinar' icon in the ezTalks account webpage or on the software. ezTalks Webinar also allows you to host the live events without scheduling as well. You can get a free trial version with up to 100 interactive video viewers for 100 mins.
Step 4 Customize your registration page and invite your audience via adding Emails, import from Google or Outlook, or ezTalks Contact. To get higher exposure, you can also share the invitation links to different social media platforms, like Facebook or Twitter.
Step 5 Start your event. Click "Start A Webinar" and then start the live stream. Before the actual presentation, have a test run to make sure that your camera and microphone are ready to deliver HD video and clear audio.
Step 6 With the attendees invited, you should make full use of ezTalks collaborative tools for better engagement including polls & survey, online screen sharing, an interactive whiteboard and instant messaging chat. You can record the live streaming event locally or the Cloud for future reference and wider sharing.
Step 7 After successfully presenting your live stream, to show your great respect and keep them engaged, don't forget to thank your audience for attending your live stream. You can send a 'Thank You' email to your audience and also let them know more about any upcoming events.
Step 8 Do a follow up after hosting a live streaming event. You could ask them if any of your live stream viewers have questions based on the content you have just addressed by Q&A session. You could also gain insight into your events with robust analytics and campaign reporting about the registration, attendees and live stream. This helps you make any future live streaming adjustments.
Bonus! ezTalks Webinar now allows you to monetize your videos. ezTalks Webinar enables you to set up paid webinars via PayPal integration.
Tips on How do U Live Stream
Define Your Purpose
Who
Knowing your target audience will determine a few pieces of the planning process. If it includes an international population, you should take the date and time into consideration-- be sure to think about time zones or holidays that might not be top-of-mind in your home country.
What
Think of what category your live stream falls into and create an attractive and hit title for your event.
Where
Choose the most suitable live streaming platform which is user-friendly and multi-functional. Different audiences use different channels, so you'll want to pick the one that's compatible with all kinds of devices and most likely to draw the crowd you want. ezTalks Webinar can meet your various needs.
Select a Topic
You need to know exactly what kind of content you're going to address. What are the needs of your audience? What are their interests? Depending on your audience and occasion purpose, you have to steer away from topics that might bore or offend your audience. You can break the complex content down to make it easier to understand. Besides, you can use the interactive tools in the software you choose to present your content, keeping your audience's attention.
Test Your Equipment
Before you solve the problem that "How to stream live video?", it's always good to test your equipment. Make sure your camera focuses, your microphone delivers and your device runs efficiently. You can't run a successful live stream if your gear isn't working properly.
Conduct a Practice Session
Before you host the live streaming event, it's advisable to schedule a practice session and ask how do you live stream an event, which drives you to prepare yourself well for the live event and boost your confidence.
Promote Your Event
Social media can be a powerful tool to gain more exposure for your event. You'll have the opportunity to fill in the event's description. Be sure to make it concise but highlighted, as it helps people understand why they should be there.
Follow up the Response
Following up the response by feedbacks and reports reveals a number of things. It shows how much impact is generating and how viewers perceived your event. It lets you gauge whether it has achieved your desired outcome. This can be an important guideline for designing future live stream and for promoting them on social media.
Conclusion
Live streaming is a cost-effective way of interacting directly with your audience. Following these steps and tips will get you off to a good start with your live stream. Obviously, ezTalks Webinar is by far the best on the market. Not only is it free for use to everyone, it also has an extremely streamlined method of providing services to its users.