The 5 Best Webinar Apps in 2019
Using webinar apps not only help generate quality leads for your company but have a lot more to offer. It increases productivity by decreasing the cost and time involved in the traditional training methods. The best webinar applications also help you market your service in your own unique ways. Now, these are some of the benefits of using a webinar app, but using just any app will not likely help you much. You need to use only the best and the 5 best webinar app that you can opt for have been listed below.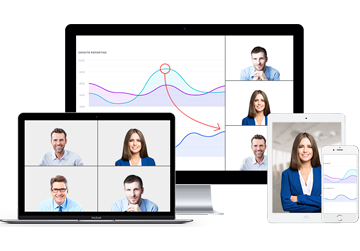 ezTalks Webinar Tool
Free for up to 100 Participants
Fluent Group Video/Audio/IM Chat
Screen Sharing and Whiteboard
Webinar Cloud Recording
Webinar Custom Branding
Sign Up Free Now
1) ezTalks Webinar
Let us begin by learning about one of the best webinar app, ezTalks webinar. ezTalks has been offering services like audio conferencing, rooms, and meetings for quite some time now, and after their huge popularity, it introduced ezTalks webinar.
ezTalks Webinar allows you to share live virtual events with up to 10, 000 audience each session and 100 interactive participants. Each of the registered users is entitled to enjoy a free trial of the webinar service of 100 minutes. Apart from this time limit the other features that you get to enjoy with the free plan are the same that you will enjoy on using the paid plan.
ezTalks allows you to customize your webinar to match your style to perfection, and this is not something every webinar service offers. You can customize the background image, add your brand's logo, and do a lot more which makes the end results more amazing. Also, you will enjoy cloud recording function for further follow-up. So, you can record and store your webinar for review if required.
If there are any new adjustments, the organizers need not individually inform the attendees, as the system will do so automatically. Yet another great thing about ezTalks Webinar is that it is available at very low prices, and thus suits the budget of every company easily.
2) ClickWebinar
ClickWebinar app is among the best webinar app due to the simple interface and is easy to understand. It offers the basic chat and presentation features that must be present in a successful webinar app and also extras like chat-translation abilities. There are slight issues with the breakout rooms and the problem of audio echo, nonetheless, if you need a webinar app mainly for publicity or educational purposes then it will suit you. This ClickWebinar app has the normal tools for inviting attendees and setting up a webinar. You can invite the attendees as presenters so that they get to enjoy some extra features. The app integrates with customer relationship management software so that you can collect leads and integrates with Outlook for contacts and reminders.
3) WebinarJam
WebinarJam app is a flexible webinar hosting app that is used by many industries and businesses for online marketing. This app is suitable for event streaming, webinar broadcasting, and live casting. WebinarJam app supports many languages and allows the users to live stream broadcast to many attendees from any place. The presenters can invite co-presenters or go solo for their live stream events and even highlight each at a time using flexible and dynamic layout controls. Presenters can upload and then playback preloaded videos, share the screen with other presenters, or run slideshow presentations. Furthermore, app WebinarJam offers other interesting features and tools like schedule events, training or sessions, create webinar registration pages, and send automated emails.
4) GoToWebinar
GoToWebinar app kown as one of the best webinar applications by offering a comprehensive webinar service with helpful tutorials and user-friendly platform. Though both the presenter and the participants must have downloaded this app, the great features, multiple languages, and the ease of use that it offers makes it worth it.
As mentioned, GoToWebinar app can host webinars in many languages including German, French, Chinese, Italian, and English. You may set the language in default and can even change it during the meeting. GoToWebinar offers a transitional tool for the webinar as a whole but when you change the language, everything will change, including controls and chat. This is just the one thing you need to be a little careful about.
5) EverWebinar
If you are interested in automated evergreen webinars then EverWebinar is one of your options. This app is mainly for rebroadcasting and many people even refer to it as the on-demand webinars. This platform is ideal for use by medium and small businesses that can boost their sales by taking the existing webinars and replaying them for potential customers and new attendees.
Here you are offered strong automation tools that help you schedule the replay of the webinars that you have already recorded. If you are wondering how it helps you then you need to know that people like live events and pay more attention to them than they would to any recorded videos, and thus this feature does prove helpful. EverWebinar basically offers you the feel and look of the original webcast as many times as you want.
To conclude
So, these are the 5 most popular webinar applications in 2019. Each of them has their own unique features that have been listed above. Now, which one you find more beneficial, and which one you will choose is more a matter of personal preference. You need to list down your requirements and then pick the one that matches it best.