The 5 Best Free Webcasting Software
Some people might be eager to attend an event, but due to reasons such as travel costs and distance, they are unable to make it. Thanks to free video webcast software, events planners can now broadcast their events all over the world. The following are some of the best free webcasting software for online conferencing.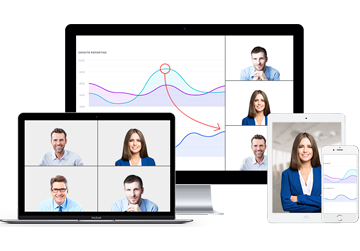 ezTalks Webcasting Tool
Free for up to 100 Participants
Fluent Group Video/Audio/IM Chat
Screen Sharing and Whiteboard
Webinar Cloud Recording
Webinar Custom Branding
Sign Up Free Now
1. ezTalks Webinar
ezTalks Technology, one of the best free webcasting software, is expanding their services almost every day. For those who are not familiar with ezTalks, it is a company known for the incredible web and video conferencing services that they provide. Other than the company's initial meetings, rooms and audio conferencing, ezTalks Technology recently wowed their consumers with eztalks Webinar. Conferencing is easy since no technician is required to operate this software, thus reduced budget. ezTalk Webinar can be used for online classes, marketing events, remote training, sales negotiations and so many other scenarios. ezTalks Webinar has great features too.
Free trial service
ezTalks Webinar gives a free trial service that lasts for 100 minutes. You can hold as many webinars as possible during this duration. The interactions will function normally. The only difference is that you will not be charged a dime within the 100 minutes of trial.
Large scalability
Every webinar session can host an audience of up to 10,000 people from all over the world, with a panel (interactive participants) of 100 people. Interacting with the audience is convenient since the panelist can engage the audience through text chatting, interactive whiteboard, polling and screen sharing.
Can be customized
ezTalk Webinar does not limit you to one style. You can customize the software platform to fit your needs. It is possible to have a background image of your choice; maybe your company logo or any other designed image.
Cloud recording
You want to record a webinar session for later reviewing? No problem! ezTalk Webinar offers a cloud storage to all registered users. For those on the free plan, they get a free 1GB storage. The data can also be shared by sending the link.
Email notification
ezTalk Webinar has made organizer's work easy. Organizers get an automatic notification via email in the case of a new attendee. Also, the organizer do not have to keep updating the attendees about anything regarding webinar since the system will automatically update them through.
2. WebinarJam
WebinarJam is another webcast freeware. The software supports webinar broadcasting, live casting, and event streaming. WebinarJam unifies communication by providing a platform where up to 6 co-presenters are hosted for the broadcast. Some of the key features of this software include.
Ability to invite any webinar attendee during a session;
Users can stream the broadcast on YouTube live and Facebook Live;
The whiteboard helps the users to express themselves better since they can draw or highlight during a presentation;
WebinarJam events are protected by the IP matching technology and the password management.
3. GoToWebinar
GoToWebinar is also among the list of best free webcasting software. It has the ability to host online events on a large scale. This webinar software has the following features:
Attendants can participate in an event while still in motion;
Attendants can view the webcam of the active speaker;
Attendants can raise hands to ask any questions and participate in poll;
It is possible for the organizers to edit Webinars;
Presenters can share the screen of their devices with the audience.
4. ClickWebinar
ClickWebinar is a ClickMeeting webinar product. This webcast software free makes it possible to hold a web conference all around the world. Any webinar event including staff training, sales negotiations, and information seminars can be held through ClickWebinar regardless of the audience's location. The following are some of the features of ClickWebinar.
Companies can customize webinars with their logos and graphics to make the events look more professional;
ClickWebinar has both audio and video conferencing features. This allows you to either hold a conference that you see your attendees face to face or a phone conference where you just hear their voices;
The private chat feature allows you to hold a private talk with an attendee;
Organizers or the person presenting can share their desktop's screen or part of it with the attendees. You will have full control of what to show the attendants; you can put off the desktop screen anytime you want;
Instant chat translator helps the organizers to understand every participant comment regardless of their geographical background. The language translating feature supports 52 different languages. The organizer can also text back the attendees in their different native languages.
5. iMeetLive
imeetLive is a cloud-based webcast freeware that hosts professional webinars for 10,000 people and more from anywhere in the world. The following are some of iMeetLive features:
Attendees do not necessarily need any webcasting software to join in your event. All they need to do is simply click on your URL and join you;
As an event organizer, you will be able to engage your attendees through activities such as polling, surveys, video streaming among many others;
The events are data-driven, making it easier for you to plan for future events from the detailed insights that you get;
An organizer can check the readiness of their network privately in the background before a webcast.
Do not let anything come in between your events. With the webcasting technology, participants can attend the event regardless of their location. The only bridge between you and your event attendants is a webcasting software. Get webcast software free download on Play Store and schedule an online conference right way. Good thing now you have a variety to choose from.