Facts You Need to Know about Audio and Video Conferencing
Communication in today's world comes in diverse forms to facilitate exchange of information and knowledge. The central aim of developing new channels and modes of communication is to enhance ease and productivity. People across nations use audio and video conferencing to connect to other people and achieve personal and organizational goals. These play such an integral role in professional success that one needs to quest for the most convenient and user friendly audio and video conferencing platform such as ezTalks Cloud Meeting etc.
What Is Audio and Video Conferencing
Audio conferencing involves multiple participants engaging in a meeting using telephonic means. The phones used for this purpose vary according to the resources of the organization,nature of the meeting and composition and number of participants. The range of options include hand-held wired telephones that are usually available in offices and homes,conference room speakerphone which helps to address and communicate with several people and individual cellular or mobile phones. Audio conferencing is also referred to as teleconferencing.
An Insight into Video Conferencing
A video conferencing is a form of digital collaboration involving an engagement of three or more participants intended to accomplish goals in smooth and effective manner. Video conferencing is a widely accepted face-to-face communication tool. It has gained popularity in recent times as visual elements such as live presentations enrich conferences and are beneficial for employee trainings as well. Video conferencing allows meetings to be held remotely which greatly reduces travel costs and time.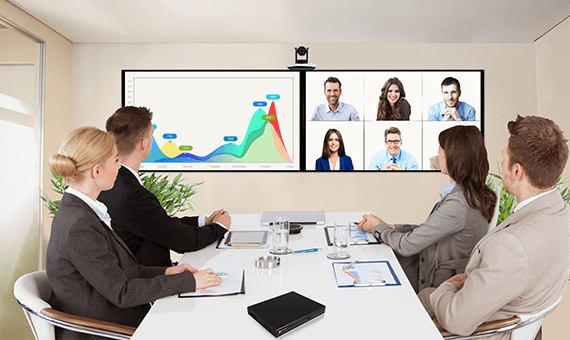 Highlighting the Difference between Audio and Video Conferencing
It's important to understand and contrast these online communication tools to profit from them. Such knowledge helps in their application in real life and aids in deciding the type and form of conferencing according to the format,nature and purpose of the meeting. Enlisted are the main differences between audio and video conferencing:
1. Network
A clear network is essential for audio conferencing via telephone and a high speed internet connection is a prerequisite for optimum uses of video conferencing. Audio conferencing may or may not have the requirement of internet. Broadband is a preferable connection for accessing internet continuously through a well-equipped browser.
2. Ambience
The environment of the people engaging in conference holds more significance in video conferencing. Audio conferences require an environment which is conducive and stimulates thinking and understanding. For video conferencing,the surroundings should have good lighting and comfortable temperature. The conference room must emanate a serious and professional vibe.
3. Technology
For audio conferencing,it is pivotal to invest in a high quality microphone. The speaker should also be of good quality. Video conferences require a significant amount of investment in technology like a computer with a high definition web camera,excellent battery backup,speaker and microphone.
4. Presentation
In case of audio conferences,if the type of the meeting dictates sharing of documents,setting an agenda or providing background information,then these things have to be done in advance prior to the conference call externally via email,hand-delivery,courier etc. Video conferences allow instant content sharing in the form of PowerPoint presentations,word documents or other files.
5. Accessibility
Telephones which are used in audio conferences are widely accessible and participants can join the conference session effortlessly. On the other hand,video conferences are firewall protected and a proper channel has to be followed to join video conferences and share information. Telephones are easy to operate and are present at various locations including office and home. Although,nowadays devices used for video conferences are easily accessible too.
6. Flexibility
Audio conferences are restricted in their usage as video conferencing can be modified to audio-only capacities,file sharing and other options like screen sharing. Some features allow users to engage in instant messaging,ad hoc audio,chatting etc.
7. Cloud Solutions
Cloud Solutions are gaining momentum and recognition as they require low amount of upfront cost and have easy to learn software which is consistently updated and improved to inculcate better features for the benefit of the users. Cloud video conferencing providers like ezTalks Cloud Meeting offers scalability and opportunities for cost reduction,also effective time consumption. Employees have the freedom to work remotely with time flexibility.
In the world of cloud video conferencing,ezTalks Cloud Meeting provides a cutting-edge platform for professional,uncomplicated and high quality video collaboration. The services provided by this innovative venture include:
High Definition video and audio for effective face-to-face conferencing
Game-changing whiteboard to draw ideas using various tools
Instant screen sharing and prompt content sharing of files,documents etc
Cross chatting with an option of public or private messages
Recording and playback to facilitate business on any device
Arrangement and scheduling to prepare beforehand
Control and Management options such as presenter,permit speak,mute all etc
Functional across devices like iOS,android etc.
Conclusion
In this age of surpassing technological limits and boundaries in a flash,adapting and embracing it is crucial. Audio and video conferencing have great application in businesses and aid in the prosperity and success of organizations.