6 Best Screen Sharing Apps for Mobile Devices
Screen sharing on mobile devices have penetrated into our life for the convenience and efficiency. As you can imagine,mirroring your screen or sharing your phone camera with a friend or family member is also something that comes in handy more than you would think. However,the following 6 best screen sharing apps for mobiles allows the remotely placed individuals or groups to see everything that you see,including what you're doing.
1) ezTalks★★★★★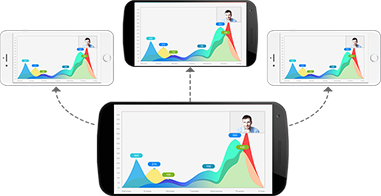 ezTalks-Best Screen Sharing App
Clear and Fluent Screen Sharing
Free for up to 100 Attendees
Screen Sharing and Annotation
Group Video/Audio/IM Chat
Recording and Playback

ezTalks,apowerful screen share app,supports to share your screen and give visual support within a click.It's extremely suitable for those who don't know how to share screen on mobile. Using this software,you can share screen on mobile providing your latest presentations,unlimited files or video clips seamlessly and get everyone on the same page instead of referring to their manual documents or looking for information elsewhere.
Its downloadis available for all platforms including iOS and android for mobile screen sharing.
— Android Screen Sharing
If you have an android mobile device,you can not only be view-only but also lead to share mobile screen or control other mobiles. It lets android users easily share phone screen. For example,you will be able to navigate to any webpage,document,web-accessible built-in browser etc. when broadcasting your phone screen. You will be also able to switch to any of your other apps to show other people if necessary. When you share anything on your phone screen or camera,actions you take in the shared region are visible to others. In other words,if you can see it,they can see it. In addition,obviously,android holders can also enjoy all the resources provided by the content presenters'screen or camera.

— iOS Screen Sharing
If you're an iOS mobile user,you can easily join the screen sharing processon phoneand viewitfor free without cumbersome formalitiesor without any cord or cable. Multi-stream content sharing enables multiple content to be viewed simultaneously including pages,whiteboard and annotation on iOS devices. The whole shared content can be refreshed in real time for better collaboration and brainstorming. Therefore,viewers can be more engaged as they can keep pace with the master device and focus on the up-to-date points.

— Content You Can Share
√ Static document:
Documents prepared in advance can be shared via ezTalks app conveniently. All viewers are able to concentrate on the material (like photos,files,Adobe etc.) being discussed,independently from their own devices with no require to carry many documents or send or drop every document before communication. People can work on documents side-by-side while being located in anywhere in the world as long as you know how to share mobile screen.
√ Dynamic presentation:
In contrast to a static presentation,screen sharing presentation must be much more dynamic to improve the quality of outcomes. The master can move between files and sites easily and quickly,and customize the way to analyze more clearly for different needs. Conspicuously,it's a brilliant method to share animated presentations such as PowerPoint,flash,video and so on,since they will be displayed exactly as you intend them to on your own machine.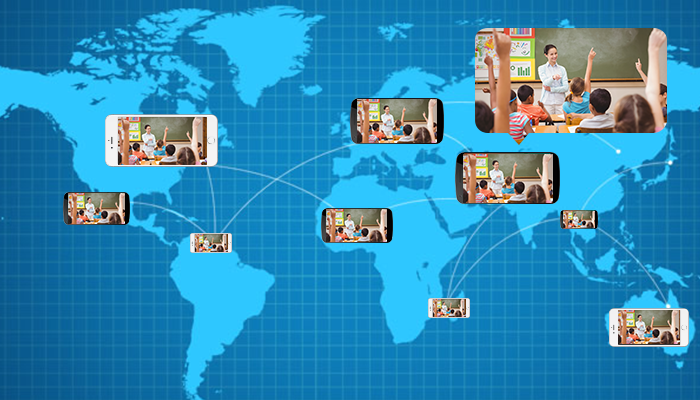 √ Whiteboarding:
When sharing your screen,a whiteboard allows phone users to use ezTalks collaborative tools (including pencils,erasers,highlighter...) to create text,shapes,insert some symbols and even draw freehand drawings in actual time. Viewers can view and follow in line with the exact workings. In this way,screen sharing also allows for easy-to-understand analysis.
√ Phone technical assistance:
Mobile screen share app can definitely satisfy those who may have a disability or questions related to phone technical accessibility,as ezTalks allows users to share their screen,apps or websites in phones if necessary. Users can give or receive technical remote support for mobile devices. Helping friends or relatives out with phone troubles,customer support for phone apps and guiding new phone users are all available.
The content mentioned above is only the tip of an iceberg. In a word,ezTalks phone screen sharing app lets you demonstrate processes and share information in a practical manner,without being physically present or compromising your time or location.
2) Appear.in ★★★
Appear.in holds the first position in the list of top mobile screen sharing apps and there are various reasons to it. The great benefit it holds above other apps is there is no tech hurdles or formalities o be done while starting thevideo conferencing. This screen sharing app needs no logging in or signing up to connect the call and still ensures the good quality. Appear.in screen sharing app is free to use with up to 8 people joining limit on one room. The premium plan offers up to 12 people per room with a reasonable fee of US$12 per month.
Another advantage of using Appear.in is its super easy interface and freedom to use from the browser. However,iOS users need to install the screen sharing app to collaborate and share from their iPhones. Android application is also available to ease the user interface,although it can be used through browser.
Connect and sharing the mobile screen from this app is as easy as pie. You just have to browse to Appear.in,create your room by entering your room name or join an existing room. You can also invite other people to the room by sharing the room name or by invite URL. Screen sharing app also allows you to choose the background and save contacts when signed in.
3) Skype★★★
If you are using Skype for video calls and conferencing,you can also use it toshare your screenand yes for free. Skype offers screen sharing on mobile devices for free worldwide along with its existing features for voice and video calling. An interesting feature while sharing mobile screen with Skype is to chat alongside. Group screen sharing on Skype is also available for mobile,tablet and computer devices. Native applications are freely available to download and use for all desktop and mobile platforms. desktop wallpapers
Sharing your device screen is easy,while on a video call or a conference call,one can select the option to share screen by tapping the plus icon in the call bar,you can also select the screen if you are using more than one screen or in a conference call. Another powerful feature that makes Skype in the list of top screen sharing apps is that the user can choose either to share the full screen of the device or a particular window.
4) Google Hangouts★★★
Another great application to make its position in this list is Google screen sharing app. With its simplicity and performance of good quality calls and conferences,screen sharing feature adds cheery to the cake for Google hangouts. This communication application is completely free and does not have any premium plans for this part. However,Google hangouts limits the number of participants up to ten in a live hangouts screen sharing.
You can use this feature while on a video call on hangouts by tapping the menu icon on the upper right window,the share screen option would be there. Advantage of using hangouts for screen sharing is that you can use your Gmail and Google plus contacts on the go to communicate and share along with them. Google hangouts lets you choose to either share your entire screen of the device or to share a specific application window.
5) Zoom Meetings★★★★
Zoom meetings could be the best option forenterprise videoconferencingand screen sharing. Zoom meetings is a high performance and feature rich options for online meetings at enterprise levels and this makes it secure its place in among best screen sharing applications. Zoom supports full suite of collaboration features,unlimited cloud storage and a maximum of 500 video participants in a meeting under premium plans. Optional and customized add on plans are there for enterprises to choose a plan according to their needs from full suite of collaboration features.
6) Join.me★★★
Whatever is on your device,apresentation,a flip book or a graphic animation,join.me claims to make it ridiculously easy to share among other devices. With its native application support for all mobile devices and competitive features like video conferencing and white boarding,it is proved as a fine option for collaborations and sharing mobile screen. Joining a meeting in this application is extremely easy by just entering the meeting code without requiring log in. The free plan in this application is limited to only 3 participants,the premium plans offers competitive features in affordable prices.
Conclusion
For larger enterprises involving heavy and frequent collaboration meeting or video conferences,ezTalks and Appear.in is the best phone screen sharing applications. Zoom Meetings can be used for powerful,secured and unmatched collaboration features with a freedom of customized plans. For personal and infrequent collaborations andonline meetings,Skype and Google hangouts can be used which offers limited features while screen sharing on mobile and other devices. Medium size enterprises can opt for Zoom meetings for competitive features in affordable plans.