How to Live Stream Online?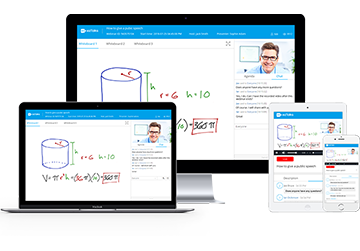 Best Live Stream Online Platform
Free for up to 100 Participants
Fluent HD Video/Audio Quality
Screen Sharing and Whiteboard
Polls, Survey and Recording
Rebranding and Paid Live Events
Sign Up Free Now
Your big presentation is in a few days and all the top brass from the head office are going to be there. This is your time to shine until you receive that dreaded email from your boss saying the CXO's won't be able to make it in person and you'll have to stream live online your entire event. This might be a nightmare scenario until you meet with ezTalks Webinar, the incredible software that helps to host a live event online as easy as pie.
How to live stream online?
Choose Your Online Streaming Platform
There are plenty of platforms you can use for your streaming needs. ezTalks Webinar tops the list of most popular webinar platforms. You don't need to worry about where to live stream and how to live stream online. It's an intuitive platform that allows for interactive live streaming of your entire online presentation. You can enroll for a free plan where you don't even have to provide your credit card details to use the livestreaming online platform.

Set up Your Equipment
If you plan to use your camera or other handheld devices, make sure to have a tripod on the ready. If your arms are sore less than halfway into the event, it will not only lead to a poor live stream online, but you'll end up with a bad case of limp hands. Apart from the camera and tripod setup, you'll want to have a few microphones handy. Place them center stage so your guests can not only see what's happening but hear crystal clear sound from the event. 
However, with ezTalks Webinar, you can do a live stream online with merely your device that has a built-in camera and microphone without a technical headache.
Plan Your Event
Both scheduling and inviting process are important. Choosing the right time for your live event can be the fundamental step to make a given presentation successful and have a huge effect on its efficiency. Besides, you'll want to know who you'd like to invite beforehand so keep the invite list handy. ezTalks Webinar allows you to schedule the live event according to your expected time zone. It also lets you invite up to 100 participants and 10,000 audiences to attend the live stream online via links, emails and ezTalks Contacts. For more reach, you can share links on different social platforms.
Test Your Equipment
While your video feed will be the most crucial, it's also one that will most likely run without a hitch. What you need to worry about is your audio feed. Having a few extra microphones handy during the day of the event won't be a bother. Also, a rookie mistake is to not charge your devices. It's happened enough times for us to know what we're talking about. If your livestreaming online equipment runs on batteries make sure to have plenty around as backups. 
Another facet of the online live stream you need to consider is the network speeds. Choose your live streaming provider wisely and keep testing your network speeds throughout the day to make sure there are no lean periods.
Luckily, ezTalks Webinar helps you out with no need to worry about a series of problems. It not only provides high-quality video and audio with high performance, but also adjust its resolution automatically according to your internet condition.
Engage Your Audience
Different live streaming platforms have different features that help to engage your audience. ezTalks Webinar allows people to be a part of the activities with access to high-definition audio and video collaboration.
Besides, you can easily share your presentation or whiteboard on your screen with your audience, have text chat privately or publicly, conduct polls & survey, etc. The whole live streaming event can be shown in various ways. For future review or sharing of your live streaming event, you can also use ezTalks Webinar built-in recording feature.
Make A Test Run
A few days before the actual event it would be great if you could get around and doing a test run of your show. Remember the eyes of everyone you've invited will be glued to their screens and you don't want a mishap. Also, a test run ensures that you have all your ducks in a row for the big day. The person who is responsible can know its task and what they need to do in every eventuality.
Follow up the Live Event
Do a follow up after live event hosting with reporting feature that some live streaming platforms like ezTalks Webinar have. It shows how much impact is generating and how many registers/participants join your event. It lets you evaluate more accurately whether it has achieved your desired outcome. This can be an important guideline for improving the upcoming live events.
Step-by-step Guide to Livestreaming Online
Again, here are some basic items you will need in order to stream your event online:
a) Video Camera (A high-quality camera phone will also do in most situations.)
b) Internet Connection
c) Streaming Platforms
Conclusion
We hope this guide has helped you set up your own stream live online session. If the tasks seem daunting, give it a try and you'll realize how easy it all actually is. What makes it an even smoother process is using the streaming platform ezTalks Webinar which practically does most of the work for you. We hope you have a better streaming experience!