4 Advantages of Video Conferencing in Business Communication
It goes without saying that communication is vitally important for the development of enterprises. Good communication helps improve employees' work performance and enhance the team power,so as to improve enterprises' cohesion and competition to ensure enterprises' lasting and healthy developing. That's why many enterprises strive to improve internal and external business communication.
For cross-regional and multinational enterprises,it's much more difficult to make business communication effective,after all traditional business communication,like conference calls,is not so convenient and intuitive. In this case,they turn to use video conferencing in business communication. With video communication,enterprises can connect employees that spread around the world face to face in real time. In this part below,we'd like to tell you the advantages of video conferencing for business communication.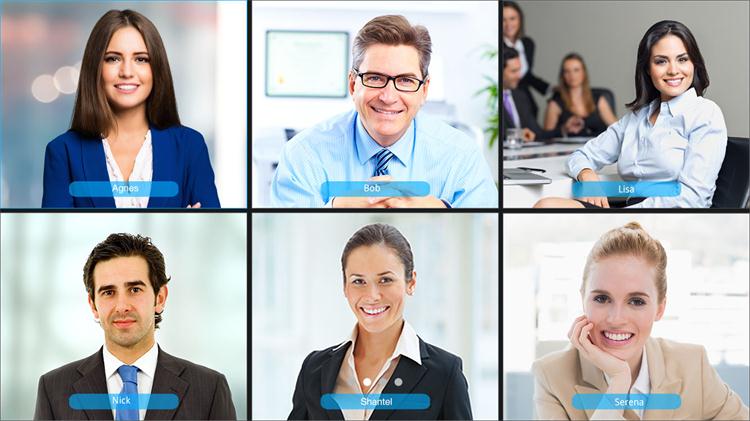 Advantages 1: Face to Face Business Communication
Video conferencing makes remote business communication much more vivid,colourful and intuitive. It gathers employees and you in a virtual meeting room,where you can see the other attendees and listen to them,just as you were in the same meeting room. You can easily keep an eye on the body languages of other attendees,like expressions and gestures to help you better understand what they express.
Advantages 2: Make Business Communication Orderly and Efficient
As you see,when you gather employees in one place and make a presentation,they probably can't help whispering under the table or getting in a word suddenly,resulting in noisy and chaotic and even inefficient business communication. With video conferencing,you can avoid such situations.
Video conferencing gives you the ability to authorize the roles of host,presenter,and attendees. When the presenter speaks,you can easily mute others to ensure a good business environment. Additionally,it empowers you to lock the virtual meeting room to make sure nobody will halfway rush in.
Advantages 3: Allow to Interact with Content Sharing
Another advantages of teleconferencing in business communication is that it enables you to share content with employees,like desktop,interactive whiteboard,files,software and more information to help you well understood. In this way,business communication will become much more productive and effective.
Advantages 4: Enhance Relationships between Employees Scattering around the World
For cross-regional and multinational enterprises,it's not an easy thing to build a good relationship between employees that scatter around the world. After all,long distance makes frequent face to face communications a tough thing.
Thanks to video conferencing,now they can effortlessly meet and communicate with each other face to face at any time from anywhere. Lots of video communications finally do a favour to enhance their relationships and improve collaboration.
Business communication is a key to make cross-regional and multinational enterprise stay competitive. Video conferencing helps remove business communication barriers and make business communication easy,vivid and productive by letting employees located in various places to see facial expressions and body language,and hear voices. Therefore,it's a must to have video conferencing for business communication,especially when you do business around the world.