Best Time to Have a Webinar
Why some software like ezTalks Webinar supports different time zones when scheduling a webinar? Actually, no matter how great the content of your webinars, the time you hold webinars and how long are webinars will still affect the traffic flow and impression.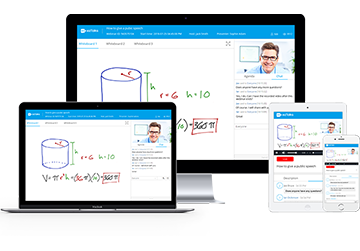 Best Webinar Scheduling Tool
Free for up to 100 Participants
Easy Scheduling with Time Zones
Fluent HD Video/Audio Quality
Screen Sharing and Whiteboard
Polls, Survey and Recording
Sign Up Free Now
What's the best time to have a webinar?
Choosing the right day and time for your webinar can be the fundamental step to make a given webinar successful and have a huge effect on its efficiency. Like any variable in marketing, the best time to host a webinar will depend on your audience.
★ Zones
It's important to keep time zones always in mind when planning your webinar time. Which time zone/zones do your audience live in? If you target an international or nationwide audience, find out the time zones when the highest proportion of people will be able to attend your webinar. After all, it's hard to pick a time that accommodates all time zones and meet all of their temporal demand when the target audience covers a vast area.
Two ways are available here to help you out.
Way 1 Do Experiments Yourself 
To maximize registrations, conduct experiments with different time zones, compare audience rates and conversion rates and finally tweak your timing accordingly. Never forget to choose a reliable webinar platform that has flawless time zones and scheduling feature and is well worth your time to research. You'd better do this step by virtue of ezTalks Webinar free services with 100-minute duration, enough for your experiments.

Way 2 Make Use of Related Surveys
According to most of related surveys, 11 a.m. Pacific Standard Time was when webinars have the highest attendance rate, as it's the most convenient time for the largest chunk of our audience across time zones. As a rule, 11 a.m. to 2 p.m. are the best time to hold a webinar. But the lunch hour should be also taken into consideration if possible.
★ Day
Here comes the long-standing mistaken idea that the best day to do a webinar is Saturday or Sunday, as most of the people don't need to go to work and have time to join the webinar. In fact, Thursday is the big winner here while Wednesday and Thursday are close behind. Why not choose Monday or Friday? Both of them tend to be the busiest days of the whole week and it makes sense to avoid them intentionally. Also, midweek is the best time to send webinar invites to your potential audience.
★ Time
In view of conventional wisdom, it's the best time to do a webinar at dusk as people are off-duty and free. However, webinar statistics show that either 10 or 11 o'clock in the morning is the best time of day for a webinar that people prefer most. It is a good idea that if you run a series of webinars, you can prepare polls & surveys and ask your audience what time they prefer to join a webinar. This is very likely to be true for others who might join your webinar, too.
How long should a webinar be?
Too Long or Too Short?
Whether it is too long or too short, your webinar could be destroyed. That's why we should take this problem seriously. Lengthy presentations will definitely get boring even if the material is not. Of course, you do not want to bore your audience but leave a good impression on them. However, if you make your webinar too short, you will fail to properly present your products, services or ideas to your audience.
How Long Are Webinars?
In general, the best webinars should last between 30 and 60 minutes. Want a more accurate figure? As recent observational reports show, on average, people will actively view a webinar for 55 minutes before dropping off. However, does it mean your webinar must be 55 minutes? And any longer is too long? To some extent, it still depends on the content you're presenting during your webinar session.
As we know, a good webinar is not recommended to lack for interactive approaches, such as screen sharing, whiteboarding, instant messaging and so on. When you plan a webinar, you should consider how to allocate the webinar time reasonably in advance.
The Bottom Line
Ultimately, there is no hard and fast rule about what's the best time to have a webinar and how long are webinars. All you should do is to prepare your upcoming webinar well and this must be a stepping stone for your successful webinar hosting.
GDMHSVNB112745830