ezTalks Live Video Conferencing Equipment Introduction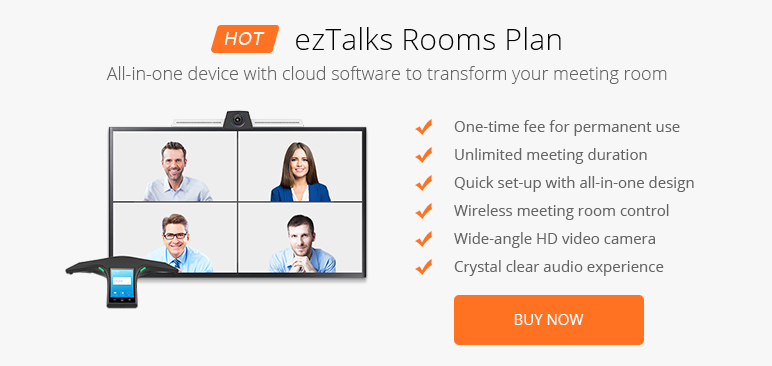 The old in person conference waste people more time and money on the travel and new meeting associated technologies came like video meeting technology. Sadly,the expenses of early video meeting platforms were limited for large number of organizations. As video meeting technologies continues to develop,lots of affordable video conferencing equipment has arrived to the field.
One of the best HD live video conferencing equipment is Onion that is developed by a popular free video meeting software provider in the world---ezTalks Technology Co.,Ltd. ezTalks is a leader in online conferencing market,who creates the meetings cost effective and productive. Today,we will introduce the portable and affordable all-in-one video conferencing equipment---ezTalks Onion,and listed below are main features and characteristics of the device.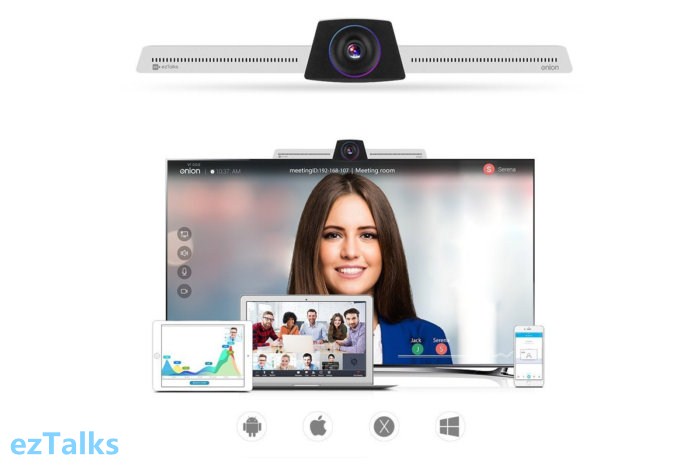 Easy to Use
ezTalks Onion is a 1299 dollar HD video meeting tool that guarantee to create video meeting easy. Combined with dedicated hardware and software,it is an all in one equipment made for live conference room. Simply keeping it on the top of a TV or computer,you can conduct a face to face online conference with people in individual places,for the reasons of integration and collaboration in actual time. It is an all in one tool with cloud oriented software and designed in HD video meeting camera and best quality microphone speaker,therefore you can obviously see and hear participants voice at the time of meeting. It is simple for you to place the conference room in few minutes with this equipment.
Great Features
ezTalks Onion is combined with strong video meeting software for the live conference call. Along with HD audio and video,the software even offers different excellent features like file and screen sharing,interactive whiteboard,recording and playback,user management,live chat etc. Plug ezTalks Onion in the current and switch on. Ensure the network connection is good through plugging it in to the network or utilizing wireless networking. Now put it on the top of the Television or computer in the room. Download the software and install it effectively in the laptop or personal computer. The software has the ability with windows and Mac. You could receive the recent model of the software in the market.
Ideal for Virtual Meeting
Open the software and select Onion facilitated option. Input a nine digit Onion ID,you can begin a video conference with ezTalks Onion. Remember to invite others to the online meeting through sharing the link or the meeting ID. This software is perfect for live conference rooms which are more or less 20 square meters. It needs only few minutes to begin a conference with this software. The product possess dynamic conference control features like annotation and whiteboard,screen and file sharing,live chat,video recording and lock meeting. Users can also easily connect to other businesses,it does not matter who the partners or clients are. It is so easy to deploy the online meeting system for businesses which possess international offices.
Fulfill Remote Communication
Among the different products available in the market today,ezTalks Onion is a solid one. To complete the huge production of the creative all in one equipment tool,the product has been contributed by a crowfunding program on indiegogo. The ezTalks organization is a company with over six years of experience in the field. The firm has already introduced two video conferencing living meeting software like ezTalks Cloud Meeting and ezTalks VCS. They are committed to satisfy small and major corporation's remote communication needs all over the industries. This equipment focuses to alter the present cost structure of video meeting products. The present price design for video meeting solution is fixed by conventional companies such as Cisco,Polycom and Zoom.
Affordable and Simple
Professional video meeting solutions and telepresence technology must benefit the job of all normal people. Rather than difficult products,big investment and the requirement of IT support for conference rooms,ezTalks Onions product is cost effective and easy to install like the digital products. With its clever features and best design,this product is particularly structured to lower to an unpredicted affordable level the threshold of making a room for video meeting. It provides about sixteen streams of HD video and audio for best quality online meeting by live broadcasting and Television to users from all parts of the world using any tool. By having 120 degree area of view,the camera is able to take the full room hence that everyone can be viewed in the room.
Firms that possess traveling staff members who want to get job performed on the move may see that the communication obstacles can be removed,thanks to the ezTalks Onion. This system provides an in person meeting private atmosphere mixed with a phone communication facility. When it can guarantee trustworthy video and audio,this may turn out to be a fresh niche market for developers of online meeting software and hardware solutions. More and more companies are turning in to ezTalks Onion product to conduct a video conference in a firm.