How to Improve Communication and Collaboration in the Workplace
In today's world,technology is thriving. Consequently,very few companies house their employees all in one place. This makes communication & collaboration among all the team members challenging regardless of their location. However,collaboration and communication are extremely critical when it comes to the success of the business because it sows the seed of innovation.
Why Is Collaboration And Communication in the Workplace So Important?
Communication in the workplace is critical. For instance,it facilitates the flow of ideas within an organization. An employee in one workplace can share a new administrative system with an employee from another workplace. Communication is also vital because it helps in building the team as a cohesive unit. Employees will understand each other,so that they can do more for the organization and its stakeholders.You should note that employees communicate so that they can collaborate on various projects. Without collaboration,the organization falls into disarray. That means collaboration is the glue that holds the organization together. Individual team members collaborate on the tasks assigned to them,departments collaborate when it comes to achieving organizational objectives,and the company collaborates with its stakeholders when addressing pertinent issues in the industry.
How to Improve Communication And Collaboration in the Workplace?
• Encourage Social Interaction
One big obstacle to business collaboration is that teams are usually made up of employees who do not necessarily work together regularly. Collaboration can be quite hard when employees do not know each other. As a company,you should create ways that encourage interaction among each other. A company hosts event will be a great idea to get employees to warm to each other. When the time comes to work together,the collaboration will be easy. You can also encourage team-building games that will teach employees' problem-solving skills,trusting their judgment and communication skills.
• Use a Team Collaboration Software
One of the best ways you can improve communication and collaboration in the workplace is by using a team collaboration software. While collaboration in person can be ideal,it is not always possible for team members to be at the same place at the same time. Some of them could be traveling,working in a different office or even on a different floor. The software will help content sharing through documents,videos,and videoconferencing. This software will bring employees from different departments or different locations together in a way that will otherwise be impossible.
One of the best software you can use for team collaboration is ezTalks Cloud Meeting. It is a cloud-based video conferencing software and it offers your employees one single platform that will make professional communication and team collaboration online easy. Hostig an online meeting for communication & collaboration with this software will be relatively easy because once you send a meeting invitation,your employees will join you in no time.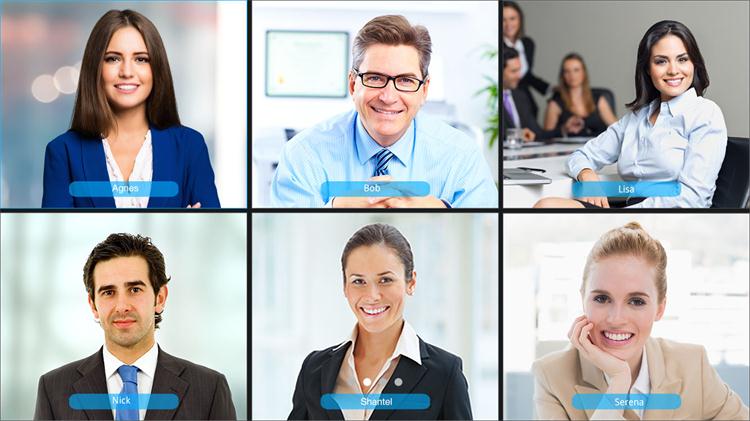 Key features:
• Allow for collaboration for up to 100 participants for free,and up to 500 participants with Paid plan.
• Super HD video and audio quality for face-to-face enterprise communication and collaboration
• Bulit-in online whiteboard tool
• Real-time group and private chat
• Supports Windows,Mac,iOS and Android-based devices
• Screen sharing and annotation
• Record online meetings and playback
• Inspire From the Top
The company leaders and managers should lead the rest of their employees. For instance,instead of just sending mass emails,a manager can decide to use communicating software. This will open up new communication lines and inspire the employees to follow in those footsteps.
• Streamle Goals
Lack of company goals is one of the reasons for employee retention. Employees might also leave a company if the goal or picture is not clear. However,when you break down the communication barriers,employees are likely to reach out with some valuable suggestions as well as feedback on what they feel about those goals and they will work even hard to accomplish their role in the end game. In the process,they will have to communicate with each other as they work toward the accomplishment of those goals.
• Allow Privacy
Public open spaces with shared desks and no door are great. However,they can stump creativity and innovation. You should have some private huddle rooms where teams can meet and brainstorm together without any distractions of the fear of being too loud.
• Diversify Your Workplace
Great ideas come up when employees have collision or unplanned interactions. When you diversify the workplace setting and the workspace,there will be more creativity. Moreover,there will be more energy. Finally,there is a greater likelihood that the employees will achieve their obligations and come up with great ideas.
Conclusion
In addition to all these tips for effective communication and collaboration,you need to make collaboration information readily available. It will not be easy for employees to collaborate if the information they need in order to contribute is not available. You can use cloud-based software where you can put all your files together where it will be accessible to everyone. Use technology to make communication and collaboration easy for everyone in the workplace.