Compare WebEx vs GoToWebinar
The Internet has brought about radical changes in the way in which people conduct their business and also the way in which they communicate with one another on a regular basis. Today the internet with the help of various online meeting software has become an integral part of business communication. If we look at the internet,we can come across dozens of online conversational and other tools which make businesses more effective,productive and profit oriented. Amongst many such solutions,names like WebEx and GoToWebinar are considered to be popular and very useful. From the customers' perspective,it would be worthwhile to have some basic knowledge about the above two software packages. We will review both the software solutions so that customers can take an informed decision based on facts and figures.
What Is WebEx?
WebEx is online software which allows end users to conduct online meetings. Anyone who has a reliable internet connection can make use of this facility. It can work quite well on desktops,laptops and even on mobile phones. It has the capability to be used for audio,video and other graphic modes of communication. It also allows sharing of common applications like Word,Excel,Power Point and a few others.Amongst other facilities,it also allows any attendee to take control of an online meeting or conversation which makes it dynamic and customer friendly. Using VoIP and other internet protocols,it is possible to share online audio files and also live conversations. Further,the software also supports online video conferencing with help of webcam and other hardware/software support systems.It is perfectly suitable for small business houses,home based entrepreneurs,and others who are operating businesses on a micro level. It could be ideal solution for demonstrating a product,making a sales presentation,holding a press conference or webinar and also for conducting online training.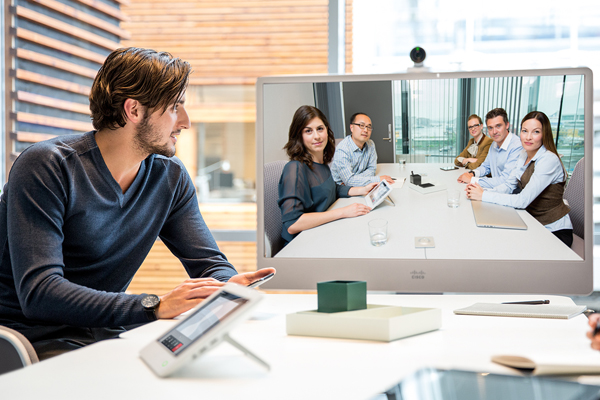 What Is GoToWebinar?
Like ezTalks Meetings,GoToWebinar is also another online conferencing tool,which over the years has become quite popular with thousands of customers.
Coming from the house of Citrix Online,GoToWebinar is a web conferencing tool which helps business houses of various sizes to organize and conduct online meetings,events and other such happenings efficiently,productively,safely and securely. It has some of the best intuitive interfaces which can help connect up to 1,000 attendees at any given point of time. It has a number of other features like screen sharing,free number options,built in audio as well as VoIP facility and much more. It also has the facility of allowing guest panelists for such webinars and conferences. HD video conferencing facility is also available. On the whole it is a perfect mass communication tool for small,medium and even large sized businesses. It can offer end users the best of reporting tools which adds quite a bit of value to customers.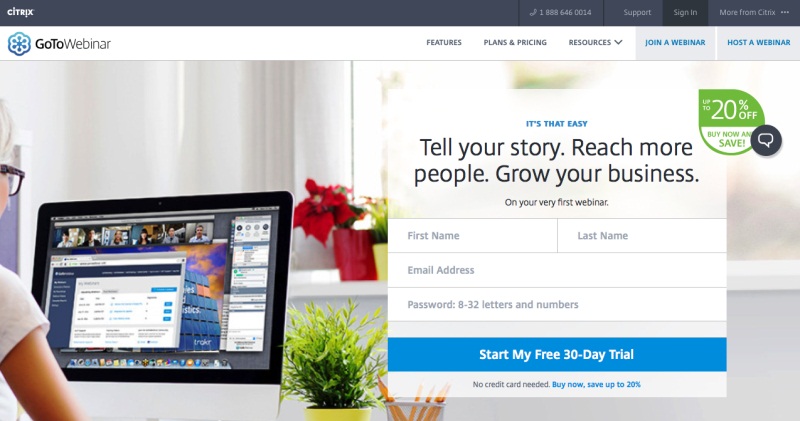 WebEx vs GoToWebinar – Which To Choose?
Given the fact that both the solutions have identical functions,learning more about WebEx versus GoToWebinar would certainly help customers to understand the software from the right perspective.
End Users:
As far as end users are concerned,WebEx basically caters to small businesses and home based users. On the other hand GoToWebinar,apart from catering to small enterprises is also suitable for medium and large scale units. This is basically because GoToWebinar has the capability of accommodating around 1,000 attendees at any given point of time. Therefore GoToWebinar has a larger usage base when compared to WebEx.
Pricing:
WebEx is perhaps more cost effective and affordable because it caters to small and micro business organizations. Many home based entrepreneurs consider it to be extremely beneficial as far as value for money is concerned. On the other hand GoToWebinar is perhaps expensive because it targets the higher end of customers who have much bigger requirements. However they do have specific packages for small sized home based operators.
Ease Of Use:
Both the above video conferencing tools have earned a good reputation as far as ease of use and customer friendly attributes are concerned. However,when we look at a larger sample size of customer reviews there are reasons to believe that GoToWebinar could score better from the ease of use perceptive. This is because many customers feel that set up,admin features and post-sales support and services are better in case of GoToWebinar. However on other parameters both of them are equally good.
Areas Of Usage:
There is hardly any doubt that when it comes to versatility in areas of usage,GoToWebinar is perhaps a much better choice. This is because it can easily cater to a wide range of applications. It is best suited for education and training,higher education,health care and hospital,computer software,information services and technology just to name a few. On the other hand WebEx is considered to be a good choice for financial services,online education and a few others. The biggest advantage with GoToWebinar is the fact that it offers almost 1,000 attendees at any given point of time. It also permits the participation of guests and others who are not part of the group.
Reporting:
Any online conferencing and webinar solution is judged by the kind of reporting that it is able to generate. Many customers and critics are of the opinion that GoToWebinar has a more robust and strong reporting platform. It allows reports to be viewed on the screen and also reports can be exported to other common applications.
Conclusion
Going by the various product features,customer feedbacks and critical reviews,there are a few things which stand out. Both WebEx and GoToWebinar have their own unique strengths and attributes. Startup companies,home based business houses and micro units have many reasons to find WebEx the right solution. It is user friendly,has some exciting features and most importantly is cost effective. Startups can use this software for a few dollars which offers them good value for money. On the other hand GoToWebinar is feature-rich software and it certainly is suitable for large sized organizations. It can accommodate almost a thousand users. It also has quality reporting and customers support facilities.