Best 8 INXPO Alternatives
Webcasting is becoming an increasingly popular option, as various types of free live webcast software let event planners broadcast events over the internet, helping you capture more audience, both in person and remote. Here, we will show you INXPO reviews and best 8 INXPO alternatives.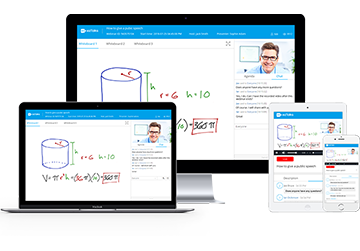 Best INXPO Alternative
Free for up to 100 Participants
Fluent HD Video/Audio Quality
Fluent Group Video/Audio/IM Chat
Screen Sharing and Whiteboard
Recording and Paid Webinars
Sign Up Free Now
INXPO Reviews
INXPO with famous webcasting services offers a versatile and high-quality do-it-yourself platform for various events. It has great recording and editing capabilities and has become more mobile-friendly so that listeners can enjoy smooth events with the help of diverse INXPO features from any web-enabled device.
Cons
INXPO pricing plan is expensive.1,000 attendees can cost upwards of $500 per month. It only provides 30-day free trial and you should fill in lots of information including company name when you sign up.
If you look forward to the best INXPO alternatives, here are some which embody more competitive features. 
Best 8 Alternatives to INXPO
1. ezTalks Webinar
ezTalks Webinar is a popular webcasting platform that has gained massive traction around the world. Using this service, you can construct webcasts for company announcements, host meetings effectively, offer online training or courses, roll out products and much more.
★ Free & User-friendly
• Both free download and free sign up are available. It can add up to 100 participants with 100 minutes in a webcast at no cost permanently.
• You can just use your email address to sign up easily. Simplified login from Facebook or Google account means that users never have to worry about forgetting that password.
• The tidy interface enhances the viewer experience by navigating them to each kind of function.
• It has 1 GB cloud storage for cloud recording for free.
★ Interactive
• Interactive tools via HD video/audio such as screen sharing, interactive whiteboard, Q&A, polling, and etc. can keep your audience engaged during the whole program. They enrich the modes of live presentation.
• Live chat feature enables each one to chat with a single participant or all participants during the webcast under the host's approval settings.
• Real-time reporting and analytics dashboards give you the data you need to maximize the effectiveness of your webcasting programs. This helps you analyze your webcasting activity and know how to improve next time.
★ Effective
• ezTalks Webinar allows to schedule your webcast, rebrand your product or service, custom webcast registration page and design invitation email and thank-you page.
• It offers local recording and cloud recording. The event can be recorded and stored for review and sharing if necessary.
• It is an excellent way to earn profit directly with webcast for business organizations and personals with its "Paid Webcast" function.
2. iLinc
iLinc is one of the INXPO competitors that manages online events. It also offers attendees free internet audio and easy login access. You can interact your audience with instant poll & survey tools as well as Q&A session. When your event has to go flawlessly, you can enlist iLinc for full event management and best practices consulting. But after paying for this software, you can host events with only up to 1000 participants. Besides, according to most of the INXPO reviews, its official website is a little obsolete, which affects the user impression.
3. Webinars OnAir
Webinars OnAir is a platform that enables video webcast hosting through Google+ Hangouts. Once you have activated the Webinars OnAir application, you are able to create polls, chat with attendees, allow for questions & answers, doodle and share your screen. Webinars OnAir also has several control tools for managing users and controlling the progress of a live webcast. Users should note that it only provides the free trial chance for 30 days.
4. Spreecast
Spreecast is among the alternatives to INXPO which seeks to bring face-to-face interactions to the Internet in a far-reaching way. It doesn't require any software downloaded or integration with a specific platform for people to use. You can connect with different people for video chats on screen, while others can watch, chat and participate by submitting comments as well as questions and sharing across social networks such as Facebook, Twitter and LinkedIn. But disappointedly, it has been shut down on July 14, 2016.
5. InterCall Webcast
InterCall brings the power of webcasting and virtual events within your reach. It allows you to create and deliver high-impact live and on-demand virtual presentations, contributing to increasing audience activeness. Features like polling, rebranding, scheduling are also available. Besides, you can enjoy more robust features like automated confirmation, attendee behavior data reporting, thank-you emails that can drive attendance as long as you pay for the relatively expensive pricing plan.
6. ClickMeeting
If your events involve onboard training, enterprise marketing, negotiations or sales, ClickMeeting can be one of the best INXPO alternatives for webcast you may need. There is an automated step-by-step guide that instructs you on every single step you have to take when creating your first webcasting event. Simultaneous chat translation enables instant Google translation of your chat conversations. While it is not a suitable option for those who intend to conduct a webcast with more than 25 participants at a budget-friendly cost, as the cheapest pricing plan starts at $25 which merely allows 2 presenters and 4 video streams.
7. WebinarJam
WebinarJam is a flexible webcast hosting platform that is used by many industries and businesses. WebinarJam supports many languages and allows to record all the sessions. Then presenters can upload the webcasting event for playback or sharing. Some users reflect that the interface itself is difficult to navigate, and it takes you quite some time to get used to setting up your webinar.
8. GoToWebinar
GoToWebinar gives the business ventures and other organizations the ability to reach their target audience more easily. GoToWebinar can handle sending custom email invitation and reminders using their automated email templates. It is ideal for raising brand awareness, because it allows custom branding of your company logo on webcasting material. If you have a very reliable Internet connection and skillful in such software, GoToWebinar can be regarded as one of the best webcast software.
Conclusion
Currently, webcast software has proved to be of great significance, which drives to save costs and engage your audience in a few clicks. Thanks to free video webcast software like ezTalks Webinar, each event planner even without technical skills can now broadcast their events all over the world.