How to Do a Webinar Successfully?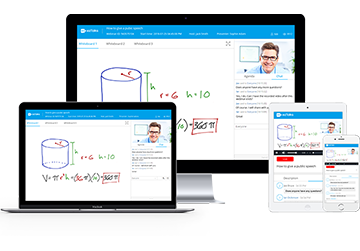 ezTalks- Best Webinar Software
All-in-One Webinar Solutions
Fluent HD Video/Audio & IM Chat
Screen Sharing and Whiteboard
Rebranding and Reporting
Recording and Online Playback
Sign Up Free Now
If you've ever wondered how to do a webinar that people will actually want to watch, you've come to the right place. Actually, hosting a webinar can be a stressful experience, but there are several things you can do to set yourself up for success. Every successful webinar needs to go through such processes: planning, marketing, running and tracking. In today's post, we're going to look at how to do a webinar successfully to ensure that your next webinar goes off without a hitch.
1. How to Plan a Webinar?
Good planning should be done in advance. You should not only define your needs, but also know how to choose the best webinar software and what equipment is needed.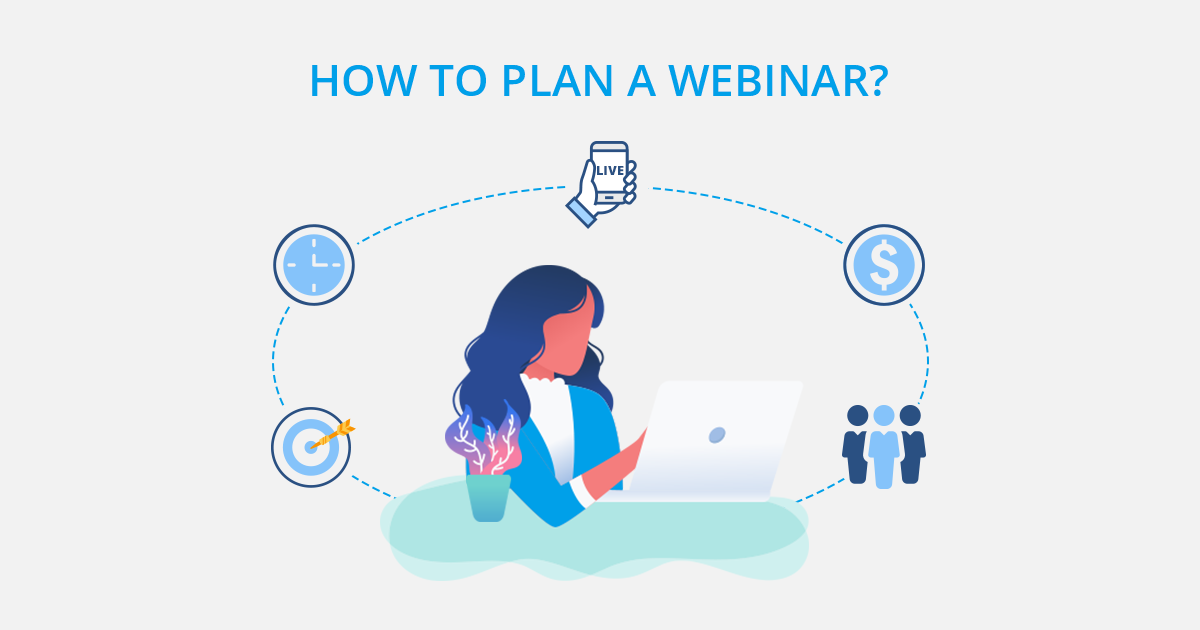 1)Define Your Needs
a) What're Your Objectives?
All webinars should be framed within a set of ideal objectives that become your road map for all of the best practices that follow. Otherwise, you may run the risk of creating a webinar that doesn't achieve much of anything. Which aspect will be your webinar related to, marketing, training, e-learning or any others? Are you going to boost sales, build expertise & influence, draw in qualified leads or anything else? These are all you need to consider and make it clear.
b) Which Webinar Type is Suitable for Your Needs?
Webinars come in different flavors and each type is best suited for specific goals. As we know, there are several webinar types including Live, Automated, On-demand and Paid Webinar for you to choose in the market. But which one or ones can better suit your needs? For example, if you only want to generate brand awareness, it may be not wise to choose Paid Webinar, which raises the threshold of admission, thus reducing the leads. For another example, if you want to interact with the audience as well as get more leads for a longer time, it is suggested to adopt the combination of Live Webinar and On-demand Webinar. Even if you can choose them flexibly, in fact, the productivity still largely depends on whether you have chosen the right webinar type or types to proceed with your virtual event.
c) When to Host Your Webinar?
Actually, there is no certain answer for when to host your webinar as this varies depending on why you're hosting a webinar and what is your event for? But here are the extremely useful suggestions for the most cases according to the webinar data from the most recent 1000 among thousands of webinars hosted with ezTalks Webinar.
Time Zone. If you target an international or nationwide audience, find out the time zones when the highest proportion of people will be able to attend a webinar. According to most of the related surveys, 11 a.m. Pacific Standard Time was when webinars have the highest attendance rate, as it's the most convenient time for the largest chunk of our audience across time zones.
Day. Here comes the long-standing mistaken idea that the best day to do a webinar is Saturday or Sunday. Actually, Thursday is the big winner here while Wednesday and Tuesday are close behind. Why not Monday or Friday? Both of them tend to be the busiest 'catch-up' days of the whole week and it makes sense to avoid them intentionally.
Time. In view of conventional wisdom, it's the best time to do a webinar at dusk as people are off-duty and free. However, webinar statistics collected by the overwhelming majority of webinar providers show that the best time to host a webinar is 10 or 11 o'clock in the morning.
Note: You need to start on time as there is nothing more frustrating than being kept waiting on a hold screen.
d) How Long is Your Webinar?
To some extent, it still depends on the content you're presenting during your webinar session. However, in general, the best webinars should last between 30 and 60 minutes. On average, people will actively view a webinar for 55 minutes before dropping off. For optimum results, you should keep your webinar duration between 45 and 60 minutes. If your topic demands more than one hour, it's best to divide the presentation into two or more parts. Under this situation, Webinar Series may be a great helper. Besides, remember to devote certain time to the interactive section with the audience in the webinar.
e) What's Your Audience Size?
When it comes to a webinar, the size of your audience DOES matter. It affects how you interact with others, how to present the content, what webinar platform you should choose, and etc. The size of your company and your attendee list will dictate how robust your hosting solution needs to be. In fact, some webinar software like ezTalks Webinar now allows for thousands of people to attend- the largest webinar attendance can be up to 10,000 audiences!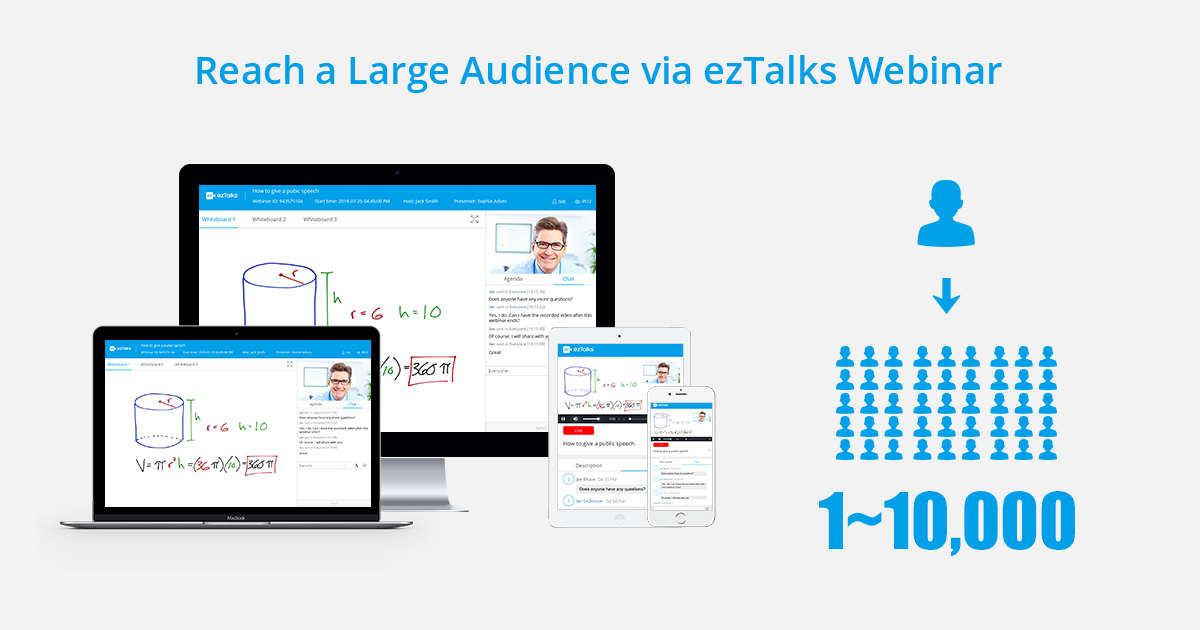 f) What's Your Budget?
Your budget may need to cover the elements like the personnel who help set up and manage the event, speaker fees, equipment (hardware and headsets), post-webinar material preparation & distribution and something like that. Another main budget area to consider during the planning process is the cost of a webinar solution. Make sure to identify how many webinars you'll have each month and on average, how many attendees you'll have for those webinars before deciding what type of budget to set aside for software costs. You might think webinars are scary and costly, but the arrival of ezTalks Webinar which can run on an off-the-shelf device like a PC, Mac, Android or iOS device, means that with a little practice you can run slick and successful webinars at an affordable price and even at zero cost.
g) What's Your Webinar Topic?
It's crucial to make sure you reach your target audiences with a compelling topic. People may use the topic of your webinar to decide whether or not they want to attend. Analyze your audience personas and your keyword research, and look for problems and issues that your prospects and audience are challenged with. This happens to the topic that more than a handful of people care about and this can captive your audience in a twinkling to make them feel invested in your presentation.
2) Choose the Best Webinar Software
No matter how irresistible content you have prepared, the poor-quality webinar software can even ruin your performance and expectation. When looking for a webinar platform, make sure to evaluate the "nice-to-have features" and the "must-have features". The price of the webinar service you choose may also be dependent on the number of attendees allowed to join, which should be also taken into consideration according to your budget. We are here to list some of the important factors:
a) Is it easy to use? 
b) How much can/will you spend?
c) Does it have a free trial?
d) Will your webinar software support your audience size?
e) Whether it has the options to host live webinars, automated webinars or on-demand webinars?
f) Does it have the features you need?
If you are among those who are struggling with selecting the best webinar software, click here to get more detailed information.
3) Prepare the Equipment
Obviously, just choosing the best webinar software is not enough, as any webinar should also run with the help of the hardware:
a) Devices. Most webinar software is compatible with various kinds of devices like PC, Mac or an Android/iOS mobiles. Nowadays, you can also do it with one of the video conferencing devices launched by some brands like ezTalks. It proudly published some all-in-one devices integrated with everything you need for webinar hosting.
b) Headsets & Microphone. You can rely on built-in mics on your device or use cabled headsets and microphone to ensure that everything you hear and everything presenters say are clear. To achieve the best audio performance, you should equip yourself with high-quality equipment.
c) A power cord. No matter what device you're using for a webinar, you need to ensure that the webinar won't be interrupted owing to being out of power.
d) Network connection. The more stable and faster network connection you get, the more seamless communication can be achieved and guaranteed. You need to check your network environment in advance especially before you go live.
2. How to Market Your Webinar?
Now that your webinar is ready to go, it's time to fill those virtual seats! Marketing your webinar is the way to promote the event and drive attendance. Here are three powerful methods to market your webinar effectively:
1) Create a Webinar Landing Page
A great webinar landing page will inform visitors of what the webinar is about, share the time and date when the webinar takes place, and convince the visitors to register and attend the webinar. The exclusivity and scarcity of the event is a key selling point. Also, it should include the elements like calling to action, registration form and even helpful visuals such as images and video. A webinar landing page is just like an advertisement for your webinar hosting. After all, they need to be attractive enough to make visitors want to join the webinar. Of course, your first goal is to get more people to sign-up for the webinar. Only then, will your promoting purpose be achieved.
2) Promote Your Webinar on Social Media
Since 2004, social media has been growing exponentially and it hasn't reached the peak of its popularity yet. It is wise to take advantage of the power of such social media like Facebook, Twitter, LinkedIn and so forth to promote your webinars for more audiences. At the same time, you have to promote your webinar multiple times if you want to get it in front of a larger share of your social media audience.
3) Promote Your Webinar via Email
Email marketing is a highly effective digital marketing strategy of sending emails to prospects and targets. Effective webinar invitation emails convert visitors into targets, and even turn targets into loyal and raving fans. By virtue of the convenience of delivering the emails in just a click, promoting your webinar via email saves your time and helps to show your respect when inviting.
How to do it? Obviously, getting the attention to achieve email opens is the most fundamental step so that you need to try your best to come out with the subject line of your invitation email to convince your audience that your webinar will be worth their time. Also, it is recommended that the invitation should have the classic Ws and H (Who, What, When, Why, How) and describe them clearly and easy-to-read enough. Don't forget to embed the webinar link to join, which more likely leads to call to action.
To supplement all your hard work in planning the webinar, we're going to write another article including other proven methods to promote it and drive more people to want to register:
a) Create a Teaser Video
b) Paid Social Ads
c) Promote it in Signature lines
d) Write a Blog Article
e) Use Slider/Pop-up
f) Give Attendees Something Special
3. How to Run a Webinar?
This is widely regarded as the most vital process for each webinar hosting. Webinars can help you achieve your goal, but only if they're smart and engaging. To stand out in the crowded webinar space, you have to deliver experiences that won't put others to sleep (or on multitasking autopilot) and that are also designed to generate maximum value from you as no matter a salesperson or a content producer. In the next article, we will take three main use cases, Marketing, Training and Online Education, as an example to illustrate how to host a webinar successfully more detailedly. Still, it will be divided into two parts:
1) General Tips on Using Webinars for All Needs
2) Tips on Using Webinars for Different Use Cases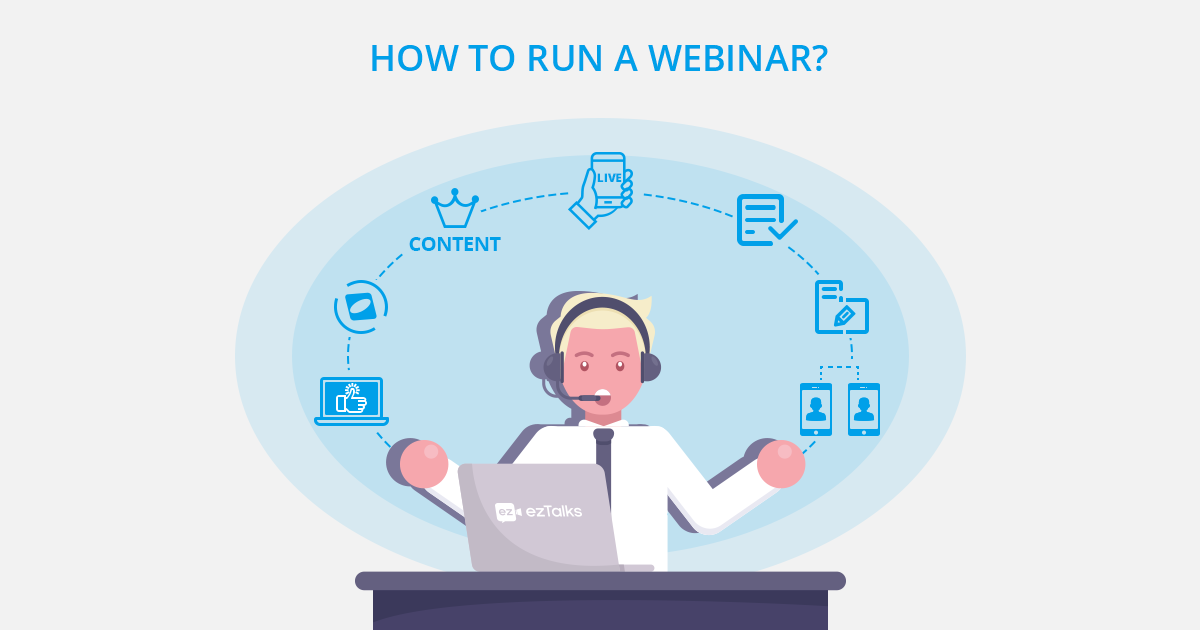 We are going to write a complete and step-by-step guide for you. There is everything you need to know in order to run a successful webinar that will make you go on the way to your target.
4. How to Follow Up After Your Webinar?
Nothing would be more frustrating than putting all the time and effort into putting together a long webinar without any good converting results. Continue to read and you can do to maximize the results.
1) Send out the webinar recording
Record your webinar once and use it forever– or at least for the foreseeable future. You can repackage and repurpose your webinar. You can send your webinar recording to the attendees for reviewing or sharing to their friends. And also you can use the recording to create an on-demand webinar to attract more audiences, especially for the registrants who missed your webinar. You can post the recordings or on-demand webinar to YouTube or other social media channels, making it an evergreen resource that will be valuable for a long time to come. What's more, you can make full use of the recordings to review your performance and evaluate how to improve your upcoming webinars. Your audience must expect to receive the webinar recording and presentation slides, regardless if they showed up or not within 24 hours of the webinar.
2) Make Full Use of the Final Metrics and Analytics
Some webinar software has adopted tools like reporting to help you gain insight into your webinar by analyzing the statistics and information like how many registers, what's their respective basic information, how your webinar invitations and so forth. This contributes to tracking the trends and attitudes accurately. In most cases, a thank-you page can leave a good final impression to your audiences after you do a webinar. It also enables your audience to rate for your webinar and leave their feedback & advice to your webinar as well as the presenter.
3) Add a Thank-You Page
Thank-you page is very important to help you get leads and convert the audience after the webinar. But make sure this has to be set in advance when you create your webinar. You can also make full use of your thank-you page to:
a) Include an Early Invitation (Let your audience know about your upcoming webinar with the time, date, and topic before you promote it through other channels.)
b) Ask for Referrals & Increase Your Customer Base
c) Encourage to Share Your Content (More are likely to share something on social media.)
d) Offer a Discount (Know when to offer them wisely, not too often and not too sparingly.)
e) Nurture Leads (Nudge audiences based on where you are in the buyer's journey by offering different content types in the next step (e.g. a webinar, videos, free trial, etc.).)
f) Encourage Engagement. (e.g. include a space on your thank-you page for leaving their feedback & advice to boost interaction or include a Facebook for asking questions to further nurture the mutual relationship with his community.)
g) Link to Your Most Popular & Valuable Content (Link any content you want to rank well for on your thank you page. The content should meet their expectation and help prospects on their journey as well.)
h) Upsell a Product/Service (Remember to choose the right and relevant upsell. Effective ways are available like "Use Urgency" "Get the Language Right" "Offer Free Shipping" "Upsell After the Purchase" etc.)
4) Segment Your Audience and Write the Emails
In general, there are four buckets people can fall in to:
a) Customers and opportunities who attended the webinar.
b) Customers and opportunities who didn't attend the webinar.
c) MQLs and SQLs who attended the webinar.
d) Leads who didn't attend the webinar.
Note: How to segment your audience just depends on how targeted you want your message to be.
It's important to follow up with those via e-mail and invite them to the next step. Before you do that, remember to identify your audience segmentation (hot, warm, and cold leads). It is suggested to send personalized follow-ups to hot leads by providing value and offering help based on what you know about each prospect. Nurture warm and cold leads by thinking about what stage of the buying cycle the various segments of your attendees are in and identifying other key content assets you can offer in your nurturing stream that build on your webinar content.
Then, try to map out the emails you want to send. For example, if the first step was attending the webinar, the next step may be providing them with additional information, which can include conducting a post-event discussion, or having them attend a product demo, if there is a product associated with the webinar. It is no secret! It would be better if you send out your first email follow-up to webinar attendees and no-shows within 24 hours of the webinar as it is still fresh in their minds. You can add a survey to your follow up webinar emails. Encourage them to share their opinions with you- Was the topic of the webinar relevant? Do they think what they have just gained via the webinar will help them achieve their goals? Was there anything they liked in particular? Were there any topics they expected you would cover but you didn't?
No matter what you send, it is wise to embed a call to action like "Watch this video to learn more" "Click here to get a free trial" etc.
Start Hosting!
Don't let the fear of the unknown prevent you from reaping the benefits of running your first or next webinar; know what to expect before, during, and after- so you can prepare for optimal success. In order to host your first webinar, you'll need to start with the great webinar software. Check out the free webinar platform, ezTalks Webinar, for modern and cutting-edge webinar technology that you and your audience will love!