9 Best Live Webinar Software of 2019
Online marketers, bloggers, and educators who want to develop a strong bond with their target audience should consider offering something unique. Live webinar software, in this regard, has been accepted largely as one of the best options used for establishing contact with the audience who are spread in different geographical positions. Marketing experts agree that webinars are an excellent way to generate interest in your service/product. This solution is not only used for group meetings, but also for live training and product launches.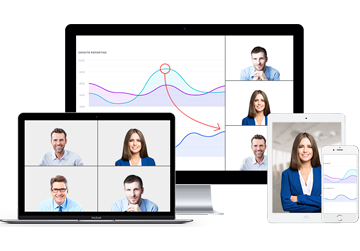 ezTalks- Best Live Webinar Software
Free for up to 100 Participants
Fluent Group Video/Audio/IM Chat
Screen Sharing and Whiteboard
Webinar Cloud Recording
Webinar Custom Branding
Sign Up Free Now
Choosing the best live webinar software that meets all your needs might be a daunting task because there are tens and hundreds of such products available. That is, indeed, one of the reasons why we have put together the list of 9 best live streaming webinar software of 2019. Have a look at the below:
1. ezTalks Webinar
ezTalks webinar is a product developed by ezTalks Technology limited and it is one of the best live webinar software that delivers value to small, medium, and large businesses. Because of its advanced features, this live streaming solution works seamlessly on all popular operating systems. Besides, The product includes some of the great video conferencing tools that provide users with flexibility in their webinars regardless of the situation.
Pros of ezTalks Webinar:
★ Easy to Use:
a) Schedule and run a live webinar in seconds.
a) The host can easily log in via a Facebook account or Google account.
c) The audience can join the webinar from the web browser without software downloaded.
d) It is compatible with iOS, Android, Mac, and Windows.
★ Very Scalable:
 ezTalks Webinar allows you to host a live webinar with up to 100 interactive participants and an unlimited audience.
★ High-quality Livestreaming:
Seamless HD video and audio experience for live streaming. It can automatically adjust your video according to your internet condition to deliver a smooth live webinar experience.
★ Multiple Interactive Features:
a) It has convenient screen sharing features that allow you to easily share your webinar content with other participants, including PPT, Video, Word, Excel, and many others.
b) It enables interactive whiteboard for sketching, planning and drawing out of thoughts.
c) It has an instant message feature that enables you to chat with a single participant or all participants during the webinar.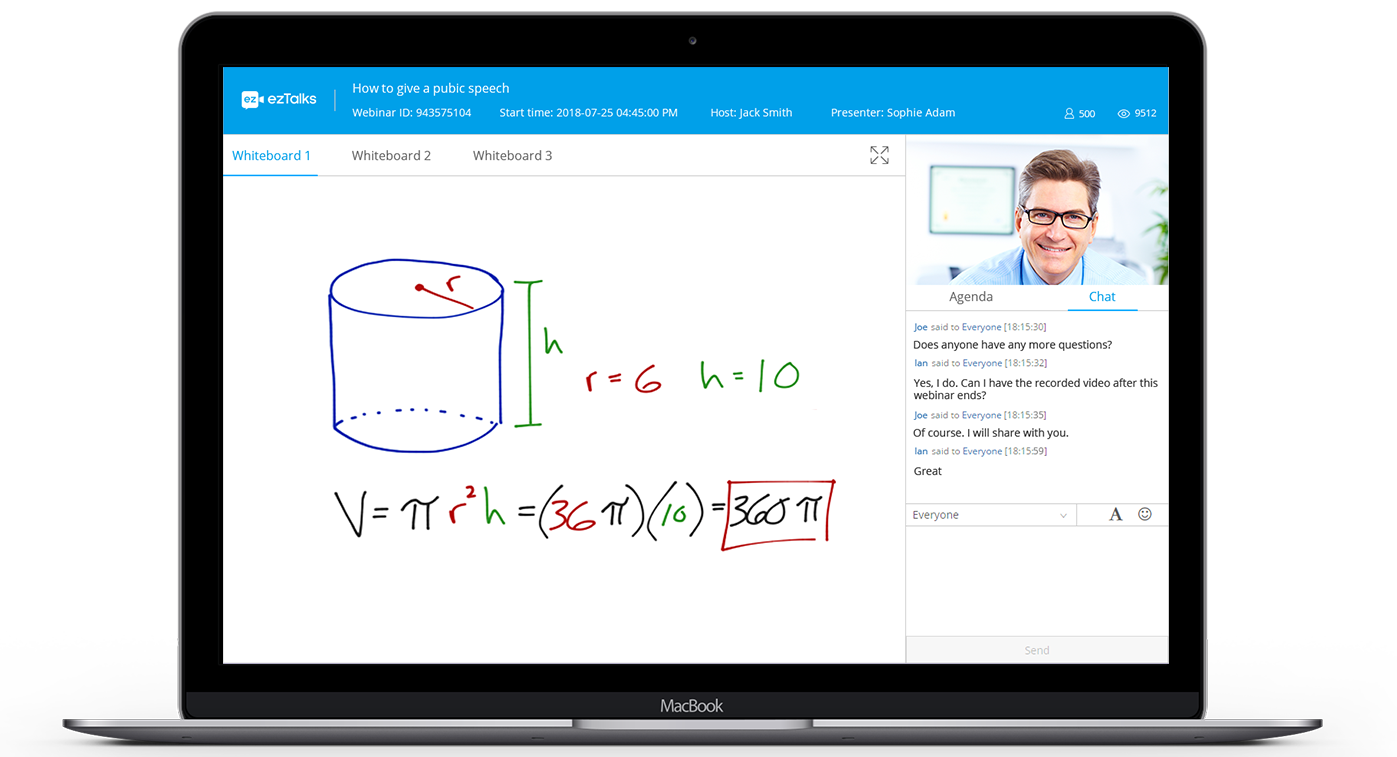 ★ More Effective Features:
a) Best live webinar recording software with 2 GB free cloud storage. It enables you to enhance your webinar impact via sharing the recorded video to Facebook or YouTube.
b) Webinar rebranding and customization supported like it allows users to create tailored invitations with logo heads, information about the topic of discussions, and the introduction of presenters.
c) It offers webinar report to help you analyze the webinar and know how to improve next time.
★ Affordable Prices:
ezTalks Webinar is more affordable compared with other webinar software while it also offers a very high quality of webinar service.
Cons:
It has only 100-minute free webinar duration. 
ezTalks webinar Pricing:
ezTalks Webinar price is quite affordable compared to others. It starts as low as:
$21.67 per month for up to 25 participants
$21.67 per month for up to 50 participants
$40 per month for up to 100 interactive participants and 100 audience.

2. GoToWebinar
GoToWebinar is typically known for their amazing online meeting tool. There is no question about its reliability. Based on the number of webinar attendees, there're three levels of this software available including starter, pro and plus plan.
Pros:
1) GoToWebinar includes some great features such as the option to create polls, Q&A session, handouts, and the webinar can be recorded online or locally.
2) The online platforms also give access to advanced metrics so users can monitor the performance of their online contents and recorded webinars can be shared on YouTube.
3) Ideal for raising brand awareness because it also doubles up as a high-end analytic tool.
Cons:
It is much more expensive compared to its competitors
GoToWebinar Pricing:
Pricing plan starts at $86 per month, which allows up to 100 attendees. The top tier plan goes for $299 per month and it allows up to 1000 participants.
3. ClickMeeting
If your business tasks involve onboard training, enterprise marketing, or sales, then ClickMeeting can be one of the best live webinar software you may need. It has multiple features making this product outstanding such as webinar rebranding, customized invitations,paid webinars, interactive whiteboard, audio modes, surveys & polls (for immediate feedback), screen (and desktop) sharing, and chat options. Users can also record the entire webinar through the audio and video recording feature.
Pros:
1) The platform is comprehensive and easy to use
2) Set up process is unproblematic
3) Multiple interactive features
Cons:
It is not a suitable option for users intending to have a webinar with more than 25 participants at a budget-friendly cost.
ClickMeeting Pricing:
The cheapest pricing plan starts at $25, which allows 2 presenters and 4 video streams. However, users can enjoy a one-month free trial period.
4. Webinar Jam
Webinar Jam is another popular live webinar recording software. It is a web-based tool designed to work effortlessly on any given device and web-browser. The webinar tool allows up to 25 participants and all the webinar rooms are password-protected. It also records high-definition footages and the entire webinar session, so users can decide whether they want to post them on video sharing platforms or not.
Pros:
1) The audience is engaged throughout the session with the help of powerful interactive tools
2) It is a great tool for marketers because it has a pop-up feature that allows the team to sell products/services to attendees while the webinar is on-going
Cons:
1) It is pricey
2) It is somewhat a complicated platform, and novice users may require extra time to learn to use it
WebinarJam Pricing:
Annual fee of $497
5. Cisco Webex Webinar
Cisco Webex is one of the best live streaming webinar software. It is a popular event hosting and online meeting tool. With this product, users can get customized tools effective for accomplishing specific company/business needs. The platform allows webinar participants to share screens, video files, and live chats. 
Pros:
1) There is a complete control of who should access the webinar, which is possible through setting up of personal webinar meeting rooms
2) It is ideal for webinars with a huge number of attendees
Cons:
It is pricey compared to its competitors
Webex Webinar Pricing:
Price starts at $24 per month for up to 8 participants per meeting
6. Zoom Webinar
Zoom webinar is a versatile live webinar software that is effective when used for e-learning content creators, marketers, or entrepreneurs. It offers group collaboration selections, web conferencing, and video features. The pro version, on the other hand, comes with better and advanced live webinar features like simultaneous screen sharing, online support, and up to 10,000 audiences can participate in a meeting.
Pros:
1) It allows up to 100 video participants and 10,000 attendees
2) It enables to make live streaming on Facebook Live and YouTube
Cons:
1) It is expensive and there is no free webinar trial before purchase.
2) Users need extra time to learn and get used to the platform's controls
Zoom Webinar Pricing:
Price starts from $54.99 per month for up to 100 participants.
7. Google Hangouts
If you are looking for the best live webinar software with chat feature, then Google + Hangouts can be your perfect match. All you need to have is a Google Account and you are free to invite as many as up to 25 people to a webinar meeting. The product works well on multiple platforms. It allows users to manage who accesses their hangouts through a calendar. It also features live chat, audio, and video calling functionality. This product is great for holding presentations, workshops, and collaborative meetings.
Pros:
1) The app allows users to upload webinars to YouTube channels and share them extensively
2) It is the best live webinar software for free
Cons:
1) The app is not suitable for commercial use because it does not allow users to set a fee for a participating/joining the event.
2) It only works in Google Chrome browser.
Google Hangouts Pricing:
Free
8. Livestorm
Another one of the best live webinar software with chat feature is Livestorm. It has high-end analytic functions that provide customers with actionable insights. This live webinar platform also offers outstanding features for live event productions. Audience engagement is at-all-time high when using Livestorm as users can post polls, chat, post/respond to questions, and so on and so forth. It also supports file and screen sharing.
Pros:
The software presents unique analytic tools, where you can track on timely basis attention rates and webinar attendance.
Cons:
1) Quite expensive
2) Starter package offers has limited features than other conventional webinar tools
Livestorm Pricing:
The starter package is offered at $99 for up to 100 attendees.
9. Stealth Seminar
The list of the 2019 top ten live webinar platforms will not be complete without mentioning Stealth Seminar. This easy-to-use webinar tool brings together live webinars and automated webinars. It comes with a myriad of moderation tools used to manage discussions and webinar flow. Most of its features favor marketers, which include detailed analytics, split testing, and unlimited calls.
Pros:
1) The high-end analytic tools help users to effortlessly analyze their work to note where they need to improve
2) Setting up a webinar is easy.
Cons:
Compared to its competitors, it is quite expensive
Stealth Seminar Pricing:
A registration fee of $97 is required, and an additional $69.95 as a monthly subscription for up to 150 simultaneous attendees.
Conclusion
Staying ahead of the industry and remaining competitive requires that you save costs and engage your audience through the latest technology trends. It should be remembered that a few decades ago, it was not possible to hold an online conference meeting that involved more than 30 participants. However, that has changed with the introduction of dedicated webinar tools. As one of the best live webinar software 2019, ezTalks Webinar uses cloud-based video teleconferencing technology to boost its online functionality. This tool is incredibly flexible and it is great for not only webinars but also online training and meetings. Considering this, therefore, if your business/company needs a serious amenity, then this is now the time to invest in a great platform that gives you the collaboration you need at your workstations.