6 Live Webcasting Software in 2019
Webcasting has evolved to become the most convenient way of streaming various events. It refers to the process of communicating simultaneously across multiple devices for parallel distribution of media via the world wide web. Through webcasting, you can reach a large number of users at a time regardless of where they are or the devices that they are using.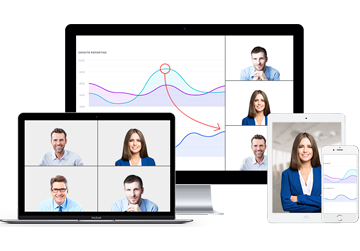 Best Live Webcasting Software
Free for up to 100 Participants
Fluent Group Video/Audio/IM Chat
Screen Sharing and Whiteboard
Cloud Recording & Playback
Custom Branding
Sign Up Free Now
6 Live Webcasting Software in 2019
However, the performance of this service depends on the live webcasting software that you are using. So, you should be extra careful when choosing one. To help you make the right choice, we are going to review the best 6 live webcasting software in 2019.
1.ezTalks Webinar
ezTalks Webinar is ranked among the fastest-growing and easy-to-use free live webcasting software, which is highly optimized to perform its functions well. You don't need any technical skills to set it up within minutes. It is also suited for any size of the audience, whether you are targeting a small group or a large group of people. Webcasting your event via ezTalks Webinar allows you to connect and interact instantly with new and existing audiences, across different locations and time zones.
Features
a) HD video and audio: ezTalks has the capabilities of broadcasting high-quality videos and audio during a live webcast. The audience will see and hear clearly, conducive to the better user experience.
b) Customization capability: You can attract and impress your audience with the customized webcasting room and proper invitation email.
c) Screen sharing: This live webcasting software gives you the ultimate power to share your screen with your audience. Instead of each viewer looking at their own documents or screens, everyone can come together around the same visual aid, live during the webcast. This leads to more effective engagement.
d) Whiteboard: A virtual whiteboard is a go-to method of brainstorming, explaining, planning, teaching, and more. If you want to demonstrate a point more elaborately, you can use the software's whiteboard feature.
e) Polls & Survey: ezTalks Webinar allows you to collect views from your audience during a live webcast. This is made possible by its poll & survey feature. The process is less time-consuming and you can get the results faster, which helps you more quickly to follow the audience interest and enliven the atmosphere.
f) Webcast recording: You can store your files to the cloud. Surprisingly, if you have the desktop app, you can record it locally or to the cloud.
g) Stream on Facebook & YouTube: It is optional to live stream your webinars on Facebook & YouTube as you like, attracting more to enjoy your presentations.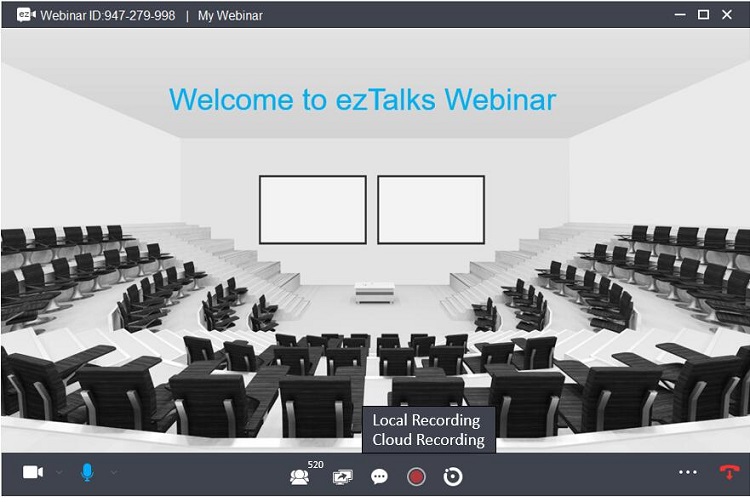 g) Compatibility: It is compatible with all the operating systems. In addition to the web version, there are ezTalks mobile and desktop apps for iOS and Android operating systems.
Pricing Plan
You can hold your webcasting event and have fun with ezTalks Webinar free trial version with up to 100mins! And the pricing for premium version starts from as low as $40 for up to 100 interactive participants, which is cheaper than other competitors. Though it's cheaper, it also supports excellent features.
2.Cisco WebEx
Cisco WebEx is one of the best webcast streaming software that you can use in 2018. It has quite a number of top-notch features that most people look for when subscribing to live webcasting services. Also, Cisco boasts of having an expansive network of data centers across the globe. This resolves the connection issue when doing a live webcast.
Features
a) Supports the sharing of the whole screen during a presentation;
b) Webcast recording capabilities- You can record both audio and videos;
c) Has a markup and whiteboard tools for enhancing the quality of a presentation;
d) Has file sharing feature;
e) Compatible with Windows, Mac, Android, and iOS. You can also access the platform through your browser.
Pricing Plan
In terms of a webcast consisting of 100 attendees, it will cost $69 per months.
3.Adobe Connect
Adobe Connect boasts of having a wide range of versatile tools that can help you to host a successful webcast. The software can be customized to meet the needs of a particular webcasting session.
Features
a) File sharing feature: possible to share documents and other types of files;
b) Screen sharing feature;
c) Live instant messaging feature;
d) Webcast recording feature;
e) Compatible with all major operating systems (iOS, Android, Windows, and Mac).
Pricing plan
The pricing starts at $130 per month.
4.Google Hangouts
Although it is not an exclusively webcasting software, many people still use its extensive service, Hangout on Air, to do this job. The fact that it is free and easily available to many people. Hangout on Air seems to provide a quick solution for those who are looking for a basic webcasting service. But it needs more time and efforts to finish the webcast as it should be used with the help of having a Google account and linking YouTube Live. Besides, it lacks features like surveys & feedback, which might not the best choice for those holding formal webcasting events.
Features
a) Supports HD video broadcasting via the Internet;
b) Supports instant messaging for a live interaction during a webcasting event;
c) Can be customized to meet specific needs of a particular live webcast event;
d) Compatibility: Google Hangouts is compatible with PC, Mac, iOS and Android.
Pricing plan
Google Hangouts' pricing starts at $5/per user for 30 GB storage, and only the double to make the storage unlimited.
5.ClickWebinar
ClickWebinar is a simple but efficient webcast live software that you can depend on. It offers a webcast service with a simple interface. Nonetheless, it has the basic presentation and chat features for a successful webcast plus some extras, like chat-translation abilities. Between the lack of breakout rooms and the problem with audio echo, this software lacks the capabilities of top services.
Features
a) Live webcast recording feature. It can store up to 10 hours of webcast and then download the file as well to post on your website or YouTube channel.
b) Supports file sharing & screen sharing;
c) Allows multiple simultaneous webcasts;
d) Available for both desktop and mobile versions.
Pricing plan
The pricing plan starts from $25 going all the way to $165 per month.
6.GoToWebinar
GoToWebinar comes with a number of impressive features that you can use to make your webcast streaming more lively. This live webcasting software aims to eliminate all the hassles that come with planning and setting up a webcast.
Features
a) Can support up to six webcams;
b) Can be integrated with Outlook and social media platforms;
c) Has polls & survey, screen sharing, customization capability features;
d) Archive recorded webinars for 12 months and editing tools available;
e) Compatible with desktop and mobile devices. In fact, it has a dedicated mobile app.
Pricing plan
The pricing plan starts from $89 to $429 per month. GoToWebinar's pricing is a bit higher than average, so it may not be the best solution for small businesses on a budget.
Conclusion
As you can see, each live streaming webcast software comes with its unique specifications. The final choice boils down to your personal preference. If you are pursuing a near-perfect live webcasting experience and want to boost the webcasting event attendance, the ezTalks Webinar live webcasting software free for you will do!