Top 6 Tips for Effective Virtual Meetings
Nowadays, many companies, businesses, and institutions have team members or clients dispersed all over the world. As a manager, you would like to conduct a virtual meeting more often than not. In the recent past, you had to travel to where your subjects are to have a meeting with them. However, nowadays, the world is wired, and with virtual/remote or online communication, it is possible to conduct meetings with many people from different location anytime who do not necessarily share an office.
Have you ever attended a conference that seemed like it is a pointless waste of personal time? Now you can figure out the same meeting is happening remotely via video or audio conference. Indeed, it would be even incredibly difficult to stay sort and engage through the information. It is undeniable that virtual meetings sometimes have some challenges ranging from technological hiccups, poor timing, ineffective communication tools, and so on. That notwithstanding, when you are conducting such meetings, it is critical to ensure they are engaging and effective. However, can you achieve this objective? Here below are six tips for effective virtual meetings: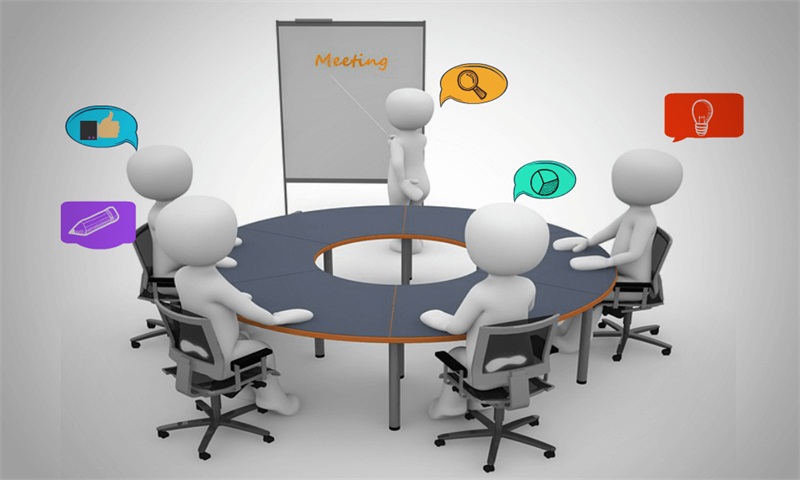 Six Tips for Effective Virtual Meetings
1. Get the ultimate virtual meeting service for your needs
If you are planning to conduct virtual meetings, it is imperative that choose the best virtual meeting tools that perfectly suits your needs. The good news is that there're plenty of most popular and incredible online conferencing services. Some of the great options include ezTalks Cloud Meeting, Join.Me, Google Hangouts, among others. Different options often excel well in certain features that perhaps meet your needs. Ensure that all those participating in the meeting have had the apps readily available and tested to be working on their computers or mobile devices.
2. Distribute materials and agenda ahead of time
Unless it is a casual meeting, formal meetings often have detailed agendas that outline what will be discussed, and of course, the amount of time each topic will be dealt with. If you are planning a virtual meeting, ensure you have issued discussion matters ahead of time and avoid last-minute scrambles. Typically, for effective virtual communication, remote participants need to be given ample time to access and familiarize themselves with the materials. Besides that, any document (including the agenda) should be labeled and numbered clearly for easy reference as the virtual meeting progresses.
3. Provide detailed instructions on how to join the meeting
It should not be assumed that everyone is an internet whiz. More often than not, you will be meeting some people who have never used an online meeting platform, and for that, you will have an ineffective communication. Therefore, when planning for such meetings, it is important to send out your invitation and ensure you have included detailed instructions on how to join. Besides that, include procedure on what to expect and even how to contact you in case the participant experience some challenges.
4. Be respectful of time zones
Virtual meetings may have participants from across the world at a given time. As we all know, while it might be preferable for participants in London to have a meeting at around 2 o'clock in the afternoon, it might not be feasible to ask someone in the Far East at the same time in the morning to attend the meeting. Of course, the time difference is a significant challenge when organizing a virtual meeting, but you can manage it using Google Calendar add-on, often called World Clock. It shows the appropriate meeting time in every participant's time zone.
5. Have a backup plan
Irrespective of how well you've planned your virtual meeting room, it is not humanly possible to control everything, and occasionally things do not work out. For instance, you may have internet connection failure, your mobile device/computer crashes unexpectedly, or sometimes your participant(s) cannot get connected simply because they did not get the meeting app up and running. All these and much more can render your virtual meetings ineffective. With that in mind, it is important to have a plan B. The alternative plan could include having an internet backup if you are conducting the virtual meeting from a place that experiences services hiccups and glitches. In case the preferred virtual meeting app can be your problem, consider setting up an alternative meeting link. Besides that, have a backup audio phone line readily available to supplement your audio just in case the audio link is garbled.
6. Get participants engaged
It is has been realized that engaging attendees consistently comes up as one of the leading challenges in running effective remote meetings. Fortunately, there are endless suggestions and tips for resolving this concern. It includes assigning each participant a role to play in the meeting. Encouraging healthy discussions more often by posing questions and asking for comments are some of the engaging interaction that makes a meeting lively.
Conclusion
From a business point of view, virtual meetings, both personal and professional, are increasingly becoming the norm of the day. As most people embrace remote meetings as a cost-effective method to accomplish a myriad of goals including training, webinars, and conferences, it is imperative to ensure that effective online communication is not being traded for bottom-line savings. Although meeting virtually will not altogether replace the need to meet in person, it has enhanced productivity in business thanks to its convenience and ease of adoption. With the list of tips for effective virtual meetings explained above, the challenges often experienced when conducting such meetings will diminish and the process becomes seamless.