Best 5 Aver VB 342 Alternatives
As technology grows,businesses grow as well and,hence,their needs for more practical solutions that allow gathering teams locally or abroad. Aver VB342 is a fully equipped all-in-one devicefor video conferencing especially perfect for huddle rooms,with no need to leave your office for face-to-face meetings. But its two uni-directional microphones only cover a 4m range. Besides,it basically costs you $999 and if you want to improve the audio or video quality,you may spend more to get other pieces of equipment.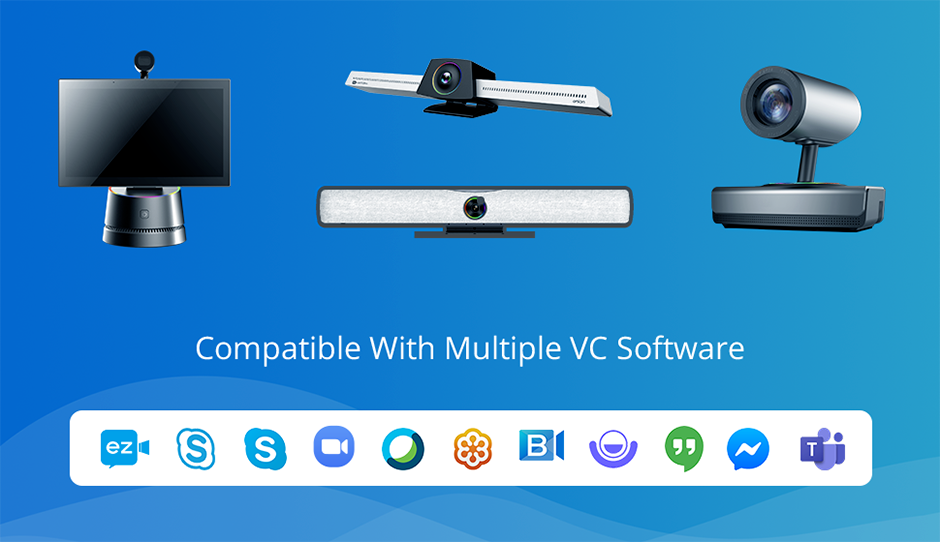 ezTalks Hardware
Supports Multiple VC AppsezTalks all-in-one video conferencing devices work with most popular VC apps like ezTalks,Skype for Business,Skype,Zoom,WebEx,GoToMeeting,BlueJeans,Lifesize,Google Hangouts,Facebook Messenger,Microsoft Teams and more as you require.Request A DemoAre you looking for Aver VB 342alternativesin order to get better video conferencing performance? Here is a list of the best 5 Aver VB 342 alternatives that may help you out.
Best Alternatives to Aver BV 342
1. ezTalks MeetS (previously named Onion)
ezTalks MeetS is an all-in-one device that enables you to present ideas,collaborate and share thoughts with your remote team through video conferencing. Its popularity is touching every part of the business world. This device is also suitable for huddle rooms with 1-6 people using pre-installed communication apps.

a) All-in-One Design
It is an all-in-one video conferencing equipment with the hardware and software working together to turn your room into a video conferencing space in minutes perfectly. The all-in-one design definitely ensures the easy,convenient installation process with only three steps required. It is also compatible with multiple VC software including ezTalks,Microsoft Teams,etc.
b) Ultra Clear Video
ezTalks MeetS offers high-quality video without image blurring or color misalignment and reduced contrastby virtue of its 1080P camera with 120° wide-angle lens. This enables everyone in the room to be seen from the other video conference side.
c) Flawless HD Audio
Its dual microphones with 5-meter pickup range deliver an enhanced voice performance with echo cancellation and noise reduction that cut out annoying background noise and maximize clarity. No matter how far away everyone is,it will sound like they are in the same room.
d) Capable to Control Your Meetings in Many Ways
A series of features can be available such as live chat function,lock meeting,video recording,file/screen sharing,interactive whiteboardand so on. Moreover,the control of Meet S room cannot be easier than ever sinceyou can control and manage your room via desktops,laptops,tablets,Macs,mobile devices and T-Voice 100.
All these outstanding highlights jointly deliver a premium video conferencing experienceto each user.More importantly,only a one-time fee at $899 can help you upgrade your huddle conference room!
2. ezTalks Meet Pro
Among the best alternatives to Avaya VB 342,ezTalks Meet Pro must take a place. It is a premium all-in-one video conferencing devicewhich is also integrated with HD camera,speaker,microphone,codecs and software to deliver satisfactory video conferencing experience. It can hold an event of up to 12 people. It also offers great VC software compatibility like Meet S mentioned above.

a) Advanced Processing Technology
Powerful and intelligent CPU+GPU ensure high-performance encoding/decoding capability. This makes it possible to achieve 1080p video stream as well as up to four 720p video streams.
b) High-qualityVideos
The high-quality videos without any delay are guaranteed by digital pan,tilt,and zoom (ePTZ) with remote control,and 4K sensor with HDR video capture. It givesyou big picture views with as closeto real life quality as you can get.
c) Optimized Audio Experience
Meet Pro's 4 far-field linear microphone arrays make you hear the natural without any annoying background noise. It covers a 5m range,ample for any huddle room or even small rooms.
d) Quick Installation Process
This all-in-one compact design assists the quick installations with only three steps required- place it on your display; connect cables; launch ezTalks software on your mobiles.No on-site technician required and greatly saves your time and efforts.
You can also control it as that of ezTalks Meet S mentioned above. Multiple powerful functions are also accessible with Meet Pro to make effective communication realizable. In a word,it is also the easiest way to equip your meeting room and also one of the best alternatives to Aver VB 342video communication device.
3. Creston UC Smart Soundbar
Creston Mercuryis a front-of-room solution that brings out the best in everymeeting.Mercury's Crestron UC Smart Soundbar is a device which features two 4K cameras for clear image capture as well as excellent stereo speakersfor exceptional audioquality.As for the cameras,no matter which camera you choose,you'll pick up on every visual cue and gesture. As for the microphones and speakers,they support full range audio and HD audio,so the richest content has the fullest sound. But some reviews show that its installation and operation process is a little complicated. This might affect the customers'purchasing desire,especially those who are not so familiar with technical issues.
4. Logitech MeetUp
Logitech MeetUp,a videoconference compact device,is ideal to be used in small rooms and also huddle meetings because everyone can comfortably get in the frame because of the wide-angle lens.It features a 4K camera with automatic framing technology,which is compatible with Skype mainly for Business,plus Microsoft Cortana,and also Cisco Jabber. It also includes a free remote app so that anyone can access the camera remotely.But it is also a little expensive like Aver VB 342.
5. Lifesize Icon 700
Another interesting alternative to Aver VB 342 is Lifesize Icon 700. This is a very powerful device that operates its own video conferencing software.You can get simple touch controls with Lifesize Phone HDand it features a 4K camera with powerful speakers and microphones with noise reduction.It is worth mentioning that its zooming capabilities help to capture details more clearly. Although this is agood videoconference device,it isfairly expensive so it may not be the solution for all types of organizations.
The Final Verdict
All of the above areAver VB 342 alternatives with high rank,butwhen taking other factors like cost,functionality,reviews and etc. into account,we strongly recommend either of the solutions offered by ezTalks that for sure will bring your business a unique video conference experience in a hassle-free way beyond your expectation!