The 3 Best Home Office Video Conferencing Equipment
Ever been in a situation where you have to attend to a certain argent business meeting but you find it so difficult due to the preparations needed,the small period of time available and the distance you have to travel? Technology has solved that problem for you and your company as a whole by coming up with home office video conferencing equipment that will enable you to hold a meeting or webinar from everyone's comfort of their homes with no need to move from one place to one particular place say hotel conference room.
Which is the best home video conferencing equipment for you? Some of the best video conferencing equipment for a home that has been made available to us by technology are:
1.ezTalks Meet MINI
ezTalks Meet MINIis one of the best video conferencing from home equipment for you with the best services of video conferencing that you may neverenjoy. It makes you get in touch and have a conversation with each other in a very simple and most powerful way.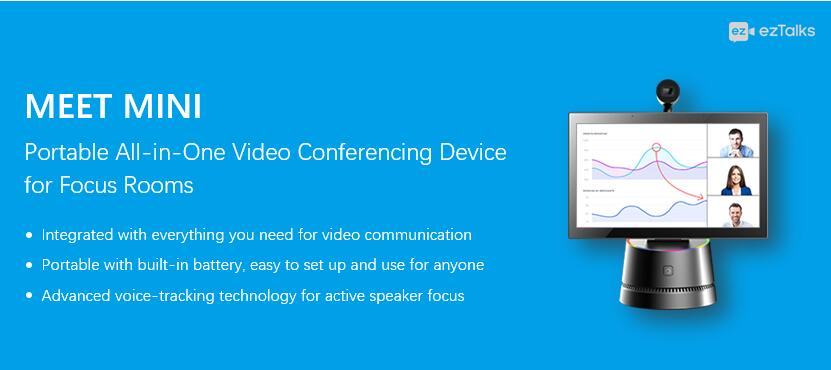 ★HD Audio & Video Quality
Meet MINIprovides conferencing experience through audio with a very clear voiceby virtue of its 2-channel and stereo microphones. Besides,this best video conferencing equipment for home since it grants you withthe 1080P HD wide-angle camera,which makes you have a very clear conversation that makes you experience face-to-face conversion over the screen really. That is to say,this type of home office video conferencing equipment makes you have a taste of the clearest audio and videos.
★ Support Your Preferred Meeting App
Apart from ezTalks App,Meet Mini is also compatible with other popular video communication apps including Skype for Business,Skype,Zoom,WebEx,GoToMeeting,BlueJeans,Lifesize,Google Hangouts,Facebook Messenger,Microsoft Teams,etc. Thus you can use Meet Mini to enjoy the seamless meeting experience with any meeting app you prefer.
★Far-End Control
The equipment gives the presenter full authority to manage and take control of the meeting. The presenter is entitled with the power to enjoy the responsive far-end control flexibly.This makes you free and relaxed enough even working at home.
★Dual Screen Presentation
The ezTalks Meet Mini makes your meeting or video webinar very simple and easy with the video and audio conversation online using a 11.6'' full high-definitiontouch screen. This home office video conferencing equipment also allows you to share different content on dualscreens.
★Multifunctional Pre-Installed Software
This is one of conference room solutions with built-in software from ezTalks. It makes your meetings enjoyable and satisfactory by allowing sharing of different screens and it provides an interactive whiteboard for you to put into use making more interesting.This willhelp all of the participants get the information delivered via presentations in the most effective way.Also,it enables you to experience very quick and immediate messaging. Itis compatible in almost all of the electronic gadgets and browsers like android,windows,iOS and Mac electric devices.
Get one without hesitation! >> This home video conferencing equipmentmerely costs $699 without any further fee.
2. Go Consult
This home office video conferencing equipment is easy and relatively cheap to be incorporated in your website for use. It has been made and availed for that website of yours specifically since it doesn't require you to download anything so that you can be able to access the services. It has some the outstanding features and it gives you features such as management of the database of the owner automatically. It also has a video selection system.
This video from home equipment works with every electric gadget without discriminating either by size or brand like android phones. This helps you to participate in a meeting even if you are traveling. It also does not require you to have the latest version of Windows or Linux so that it can work on your gadget,it works with any type of browser or system.
3. HelloVideo Conference
This type of personal video conferencing equipment is under control of elaborate. They have some features that are one of their own like automatic home integration,assistant of sound,look out of the video,sharing of material documents,a way in which you can be able to stream online games,online movies or video conferencing. It also gives your smartphone an airplay incorporation and makes simple to share screens.
Conclusion
When you want to purchase video conferencing equipment,you must consider some features before you decide to go for a certain type of the equipment. In the above reviews of home office video conference,the personal video conferencing equipment has the following advantages: They are very quick and ever straight to the point and also very simple to use. The participants are allowed to have the video conferencing using any browser. Another advantage offered by the home office video conferencing equipment is that the participants are not required to go through a procedure of opening an account by registering and this makes the online video conferencing very quick and simple,which is the most concerned point in the selection of video conferencing devices.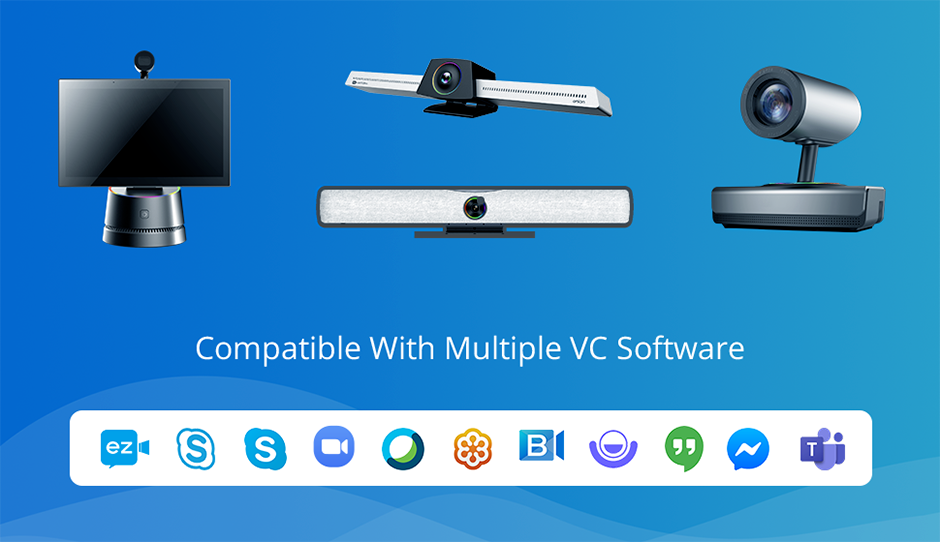 ezTalks Hardware
Supports Multiple VC AppsezTalks all-in-one video conferencing devices work with most popular VC apps like ezTalks,Skype for Business,Microsoft Teams and more as you require.Request A Demo