Ways on How to Record a Web Conference
Web Conferencing Definition
Web Conferencing is an online service which enables us to share web-based content,computer screens or individual applications among two or more computers or mobile devices in the real time. It generally takes place over the internet using TCP/IP connections.Earlier,the web conferencing tools were used to relying on the internet only to send text messages. As the technology evolved,it got its hands on to audio conferencing,and eventually,high-resolution video conferencing. Nowadays,there are a number of tools available for different types of webcasting,webinars and video conferences. Most of them are based on VoIP technologies,and can be used for point-to-point or multicast systems.
Uses of Web Conferencing
With the rise in travel and other expenses,web conferencing has grown as a less expensive way to communicate with remote associates. Web conferencing allows users to conduct business seminars and meetings,offer customer support directly,provide online education and lead presentations via remote control.
As there are various aids of doing real-time web conferencing,recording web conferences can also act as a useful way to interview subject matter experts and customers,and evaluate them. You can also use the recorded footage in a variety of ways,such as; market research,presentations,marketing videos,etc.
Ways to Record Your Web Conferences
When it comes to capturing a web conference,there are a number of options available which one can choose according to their suitability.
1) Web conferencing software
To host a meeting,at first,you have to decide which service you would like to use for the web conference itself,as it's the first step towards recording a web conference. With applications like Google Talk or Skype,hosting a web conference can be easily done with the nominal or no cost and across all major operating systems.
Other web conferencing service provider like ezTalks offers more powerful conferencing features such as HD video and audio,instant screen and content sharing,cross-platform chat,innovative whiteboard,recording and playback,and much more.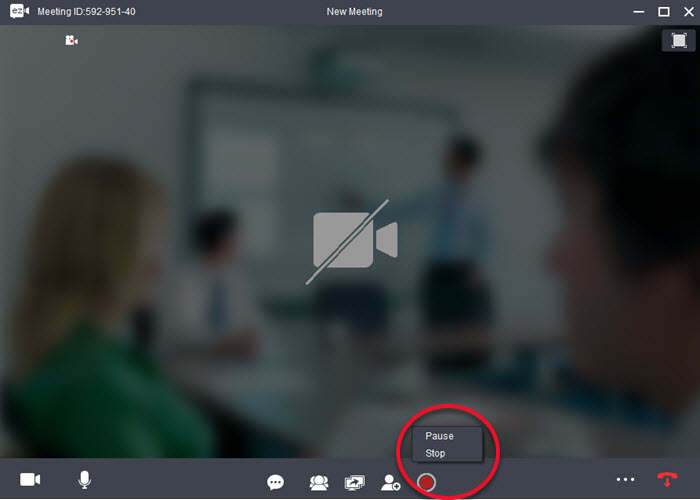 The plus point of using pro tools over the free ones is that you don't have to rely on any other external software or additional tools to record your web conferences. They provide one-stop solutions to all of your conferencing needs. They require a monthly service fee to operate. ezTalks is a great pro web-conferencing tool to use as it provides secure connectivity with data encryption,24x7 customer care support and 7 days money-back guarantee for total customer satisfaction. Also,it comes with a variety of pricing plans to choose according to the user's need.
2) Audio Recording
For the audio-only conferences,you can use free tools like Skype to record the voices of everyone who will be attending the conference. Skype allows up to 25 people on a single web conference. To record the audio with Skype,you have to use the add-on plugin called Call Recorder.
Other paid services,like Instant Teleseminar,are audio based web conferencing platforms which offer features like one-step recording of the conference,web and phone line sharing,and Slideshow sharing.
3) Screen Capturing Software
Web conferencing tools are allowed to be recorded during the whole process. Regardless of the service that you are using to host the meeting,Screen capturing software can make a video recording of your computer screen. You have to manually launch these programs,every time,to record the video of your web conferences.
Some of the widely used screen-capturing programs are Apple's QuickTime X or Screenflow,TechSmith's Camtasia,Bandicam Screen Recorder,etc. Among these tools,QuickTime X is the only free option that is available in the market,while the others require a software license to operate with full functionality.
4) Microphone
You can also use your system's internal microphone or an external microphone to record the web conference audio. While the audio quality is always a preference,clear audio makes a difference between a professional-quality recording and an ordinary recording. You will have to manually choose the default microphone by going to your system's settings and selecting it in the Input Sound preference. This will ensure that the audio on your side of the recording will be captured with the web conference tool used by you.
Conclusion
Among the various tools and options available to record your web conference,you should go on with the one which fits best to your requirements. The points described in this article will serve you as a guide. By understanding your requirements,you can easily judge which option is best suitable for you.
Premium tools provide you a variety of pro features,quality and one-step solutions to your recording needs,while free tools are the cheapest way to get the work just done. Before going to choose any application,you must verify that you meet all of its system requirements,to ensure its proper functioning and uninterrupted execution of your web conference.