Video Conferencing Room - ezTalks Onion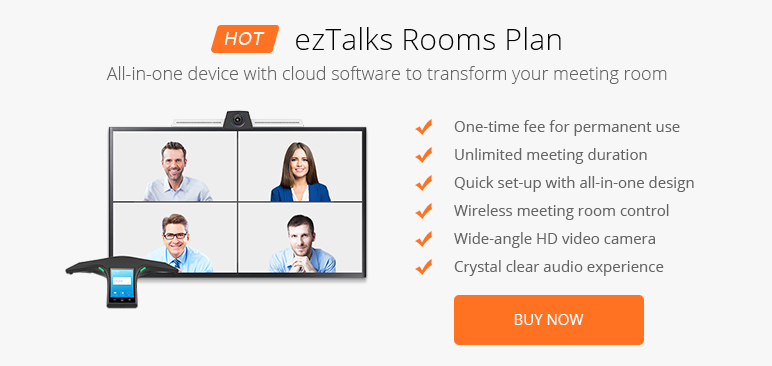 Video conferencing room can be defined as a cost effective technique of facilitating live and interactive communication across various geographical locations. Systems utilized in video conferencing can only be found in some of the biggest multi-national corporations. This is mainly because of the high expense associated with them. However,in recent years there has been a significant adoption of video conferencing technology.
Application Scenarios of Video Conferencing Room:
There are various application scenarios of video conferencing room,some of the notable ones include the following:i. Video conference room is used in meetings with colleagues who are working far from the office.ii. It can be effectively utilized in project collaboration between company staff who are working at numerous sites.iii. It can be used by someone to participate in a presentation that is in a different geographical location.iv. Conference room video conferencing can be used for purposes of collaboration with various research groups.v. It can be used to give access to locations which is impossible or difficult in normal cases because of audience size,security,and health and safety limitations.
Benefits of Video Conferencing Room:
There are several benefits associated with the use of conference room video conferencing,some of the notable ones include the following:
•There is reduced travel time and cost when using video conference room.
•Video conferencing room has the benefit of easier collaborative working.
•There is increased productivity amongst teams and customers.
•Video conference room greatly improves communication as well as enhances relationships.
•It provides businesses with a competitive advantage over their competition. Furthermore,It is a sustained competitive advantage.
•It allows for the organization of meetings that are independent of time.
•It helps in humanizing conversations.
•It facilitates online learning and teaching.
•It serves to support environmental initiatives.
•It facilitates improved hiring as well as retention of top talent.
Video conferencing room has an array of advantages,the above list is far from exhaustive. Equipment conference room video conferencing equipment include display (plasma screen),cameras,microphone,amplifier,speakers,echo cancellation,networks,user interface,cables,peripheral equipment (second camera or laptop) and codec. The networks are utilized to carry the video conference traffic. The user interface can be a web interface and remote control. The codec is the main brain behind the conference room video conferencing equipment.
ezTalks Video Conferencing Room- ezTalks Onion
ezTalks Onion can be described as a comprehensive device that is properly integrated with a speaker,camera and video conferencing software. It is ideal for meeting rooms which are approximately 20 m2 in size. It takes just a few minutes for an individual to start a meeting using ezTalks video conferencing room - ezTalks Onion.
This product has very powerful control features for meetings such as lock meeting,mute,live chat,video recording,screen and file sharing as well as interactive whiteboard and annotation. ezTalks Onion provides consumers with reliable and efficient conference room video conferencing solutions. This is because users can conveniently connect to other businesses using it. Fortunately,the video conference room users to other businesses regardless of the identity and status of their partners or clients. In fact,it is quite easy for enterprises that own international offices to deploy this amazing video conferencing room system. Everyone does not need to have an ezTalks Onion,a meeting room that is equipped with an onion is enough. This is because the colleagues and attendees who are located outside can successfully join the meeting using ezTalks app with mobile devices or PC. Mobile devices that can be used include Android phone/pad,iPad and iPhone. Features ezTalks Onion's features include the ones listed below: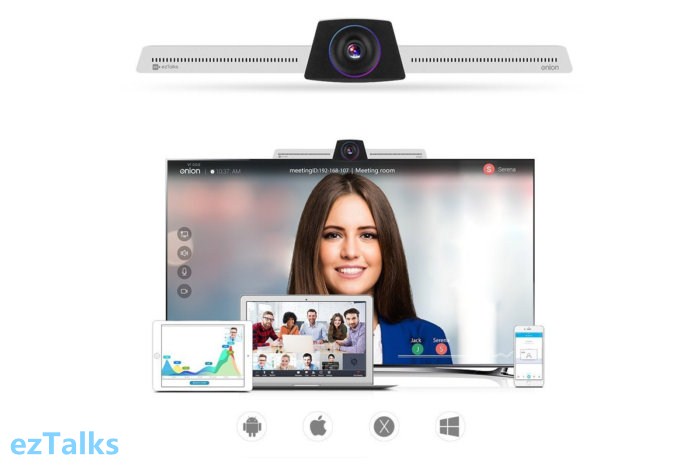 •All-in-one design – It is equipped with an all-in-one cloud-based software and hardware. It is a powerful interactive video conferencing and real-time collaboration equipment.
•HD-video – It has a 1080P camera that has a wide angle lens of 120˚. This provides an image quality that is incomparable.
•Built-in audio – It has a high quality microphone that outputs an exceptional sound quality for enhanced communication.
•Superb connection – It provides a video streaming service that is stable,faster and smoother.
•Many-to-many video – It is capable of supporting hundreds of people that are simultaneously participating in one session.
•File/screen sharing – It uses a revolutionary screen sharing that can display photographs,videos and PPT.
•Seamless collaboration – It has an effective collaboration function that is characterized by co-annotation.
This serves to bring teamwork to a whole new level. It is good for building stronger relationships and generating new ideas. Compatibility ezTalks Onion's conference room video conferencing is compatible with android and other systems like Windows,Mac and iOS. This is beneficial as it caters for the different preferences of consumers in the market. Conclusion ezTalks Onion is just the best with regard to conference room video conferencing solutions.