Uses of Video Conferencing for Small Businesses
Recently,Google has quietly rolled out a new video conferencing app Meet,aiming at HD video meetings. Similar to Google Hangouts,Meet also provides group video calls. It is not just video chat,but in an expanded capacity. Hangouts is limited to 10 participants at most,while Meet is said to support a HD video conference with up to 30 people. Obviously,it is designed for small businesses. Then,where can businesses apply such a video conferencing software like Meet to? Here are four uses of video conferencing for small businesses.
First,you can use video conferencing to conduct a daily business meeting.
One purpose of hosting business meetings is to invite employees to share their ideas. However,if someone happened to be on a business trip at that time,the meeting would have to be cancelled? Not really. Video conferencing works. By just downloading a video conferencing software like ezTalks Meetings and running it on your computer,you can easily conduct a real-time online meeting. Send an invitation link to your employee,and he/she can conveniently join the conference through his/her smartphone,tablet or other mobile devices.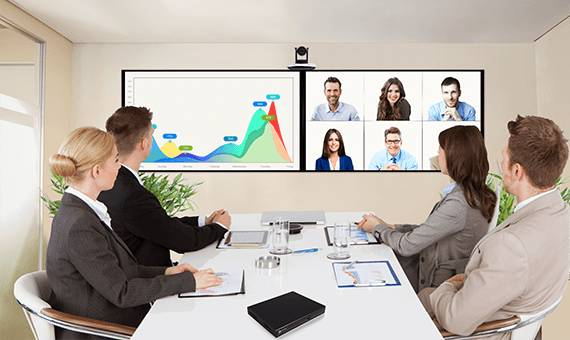 Second,you can also utilize video conferencing to have a meeting with your customers or partners.
Video conferencing can help business owners to discuss negotiation with customers or partners,just like you were talking to each other face to face. The effective online meeting helps both of you save time and money,and thus increase productivity. Besides,it can also build a good client relationship by keeping in touch with your customers through video conferencing tool. For example,expressing your wishes and congratulations for your clients in some special holidays or his/her birthday.
Third,you can adopt video conferencing to make an online training for your team members.
Staff training is essential for every company,and small business is no exception. Small companies can also have its subsidiaries or offices in different places of the country or around the globe. On such an occasion,online training can guarantee a successful staff training. Open your video conferencing app and start an online training for your employees remotely,which is very convenient and cost-effective.
Finally,video conferencing makes working from home become a reality.
Nowadays,more and more staff are willing to choose a new way of working---working from home. Video conferencing make it possible for employees to keep connected with colleagues or clients in a real way. It can save you a lot of time spending on the way and prevent you from burning out because of traffic jam or being a sandwich in the subway. Particularly,if you were a pregnant employee,working from home would be a perfect choice.
Small business video conferencing has been widely used in many aspects,and it is just far beyond the mentioned above. If you are considering selecting a right video conference software for your company,please see the following essay 5 Best video conferencing software for small businesses in 2017 for your reference.