Top 8 Benefits of Video Conferencing in Education
Thanks to the development of technology,nowadays education does not only happen to classrooms. It has greatly changed its way,especially with video conferencing. In a manner of speaking,video conferencing brings education to a brand-new world. To help you better understand,here this article emphasizes on telling you the exact benefits of video conferencing in education.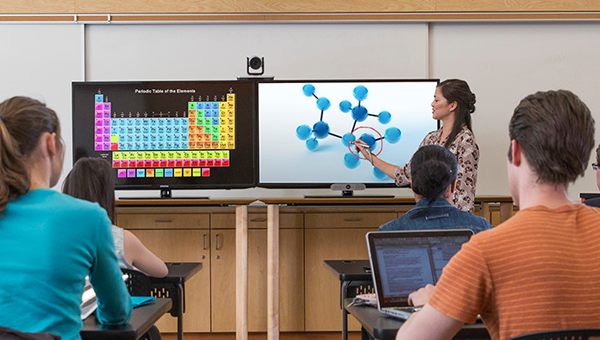 1. Video Conferencing Connects Different Schools for Collaboration
In the past,when your school intended to cooperate with other school for better education,it usually sent teachers there to learn good teaching experience or management experience. Although it worked well to a great extent,it subjected to the limit of time and territories deeply. Besides,it took a lot of time and money for teachers to back and forth between two schools.Things have changed when education happens through video conferencing. Now with video conferencing,your school don't have to do that again. Whenever your school intend to organize an academic conference,a teaching training,or have a webinar for online education with other schools,all your school have to do is to adopt a powerful video conferencing solution,like ezTalks Meetings,which enables to hold up to 100-participants online class for free. Within a few minutes,you can see and hear other attendees dispersed in different places,chat with them,and share useful information like whiteboard,screen and more with each other,as if all of you were in the same room.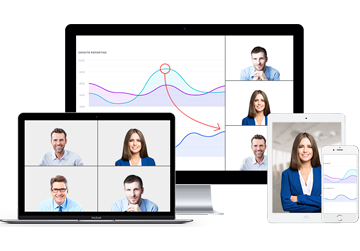 Why Choose ezTalks Meetings?
Free for up to 100 Participants
Fluent Group Video/Audio/IM Chat
Screen Sharing and Annotation
White Board and Collaboration
Record and Playback
SIGN UP FREE NOW
2. Video Conferencing Lets Student Learning with No Out
Studying in classrooms is always taken for granted for most of your students. However,some of your students,especially those who live in remote rural area may don't have the opportunities when your schools are far away from their homes. In this case,it's a good idea to adopt video conferencing for virtual classrooms. With its help,your students don't need to go for a long distance to attend school. They can learn new knowledge and even experience a virtual school trip without going outside.
3. Video Conferencing Enables to Record Lessons for Review
Sometimes,your students might miss the class due to a sick leave. In order not to fall in the learning process,they want to review the lesson. However,learning a lesson by students themselves is not so easy,especially when the lesson contains a lot of new knowledge. In this case,video conferencing turns out to be a good helper. As you know,one of the important benefits of using video conferencing is that it supports recording and playback. When your teachers are teaching lessons through video conferencing,they can record it. Then,your students can review the lessons with the recording after classes,just like they have classes usually.
4. Video Conferencing Empowers to Chat with Expert Face to Face
One of benefits of video conferencing in schools is that it brings an easy way for your schools to invite experts to impart teaching experience to teachers and give classes for students. All things that your schools need to do is to invite expert to join an online video conference. Teachers and students can chat and interact with the experts. On the other hand,experts always have a busy schedules,and this kind of conference helps them to save a lot of time and money for travel.
5. Video Conferencing Makes Out-of-Class Learning Easier
Education does not end when formal classes ends. It is a lifelong process. When your students and teachers finish classes,they might plan to do out-of class learning to enrich themselves. However,subject to the restriction of time and place,Out-of-class learning turns out to be not so easy as you imaged before.
If you want to provide a platform where your teachers and students can have out-of-Class learning,you can take video conferencing into consideration. One of advantages of video conferencing for education is that it makes out-of-class learning much easier. Your teachers can use the video conferencing to teach students. Students and teachers can also create study groups to learn from each other from their homes.
6. Video Conferencing Helps Connect Teachers to Parents Closely
Your teachers always hope to keep close in touch with every student's parents all the time,especially when holding a parent-teacher conference. Sometimes it's a little bit difficult for every student's parents to attend the parent-teacher conference when they have a busy work arrangement or when they're on a business trip.
Video conferencing helps minimize the conflicts between your teachers and students' parents. Teachers don't have to invite every student's parents to go to the school for the parent-teacher conference when they really have their hands full. They can invite student's parents to attend the parent-teacher conference via a video conferencing solution,no matter where students' parents live or stay.
7. Video Conferencing Lets Students Experience A Virtual School Trip
Image that your school plans an exhibition visit in order to let your students better understand the history and culture. To make it,teachers have to make full preparations ahead of time,including the destination to go,the bus to take,the food to eat,the time to go and back,and so on.
However,things don't always happen as it was planned. Time restraints,budget issues and bad weather,any of which might make a trip impractical. With regard to this,why not bring the school trip to classes? It's completely feasible with the help of video conferencing solution for education. By using it,students can enjoy the school trip when sitting in the comfortable classroom.
8. Video Conferencing Reduces the Cost for Education
The last benefit of video conferencing in education is that it reduces the cost for basic facilities for education. As you know,some schools,especially in remote rural area,have not enough funds to build or expand the teaching buildings because of a variety of reasons. In this circumstance,using the video conferencing solution for education is a good choice. It not only reduces the cost,but bring a new world where your students can see,hear,learn something they may not know when in a common class.
The parts mentioned above mainly tell you the benefits of video conferencing to students,to teachers,to schools and to education. Look it in another way,it also suggests the great importance of video conferencing in education. Thus,there's no doubt that more and more video conferencing solutions appear,like ezTalks Meetings. With the development of video conferencing,video conferencing will play a more and more important role in education in the near feature.
You Might Be Interested in
• 6 Benefits of Video Conferencing for Healthcare
• 4 Benefits of Video Conferencing for Educational Institutions
• 10 Benefits of Video Conferencing for Business
• 6 Benefits of Video Conferencing for Staff Training
• Advantages and Disadvantage of Skype for Business Video Conferencing