Top 7 Alternatives to Zoom Cloud Meeting
Video conferencing has gained immense popularity over the past few decades. It is preferred by many organizations due to the sheer convenience it offers them. As a result of its popularity,there are countless apps that have been created to make video conferencing possible.
Today,users are spoilt for choice in so far as video conferencing software is concerned. One of the most popular video conferencing apps is Zoom Cloud Meeting. It has a number of key features that endear it to users. But like most other software,it also has it disadvantages as this Zoom Cloud Meeting review will show. Here is more information about the software.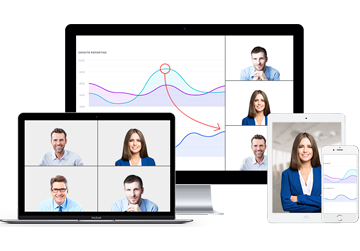 Best Alternative to Zoom
Free for up to 100 ParticipantsFluent Group Video/Audio/IM ChatScreen Sharing and AnnotationWhiteboard and CollaborationRecord and PlaybackSign Up Free Now
What are the advantages of Zoom Cloud Meeting?
Many Features
Zoom Cloud Meeting has many important features that make video conferencing more interactive. For instance,users can share information from their screen using the app. It is also quite easy to get Zoom Cloud Meeting for Mac.
High Definition Images
Another pro of using Zoom Cloud Meeting is that the images and voice messages are all HD. The beauty of this is that you get to see and hear other participants with great clarity. This makes for a great communication experience.
Good Security
Additionally,one has to applaud the security system of Zoom Cloud Meeting. With the software,users can rest assured that their information is as secure can be.
What are the Disadvantages of Zoom Cloud Meeting?
Confusing to Operate
Nobody likes an app that is difficult to operate,and this is one of the greatest fails for Zoom Cloud Meeting. After installing the software,users are left on their own to figure out how to operate the app. This can be quite a challenge especially for those who are not tech- geeks. What's worse,some users may never get to experience all the benefits of a Zoom Cloud Meeting download simply because the features are too hidden for the average user.
Bad Lighting
The last thing you want when video conferencing is poor lighting. It can ruin the whole communication experience. With Zoom Cloud Meeting in particular,you have to use specific lighting,which can be rather tedious.
Limited Space
One of the most common complaints in any Zoom Cloud Meeting review is the limitation on space. Although the software uses cloud technology,space is still an issue that users have to put up with.
Fairly Expensive
Additionally,the software is relatively pricey compared to other software of its caliber. Although you can get Zoom Cloud Meeting free download,as your usage of the software increases,you will need to part with larger amounts of money.
What are the alternatives to Zoom Cloud Meeting?
You may be wondering,what would be a better alternative to Zoom Cloud Meeting,now that the application has so many shortcomings? Luckily,there are many options that are open to consumers,most of which are way better than Zoom Cloud Meeting. These include:
1. ezTalks Cloud Meeting
ezTalks Cloud Meeting is arguably one the the best video conferencing apps and the alternatives to Zoom Cloud Meeting on the market. This is certainly not a matter of opinion,but rather one that is actually factual. To prove it,one only has to look at the many features that the software has. These include:
As many as 100 participants for free at a time
As many meetings as users please
HD video and udio experience
Screen sharing and co-annotation
Recording meetings and interactive whiteboard
More fairly pricing
Easy to register and operate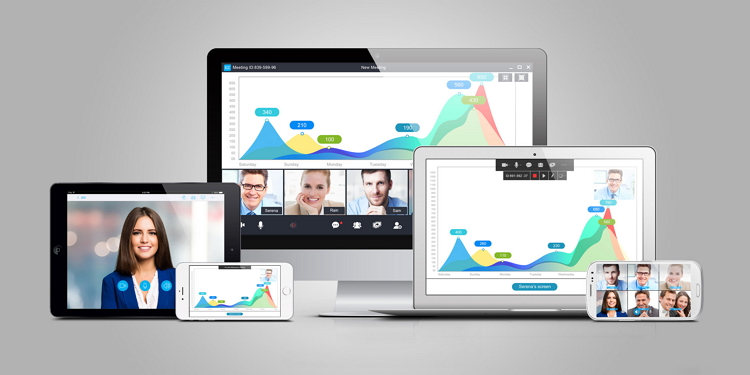 Want to try it now,you can sign up for free here.
2. Skype
Skype is one of the oldest names in video conferencing. It has been in existence for a long time now,and it has built itself a solid reputation over those years. Some of the most appealing features of the software include:
One to one video calls
Instant messaging
Screen sharing
File sharing
Redirecting messages to the emails of participants who are offline
Free group calls
Group chats
On the flipside however,Skype only allows for up to ten participants at a time. This may make it impractical to use for large organizations,but the free group calls make it immensely popular for small organizations and businesses.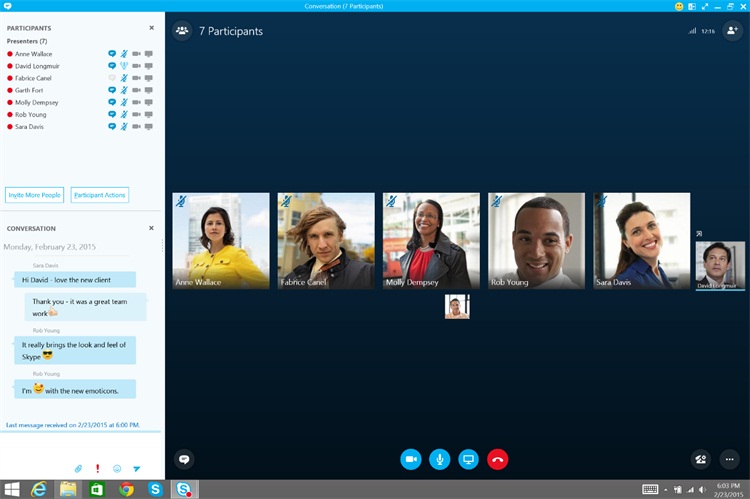 3. Join.me
This is yet another video conferencing app worth your attention. It may be little known,but that has absolutely no bearing on its quality. Some of its best features include:
Free for beginners
Multi- lingual- up to six languages
Easy to operate
Has a knowledge base
Whiteboards
Scheduling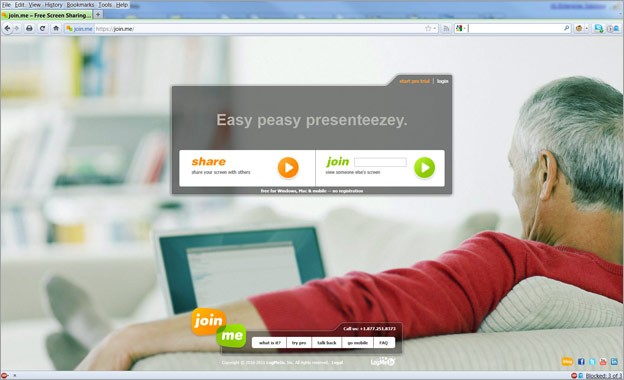 4. GoToMeeting
GoToMeeting is a somewhat popular video conferencing software. Some of the reasons for its popularity include:
Up to 100 participants at a time
HD images and voice
Screen sharing feature
File sharing feature
It is easy to invite participants- using links
Supported on many operating systems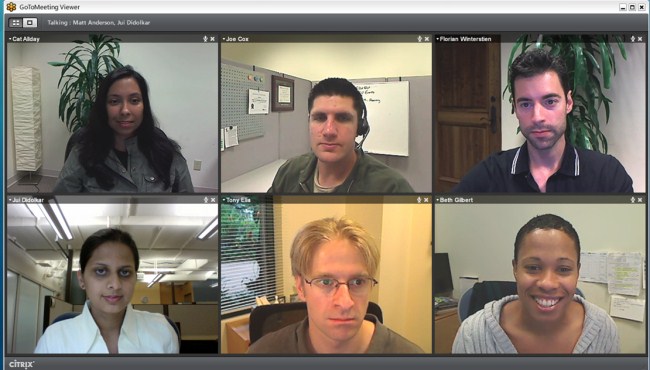 5. Adobe Connect
Another video calling app worth your attention is Adobe Connect. Some of the best features of the software include:
Whiteboards
VoIP technology
File sharing
Screen sharing
Users are categorized into hosts,presenters and participants- goof organization
Comes with accessories; microphones and webcams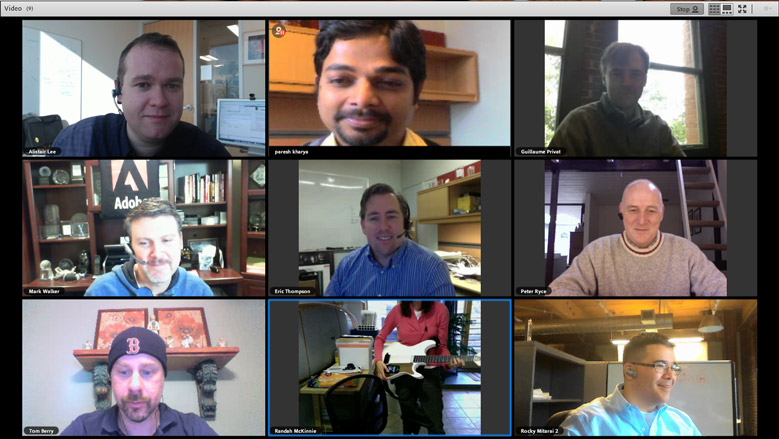 6. Google Hangouts
This video conferencing app by Google is also a great video conferencing app,although it also supports other forms of communication such as texting and voice calling. Some of its key video calling features include:
Screen sharing
Numerous add-ons
Works well with both mobile devices and computers
File sharing
Unfortunately,you can only hold webinars with up to 10 people when using Google Hangouts,which is one of the apps greatest shortcomings.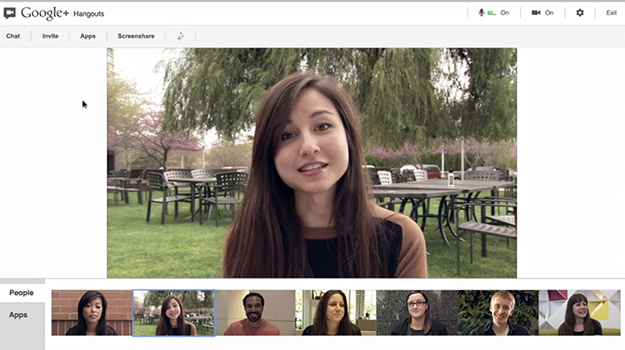 7. Ekiga
Ekiga is also a great video conferencing app,although it is best suited for small organizations. It is an open source app,and it is free to use. Unfortunately,it can only be used with Windows and Linux operating systems. It also lacks many features that most other video conferencing apps have,but it is a rather decent app considering that it is free.
Conclusion
Although Zoom Cloud Meeting is a respectable app,there is no point of putting up with its shortcomings if they are too much for you. Explore other video conferencing apps and you may find one that suits your purposes perfectly. Wallpapers via 1080p Wallpaper & Love Wallpaper