Top 6 Online Meeting Room Software
Gone are the days when companies used to depend on face-to-face meetings. With the advent of new technology,businesses can hold their meetings over the internet. This is commonly referred to as online meeting. Online meeting is an interactive web platform where participants can access,read papers,have live chats,pose questions and interact with participants across the world. Sometimes delegates may have no time for face-to-face meetings or might find it too expensive to travel to a conference. In the past,this would have caused a lot of havoc. Luckily,today we have online meetings that enable participants to meet online without spending money on air tickets. The virtual meeting or internet meeting has really come of age such that location cannot be a hindrance anymore.
Any business can set up an online conference using meeting room software such as ezTalks Room. This conference room solution will save your business a lot of money and time. In addition,conference room app like Skype for Business and Cisco Webex have improved communication and participation ability. Unlike in physical meetings,all participants in internet meeting can interact and chat with each other. As a result,the demand for meeting room software free is high. There are tons of online meeting room apps available online,which makes it difficult to choose the right one. This article will discuss top 6 online meeting room software that you can use today.
1. ezTalks Room
ezTalks Room is a powerful meeting room software that allows businesses to hold video conferences with clients,colleagues and delegates from all over the world. This online meeting room software comes with amazing features that make it stand out from the rest. One such feature is the quick set up process. ezTalks Onion only takes a few minutes to set up a conference room thanks to its easy to use interface and all-in-one design. When it comes to online meetings,video and audio quality matters a lot. ezTalks Room satisfies both features with super HD video and crystal clear audio,which enable businesses to have face-to-face conferences in real time. This software also makes it possible to chat,present,and send messages from any device such as desktop,tablets or mobiles.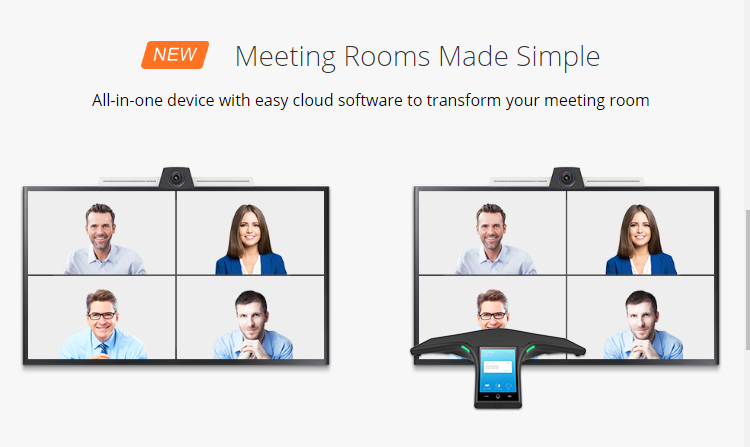 The price is only $699 for your huddle conference rooms with full-featured functions and it is the most affordable room solution on the market as of current.
2. Zoom Rooms
Zoom Rooms is a video conferencing software that designed for room-based internet meetings. This conference room app provides the same features found in most traditional room-based meeting apps,with the exception that it allows global audio conferencing and wireless sharing. Other features of the Zoom Rooms include HD video and audio,one-touch to begin online meetings and meet with anyone. To get started,all you have to do is connect your Android tablet or iPad with your Mac or PC,monitor,speakerphone and USB camera.
3. GoToMeeting Room Solution
Whether you are in a huddle room,conference room or team room,GoToMeeting Room Solution is what you need to collaborate and connect. This conference room software is simple to use and allows businesses to schedule meetings at any place,anytime. It supports up to 15 participants in a meeting and allows chatting,screen sharing and meeting recordings. The GoToMeeting app has crystal-clear built-in audio that allows you to choose between toll-based and VoIP options without incurring an extra charge. This online meeting app also has one-click recordings that you can send out to people who missed the meeting.
4. Appearin
Appearin may not offer unique features like some of the apps mentioned above,but it is its simplicity and super fast video conferencing that makes the app awesome. If your team is remotely distributed and you want to set up a team meeting,this is the app you should use. It is very fast to set up and create a room meeting. All you have to do is to create a room link with your company name,share the link via email or chat and you are done. Your guests can join the meeting instantly from any device by clicking the link.
5. Skype for Business
It is worth noting that Skype for Business is not the same as the popular video calling service Skype. But rather Skype for Business is a powerful online meeting app that is specifically built for businesses. This online meeting app comes with basic features such as instant messaging,meeting recording,and Voice of IP. With this incredible app,you can hold an unlimited number of meetings of up to 10 people without paying a dime. You can invite your team to the meeting by sharing a personalized URL link. With the whiteboard feature,participants can draw,edit and draft together as if they are in the same conference room.
6. Cisco Webex
Cisco Webex brings meeting participants from all over the world together. With this app,it is like everyone is there in person even if they are actually not. You can join video meetings from any device and enjoy HD video and audio. Cisco Webex makes it easy to share your screen,which allows other participants to view your document,spreadsheet or application. It doesn't matter whether you are a big crowd or looking to meet face to face.
Conclusion
There you have it,6 of the best online meeting room software that you can use today. If I was to pick one,I would recommend ezTalks Room to anyone. The ability to record meetings,schedule meetings in advance and easy to set up makes ezTalks Room a clear winner. ezTalks also has a smooth and interactive whiteboarding to brainstorm and visualize ideas for quick decision making. All these impressive features coupled with the powerful pre-installed software makes ezTalks Room the best internet meeting room solution in the market.