How to Share Desktop on Skype
Effective communication is the key to the successful relationships in personal life as well as with your business stakeholders. Face-to-face communication is simple and clear but in some cases,it is simply impossible due to distance like some people are working abroad or distant from their origin. In these cases,they have to use some medium to cover the distance and convey something to his relations or office staff or business stakes.
Nowadays We are using Skype very frequently just to chit chat with our closers. In Skype,Desktop sharing is a very important and informative feature. Which we can use for our screen sharing with the person that is thousands of miles away from us,It seems that you and another person are in the same room and discussing something. With desktop sharing tools,the instigator of an online conference may also allow remote collaboration by giving control of the desktop over to a different participant.
How to Share Desktop on Skype
Step 1: Create a voice call or video call of your any contacts,click the +button within the call window,then click the option of Share screen.Step 2: The other person is going to be ready to see live video of what is happening on your screen,including with your desktop and any programs you will have open.Step 3: If you want to prevent sharing your screen with another person,click the Stop Sharing button.Step 4: Click the End Call button when you're ready to hang up.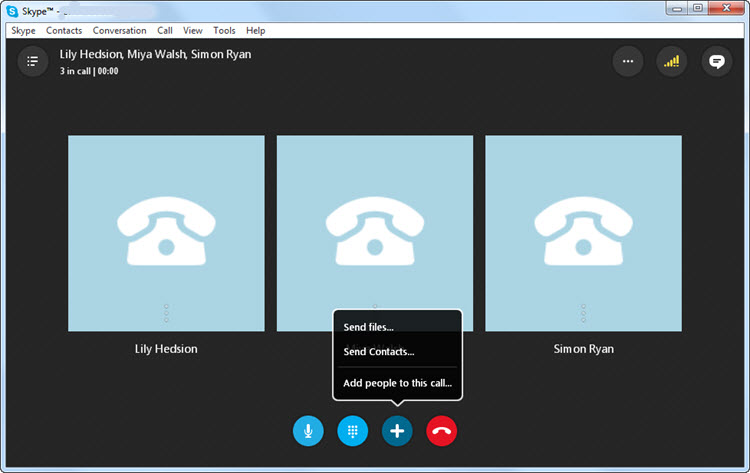 How to Fix Skype Desktop Sharing Not Working
1. The "share screen" feature does not work
Solution: To prevent this problem,It is important that you and other person are using the latest version of Skype.
2. Screens freezing and dropping
Solution: High Speed of internet is required to solve this problem & close all the bandwidth-sucking application that may be using too much bandwidth from your internet connection and avoid downloading the application.
3. Screen sharing option is dim or not clickable
Solution: To click The screen sharing option,it is necessary you are either in a voice or a video call with the person you want to share your screen.
4. The video call is distorted
Solution: To avoid this problem you should check your Internet connection and use the latest version of Skype.
Main Solution: To avoid all the given problems you may use the best video conferencing software ezTalksMeetings. ezTalksMeetings is the best video conferencing Software having desktop sharing feature. It is very user-friendly. Here you can easily sign up through Google and Facebook and communicate with others.