3 Best Business Collaboration Software
Modern companies are always looking to improve their productivity and in order to do that,they use all the tools available. Thankfully,the technological progress allows them to benefit from a series of software and devices. Because the biggest problem of a small or big company is the centralization of information,managers have to bring an innovative solution. That's how business collaboration software appears.
Business collaboration software is the perfect method for small business and enterprises to centralize their information,share databases,stay connected,create reports and learn from their previous mistakes.
Why Are Business Collaboration Software Widely Used?
# A series of communication tools. These tools are essential for a proper business collaboration,allowing team members to host online meeting,share ideas,make plannings,organize brainstorming sessions,and more.# Task management features. These features are great for the managers. They can observe the development of a project,keep track of their team members,give some recommendations or speed up the working process.# A shared workspace. This is the best feature of collaboration software for small business and enterprises. It will allow any manager to set alerts,assign tasks,centralize all the information and provide deadlines. All team members will be able to see the development of the project and work directly on the platform. This way,there will be no misunderstandings and the project manager will track their activity easier.# Mobile connectivity. Because many companies require their employees to do field work,this is a very useful feature for them. This way,they will be able to see the development of a project,communicate with the other members and even make some changes or adjustments to the actual documents. And all the features are available on any mobile device.
3 Best Business Collaboration Software
enterprise and small business collaboration software can be used to create a virtual workspace,to transfer valuable data or reports from the past. Besides,to centralize information,this kind of software is also helpful,because it can be accessed remotely,even from a mobile device. So,business collaboration software is extremely useful for small company and enterprises to manage to improve the overall productivity,to ensure a better coordination among the team members and to keep then well informed. The 'cloud-based' feature,allows team members to be updated in real time,in case of an urgent change or project adjustment.
Even though there are many such collaboration software for business available on the market,not all of them are effective. Bellow,we will present the most reliable ones and explain how they can help your business.
1. ezTalks Meetings
Designed as a video conferencing solution,ezTalks Meetings manages to be an effective and powerful enterprise and small business collaboration software as well. It can bring employees all over the world in a virtual conferencing room,and discuss the business things and observe the team activity. In this way,team members are very familiar with the business progress. Besides,ezTalks Meetings features content and screen sharing,whiteboard sharing,annotation,which help you to collaborate with team members efficiently.
Apart from Windows PC and Mac,it works perfectly on iOS and Android devices,which enables you to easily stay connected with your team,no matter where they are. This way,you can involve them in any project activity,invite them to a brainstorming session or even provide them some updates.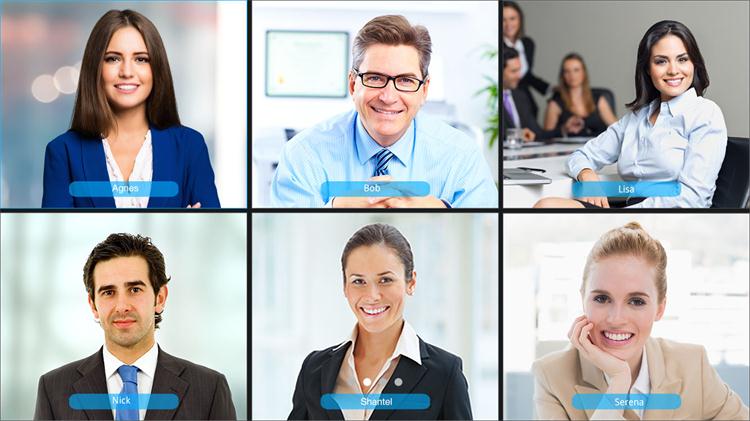 2. Huddle
This software is one of best collaboration software for small business and enterprises,allowing any company to work more effectively. Its cloud based system is extremely secure,ensuring a risk-free connection. Besides the desktop software,Huddle also offers a mobile app,offering the same features as the desktop one. With this software,any project will now have a common database,in which you can track the others' activity,view and edit documents,set tasks or manage approvals. The integration feature,allows any team member to use popular software like Microsoft Office,Share Point or Google Apps into the main software,ensuring an increased productivity and a more professional approach.
The interface is very user friendly,offering a wide range of features for the users,and giving them immediate access,to all the key options. More than that,Huddle offers an intelligent technology feature,which automatically provides updated information,regarding the development of a project. This way,there won't be any project conflicts,or any misunderstandings among the team members.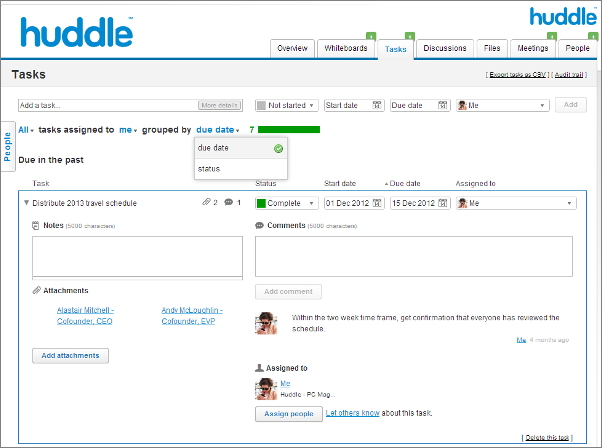 3. Redbooth
This small business collaboration software,is being used by thousands of companies worldwide. Redbooth successfully combines its business collaboration tools with some project management features,creating a perfect business oriented software. At a first sight,Redbooth seems to offer a real-time workspace,in which the team members can interact. However,its functionality is more diversified.
Because of its advanced features,Redbooth manages to offer every necessary tool,for a proper business collaboration. It provides a useful communication among all the team members,allowing them to share videos,files or images. The software can even be used for virtual brainstorming sessions,updating every info in real time. A team leader can benefit as well from Redbooth. The tracking feature allows any supervisor to examine its member's activity and to offer some recommendations,if that's the case. This program doesn't come with an integrated option,but it offers plugins,for some very useful tools like Gmail,Excel or Outlook. Redbooth is absolutely free,if it's not used for more than 5 workspaces. However,a business package comes with many other features and unlimited workspaces and it costs only $15 / user.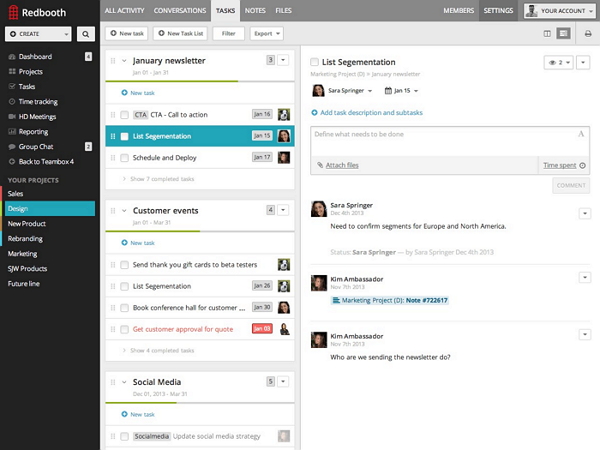 Conclusion
If you want to fully benefit from the technological progress and bring your company to the next level,you should start using business collaboration software. You will see the results immediately and you will reach a perfect collaboration,between you and your team members.