Five Video Conferencing Software Comparison
Video conferencing software has gained immense popularity amongst corporate and business enterprises. Corporate entities make use of the multi-featured software solution to hold meetings and conferences with its distant located clients,staff,vendors and customers. Video conferencing software aims in producing HD quality video setup,so that the participants can get involved in the process of video conferencing with utmost convenience.
In today's market,you can find the widest range of video conferencing software options that are designed to meet growing needs of the clients and customers. Some of these video conferencing software have in-built features of producing HD quality conference,recording the conference,sharing files,and much more. Therefore,you should always compare video conferencing software and choose the one that has great features and matches your specific needs. Below is a detailed list of five best video conferencing software available in the market. Take a closer look at them first.
1. GoToMeeting
The web conferencing tool from Citrix is a hosted solution that can run through desktop and laptop conveniently. The multi-feature video conferencing software is simple to use,and it can be easily integrated with your Microsoft Outlook account and IBM's Lotus Notes.Features:
· Meeting setup - The one-click meeting setup option is extremely time-savvy for business professionals. The GoToMeeting toolbar is integrated with your Outlook screen. You can easily start your meeting by clicking on the "Meet Now"icon on the toolbar.
· Meeting control - With simple mouse clicks,you can have optimum control over the meeting control interface like changing presenters,desktop sharing,and chatting with attendees.
· Recording - You can even record the entire audio portion and desktop presentation of the conference by using GoToMeeting.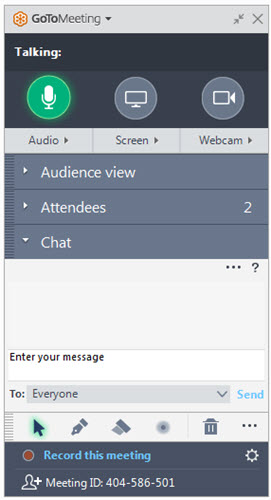 2. ezTalks Meetings
ezTalks Meetings is a leading video conferencing software that allows you to conduct HD video meetings and conferences up to 100 people per meeting for free. The web interface of this software is quite simple to understand and use,and it is integrated with audio/video conferencing,screen sharing,remote control and many more. Different industry verticals including government,education,healthcare,finance and business enterprises highly satisfy to use this software for their online meetings and webinar.
Features:
· Screen sharing and content sharing can be done with simple clicks.
· The meeting record functionality helps in recording the entire audio and video content of the meetings.
· The collaboration tool comprises of whiteboard sharing,annotation,remote control options,and Private & group chat,and more.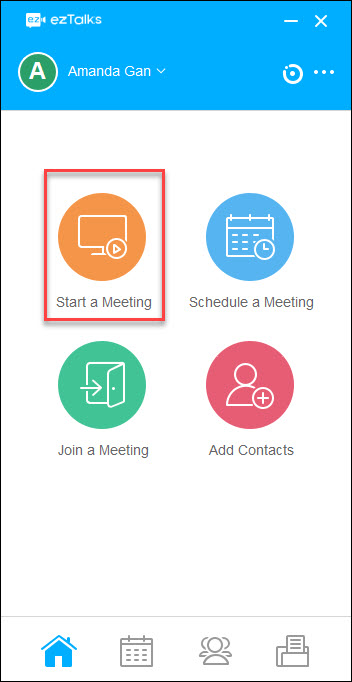 3. Lifesize
The cloud-based video conferencing software is quite easy to set up and small business enterprises can conduct their meetings using this software. With the perfect blend of plug-and-play HD camera systems and the cloud-based conferencing software,you can enjoy the great video conferencing experience.
Features:
· The video calls can be made easily and people can join the meeting rooms in a simplified manner.
· The software also works from a mobile device and the participant can join the conference room.
· The software supports 40+ participants in video meetings.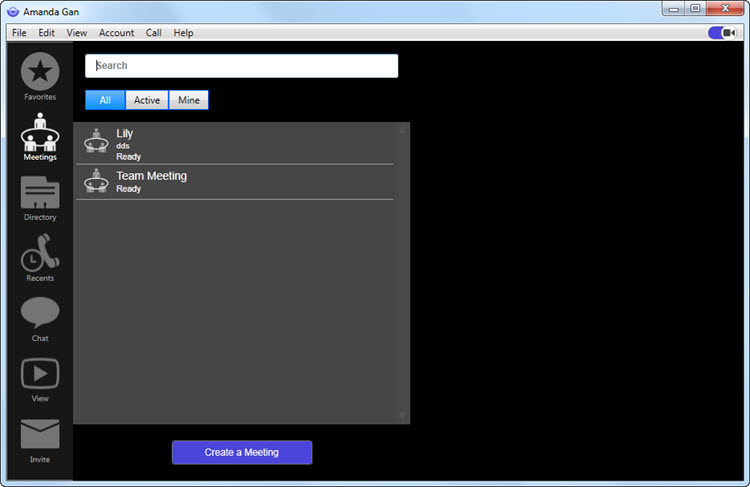 4. AnyMeeting
This video conferencing software was previously known as Freebinar and is one of the best web conferencing software that allows up to 200 people to join the video conferences. Unlike most of the webinar services,AnyMeeting aims to provide user-friendly intuitive controls,good sound quality and a clean interface. Nonetheless,its PayPal integration feature makes it convenient to charge for webinars.
Features:
· Screen sharing and phone conferencing are the key features of the software solution.
· The software has meeting recording and even a follow-up functionality.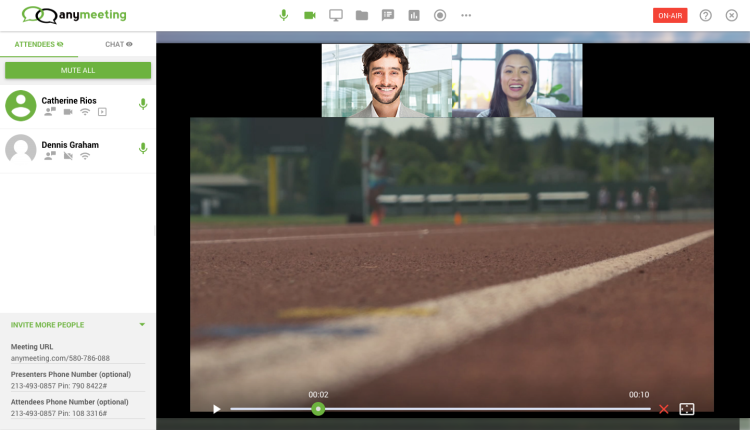 5. Mikogo
The free web conferencing software allows up to 10 meeting participants at a time and has all the essential in-built features that are crucial for an online meeting tool. The simple-to-use screen sharing feature provides fast and secure solution for online meetings,remote support,web conferencing and presentations,webinars,and many more.
Features:
· You can easily switch the presenter's role while conducting video meetings by using the software.
· Meeting recording can also be done by using the software.
· One of the most useful feature of the software is the ability to control the quality of the meeting.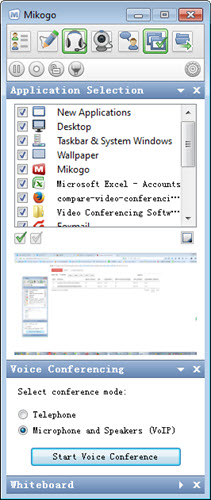 Compare Video conferencing Software
· Video quality - Citrix GoToMeeting and ezTalks Meetings can help you set up HD quality video conferences. On the other hand the video quality of Mikogo and LifeSize is not that great.
· Video viewer size adjustable - You can adjust the view size of your videos using the advanced tools of ezTalks Meetings,but it may not be possible in Mikogo.
· Number of participants - Video conferencing software like ezTalks Meetings,GoToMetting and AnyMeeting can support large number of participants. Whereas,Mikogo and Lifesize are meant for a small group of attendees.
· Record & playback ability - Majority of the video conferencing software,including GoToMeeting,ezTalks Meetings and AnyMeeting,enable you to record the entire online meeting.
· Two-way audio & video - The particular feature present in ezTalks Meetings,GoToMeeting and Lifesize allows the participants to interact with each other seamlessly.
· Private text chat - The feature of private text chat is present in ezTalks Meetings and GoToMeeting,where attendees can text each other privately.
Conclusion
To conduct casual online conferences by using the internet,you may make use of Google+ Hangouts and Skype in earlier days. However,with the emergence of reliable video conferencing software,it has become simpler to organise professional business meetings. Corporate meetings always need the usage of a professional video conferencing software. It eases the business executives to interact with each other effectively and meet people who are located at a thousand miles of distance. After comparing video conferencing software mentioned above,you must be clear about what to choose. Just pick up your favourite video conferencing software and have a try!