Top 4 Huddle Room Kit to Improve Your Collaboration
Traditional workspaces can't supportthe workflow requirements for informal and fast-paced team gatherings. That is the reason why there has been the introduction and continued the adoption of huddle-style working by a good number of companies and businesses to accommodate a small team. Even with the importance of huddle rooms or spaces,choosing the right huddle room kitto achieve enhanced collaboration is not always easy.Consequently,here are some of the top huddle room kit options to choose from.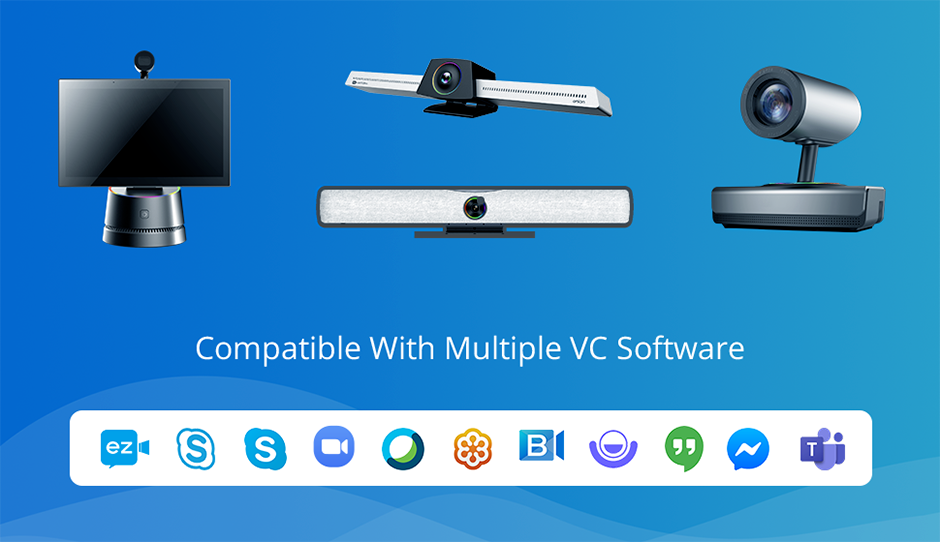 ezTalks Hardware
Supports Multiple VC AppsezTalks all-in-one video conferencing devices work with most popular VC apps like ezTalks,Skype for Business,Skype,Zoom,WebEx,GoToMeeting,BlueJeans,Lifesize,Google Hangouts,Facebook Messenger,Microsoft Teams and more as you require.Request A Demo
1. ezTalks Huddle Room Kits
ezTalks video conferencing huddle room kits are mainly designed for both small and medium rooms. They arethe top recommended huddle room kits for numerous reasons including offering the ability to control meeting in order easily anddeliver the best meeting experience. With the use of ezTalkshuddles room kits,you are guaranteed that your system of business communication and collaboration will be more effective and efficientas they combine hardware with high performance and software with different features like screen sharing,whiteboarding,polling and etc. The ezTalks huddle room kits for you to choose from include:
Meet S
This particular ezTalks video conferencing equipment has an all-in-one design. The design of the huddle room kit has incorporated microphones,speaker,codecs,camera,and dedicated software. The integration of these different features affords you a meeting experience that is simple and quick for a small workplace. Meet S delivers ultra HD video and audio. The 1080p camera provides viewing of enhanced and clear images and the 120°wide-angle lens is able to capture every meeting participant. The use of Meet S is also preferred since it offers different methods of control. You can control this huddle room kit via T-Voice 100,mobile devices,tablets,laptops,and Macs.
Note:You can grab the freedom to personalize your amazingezTalks Meet Series like Meet S and Meet Pro mentioned below and make full use of your vc software including ezTalks,Microsoft Teams,etc. at hand in a hassle-free way.
T-Voice 100
This is a smart conference speakerphone. This video conferencing kit delivers an outstanding audio experience and with its touch screen,easy meeting control is possible. The use of T-Voice 100 is important in any meeting room since it is able to capture the existing sound from 360 degrees. This video conferencing kit is suitable for a huddle room size of about 80 square meters.
Furthermore,the kit employs the use of a noise cancellation technology that guarantees smooth and efficient brainstorming sessions. What is more,with the HD touch screen,this kit can serve as a wireless meeting controller.
Meet Pro
This is a premium all-in-one video conferencing solution for small rooms,able to accommodate about 12 people. This conference room solution delivers a premium meeting collaboration experience since its design has incorporated HD camera,microphone,and software. Meet Pro utilizes the use of high-performance processing technology ensuring a high-performance capability of encoding/decoding. This huddle room kit also guarantees unmatched video quality without any delay through the use of a 4K sensor in addition to the wide-angle lens. This solution also guarantees natural sound courtesy of the technology for automatic echo canceller and noise reduction.
Why wait? Choose any of the availableezTalks huddle room kits today to achieve enhanced workplace team collaboration in an effective and productive way! Get One>>>
2. Zoom Rooms Kits for Huddle Rooms
You may know,actually,Zoom only launches the software. As for the hardware solutions,it introduces those from other brands. Zoom rooms kits for huddle rooms are important for the purpose of either adding remote meeting attendees via tablets,phones,or laptops,or for connecting several conference rooms. With Zoom Room kits,you are guaranteed of improving your video conferencing experience and collaboration.
It is important to understand that there are numerous Zoom huddle room kits to choose from including Polycom Trio,Crestron Mercury,and Logitech Meetup Dell Optiplex. The hardware kits guarantee high quality and reliable video conferencing solution.The professional service team is always within reach to help you with choosing the right audio or hardware options for you.
3. Logitech Connect Huddle Room Bundle
Logitech Connect is a portable conference camera with Bluetooth speakerphone designed for the home office,on the go,and huddle room. The compact size of Logitech Connect enables you to take it around the world and throughout the workplace. Connect is usually ready to handle any of your video conference calls. It has a premium camera lens that delivers maximum image clarity.
Connect is compatible with most video conferencing apps such as LifeSize Cloud,Vidyo,Skype for business,and Cisco Jabber. Moreover,the kit offers a plug and play USB connection to Chromebooks and Windows and Mac computers.
4. Huddly GO for Huddle Rooms
Huddly Go is a small but essential conference camera that delivers a big experience. The camera is designed to get better with time through high-quality software enhancements and improvements. Huddly GO for huddle rooms is USB-powered and therefore,it is compatible with any collaboration platform such as Google Hangouts and Cisco Webex. This huddle room kit offers total flexibility because it is suitable for different video meeting experiences including open collaborative spaces,small huddle rooms,and medium-sized meeting rooms.
With the intelligent software and 150 degrees wide-angle lens,everyone in the room is able to be captured and thus feel being part of the conversation.
Conclusion
In conclusion,from the above list of the top 4 huddle room kits,definitely,ezTalks is way ahead of its competitors. That is because the ezTalks video conferencing kits have been integrated with many exceptional features to improve your workspace and meeting collaboration. Moreover,the ezTalks conferencing kit options are generally relatively affordable. As a result,you should use ezTalks video conferencing kit today to improve your business communication and collaboration.