Top 10 Reasons Why The Government Should Adopt Video Conferencing
Communication is a fundamental need of all government bodies. Be it electoral propaganda or even the inter-departmental exchanges of ideas; all moves are guided by effective and thoughtful communication. Traditional modes used to strangulate smooth communication under heaps of papers and old files. Fortunately,some best video conferencing tools have crept in slowly so as to change the situation for government agencies.
Every person,from individuals to the enterprises is benefiting significantly from the explosion of high quality and affordable video conferencing hardware and software options. The government agencies are no different. By adopting video conferencing as one of the major communication channels,the government will certainly benefit a lot. While cutting travel costs has been one of the main reasons for government video conferencing,there are still more benefits to this technology besides cost reduction alone. Here are the ways in which government can benefit from video conferencing: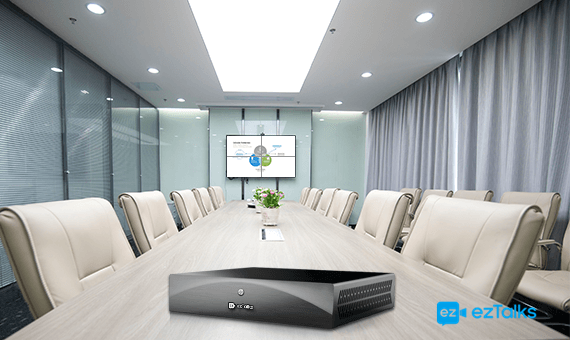 Top 10 Reasons Why The Government Should Adopt Video Conferencing
1. Work-Life Balance
Perhaps one of the main important benefits that video conferencing offers to the government is the ability to improve the work life balance. Video conferencing for government allows individuals to work from home and still manage to connect with their teams and co-workers. This kind of remote work environment usually elevates quality of life. How? The remote work environment reduces the work-induced stress,it allows staff members more flexibility to deal with personal or family issues (while still remaining connected),and also saves valuable money (and time) spent commuting. Healthy work life balance improves morale,job loyalty and performance —making it a good investment from both the employees' and organizational perspective.
ezTalks Meetings is among of the best video conferencing solutions in the market that enhances work-life balance. The professional features makes it stand out from the other video conferencing solutions. Based on its crystal-clear audio quality and ultra-high-definition video,ezTalks Meetings provides governments with a real video conferencing experience. This makes it easier to have virtual meetings with partners and colleagues around the globe.
2. Better collaboration
Government video conferencing allows workers to collaborate with one another seamlessly and securely. An increased number of government employees are in the fields,serving citizens directly,going about to combat crisis situations,tracking the progress of their regions or attending important meetings. This out-of-office nature of their job requires them to have an effective system that they can use to collaborate with other teams on-the-fly.
Since telepresence and HD videoconferencing can replicate the face-to-face meetings effectively,government agencies located across the country and even abroad can collaborate easily in real-time,from any place where Internet connection exists.
3. Efficient Use of Man Hours
Traveling,commuting and schedule difficulties usually cost more as compared to direct capital. In addition,they also create additional costs in other ways,most especially in terms of the man-hours; one of the most important resources for the government. A bailiff who's transferring a prisoner to a given meeting or even a lawyer charging for his/her time to travel are certainly entitled to a certain amount of compensation. However,what if there wasn't any need to spend time travelling,and simply clock in when a meeting starts? This reduction in travel costs saves money making it one of the most important benefits of video conferencing for government.
4. Better public interactions
Government video conferencing has bridged the gap between the rulers and the ruled. With video conferencing,public sectors representatives are now able to communicate directly with the public,answer their questions and also explain their own stands. This will certainly work well to sort out mass grievances.
5. Cost-effective legal processes
Incorporating videoconferencing in the justice system allows the government to save a significant amount of the taxpayer's money. Using video conferencing can eliminate the need for transporting inmates from the prison to the courthouse during trials. In addition,public defenders can also communicate efficiently with their customers on matters like inmate bail applications,hearings and several other nominated court matters,without necessarily having to travel.
6. Citizen-Facing Communication
Interactive government video conferencing does not t just offer benefits in regard to inter-office communications,or the mobile collaborations in between government employees. It is also a very important tool for involvement of citizens. Town hall meetings and several other public events usually suffer from low attendance which in turn results into subpar citizen engagement. Video conferencing for government makes it possible for these citizens to participate in a dialogue with their government representatives and in turn make their voices known,anywhere,any time.
7. Improved work environment
Since most government sectors are accepting enterprise mobility,work from home and remote working cultures are coming in as well. Workers can nowadays collaborate with their work mates or teams even from homes. This latest development has controlled work-stress while still helping them to have a good life; transforming workers into happy employees.
8. First response and public safety communications
Video communications usually help to improve the emergency response times. Moreover,it allows teams to make quick operational decisions during the critical situations,including critical needs assessment,crisis communications,preparedness and response training,emergency management,and ensuring the safety of citizens during an emergency.
9. Mobility and Flexibility
Mobility and flexibility— more so as a wide variety of mobile video conferencing software become available—is a big plus as well. No longer does a meeting have to be delayed as a result of travel and time restrictions that are imposed on in-person conferencing solutions. No longer can a key player be excluded from contributing his/her knowledge due to a conflicting schedule or geographical distance. The increased mobility and flexibility has made video conferencing for government to become a necessity.
10. Increased inter-departmental collaboration
Departments in the private sector usually have distinct roles that could be interrelated yet they have different operational regions. Increased collaboration among government departments has only been possible via video conferencing. Each and every department is nowadays aware of the progress of projects and the roles of associates involved.
Conclusion
Just like the private sector,government organizations are also faced with making better management decisions,faster,and with few resources. With trends such as BYOD and remote work making rapid inroads into the public sector workplaces,collaboration nowadays needs to happen far beyond the 4 walls of a traditional conference room. Government video conferencing can certainly take care of all these requirements while still reducing the overall costs of operation.