The Five Best Video Conferencing Hardware in 2019
A business can thriveonlyif there is proper communication between staff members and clients. It is crucial to ensure that communicating in your business (within and outside) is well streamlined to foster growth and productivity. The investment in video conferencing hardware will definitely greatly help you meet your business goals.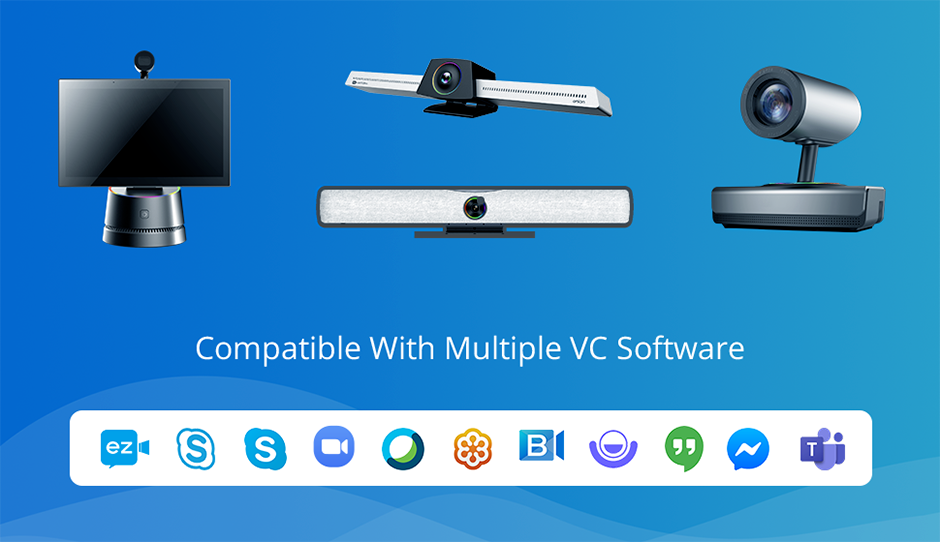 ezTalks Hardware
Supports Multiple VC AppsezTalks all-in-one video conferencing devices work with most popular VC apps like ezTalks,Skype for Business,Skype,Zoom,WebEx,GoToMeeting,BlueJeans,Lifesize,Google Hangouts,Facebook Messenger,Microsoft Teams and more as you require.Request A DemoSomequality video conference systems have proven to give quality results.Here we will discuss some video conferencing hardware in details and tell you why they are the best video conferencing hardware 2019.
1. ezTalks Meet Mini
Meet Mini is among the best video conferencing hardware 2019 because of its outstanding features that enables easy communication just like its name reveals. Itis a portable all-in-one video conferencing device specially designed for focus rooms,increasingly gaining more and more popularity.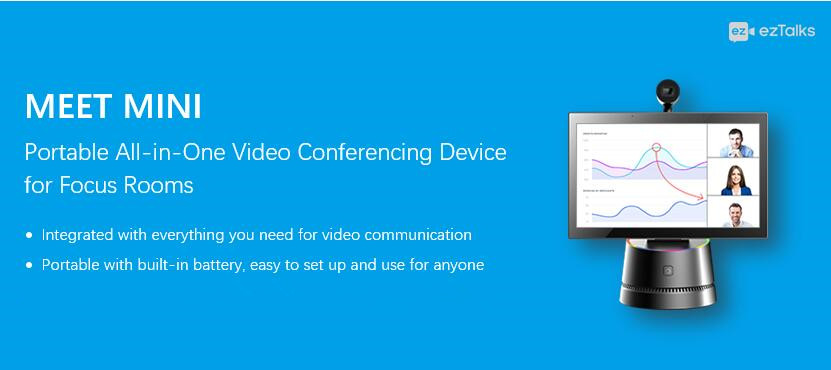 Pros
★ Remarkable All-in-One Design
The Meet Mini is the real all-in-one solution which is integrated with a touch screen,HD camera,coder,microphone,speaker,WiFi,built-in battery and software. Everything you need for video communication is included which gives you great flexibilityyou and your team,free from the complex devices and installations.
★ Excellent AV Effect
Its camera is full HD and 1080Pmeaning that the video quality is exceptional while its high-quality speakers deliver high-quality audio soundswith no interference.With high-performance processor,Meet Mini can always keepreliable and seamless HD Audio/Video effects.
★Responsive Far-end Camera Control
With this feature enabled,participants can pan the camera's picture left and right,as well as tilt it up and down,make it easy to control their point of view as if they were physically in the same room.Thanks to this feature,it can be used for real-time video monitoring and communicating with children and the elderly.
★Multiple Features
Meet Mini enablessimultaneous display in dual screen. It is also compatible with multiple vc software,a servicethat enables you to conduct group video chats,calling in function,screen sharing with one click,recurring meeting,polling,recording among many others.
★Versatile Usage
Meet Mini is so versatile that it can fully meet various video conferencing needs for personal rooms and mini/focus/executive rooms. It is also an ideal option for those who want to offer outdoor remote support,telemedicine support,remote education event live streaming and so on.
★Reliableand Affordable
The price is affordable at only $699(ONE-TIME FEE for permanent use),which greatly saves your budget.
Get one to upgrade your focus conference room>>
The consistentconference room solutionsinclude the mini room solutions,huddle room solutions,small room solutionsandmedium to large room solutions,which means most of your conference room can find solutions from ezTalks. All of them are open source platforms that allow users to install their preferred video conferencing software including ezTalks,Microsoft Teams and more as required.
ezTalks Meet S
ezTalksMeet S is previously named ezTalks Onion,which is among the company's best performing products as it provides users with all-in-one video conferencing equipment ideal for any type of meetings in huddle rooms.It takes pride in various outstanding selling points and the followings are two main aspects of them.

Pros
★Useful Software + Powerful Hardware
Integrated with powerful dedicated software and high-quality hardware,ezTalks Meet Senables most of businesses to easily conduct or attend a virtualconferences with employees,suppliers,clients and business partners.All-in-one design ensures that it is easy and convenient to install this hardware,and the built-in software ensures that several kinds of useful and flawless features like whiteboarding,screen sharing and so on are available.
★Full HD Audio+ Ultra Clear Video
As for the audio quality,dual stereo microphone delivers enhanced voice performance. Its echo cancellation and noise reduction features also helps to eliminate all the annoying background noises for the utmost clarity. While as the the video quality,its1080p cameraresults in ultra HD video that has no image blurring,misalignment of colors or reduced contrast. Also,its 120-degrees angle lens along with greater focal length for larger maximum aperture result in more clear and brighter view.
Only a one-time fee of $899can let you uplevel your huddle conference room!
Get one to upgrade your huddle conference room>>
ezTalks Meet Pro
Meet Pro is a premium all-in-one video conferencing for small roomsthat can be used for events with up to 12 people.

Pros
★Get HD Video & Audio
Due to the ePTZ remote control camera and 4K sensor with HDR video capture,the videodelivered is excellentand improves the cross-team collaboration from different location simultaneously. 4 far-field linear microphone arrays with 5-meter pick-up rangework together to pick up the conversation in your smallconferencerooms.
★Install & Control it Efficiently
Anunique all-in-one design with microphones,speakers,camera,codecs,wifi and ezTalks software comes in handy,conducivea fairly simple installation process. The flexible controls enable the user to control the devices from different gadgets supporting Mac,Windows,Android,or iOS systems.
★Access Advanced Processing Technology
It adopts intelligent CPU+GPUfor high-performance encoding/decoding capability which firmly ensures 1080p video stream and up to four 720p video streams.
This one of the best video conferencing hardware merely costs $1299 (also one-time fee).
Get one to upgrade your small conference room>>
ezTalks Meet X
Are you looking for the best video conferencing device specially designed for medium-large rooms with up to 20 people? Meet Xmust be your right pick!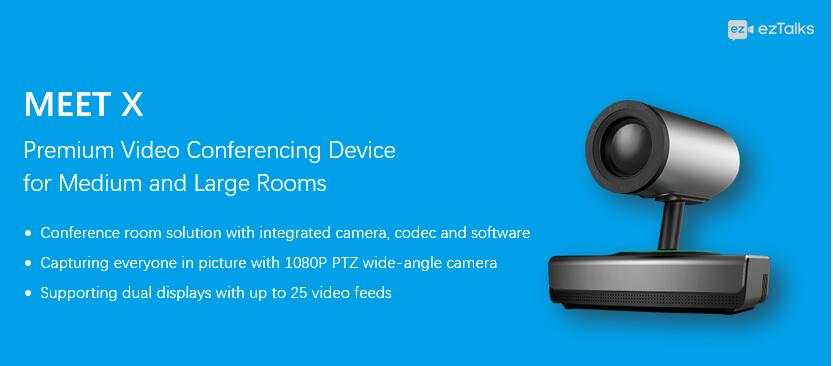 Pros
★Ease-of-Use
It is a piece of video conferencing hardware with integrated camera,codec and software. This makes it simple and quick to transform your room with no need to connect cables or download software. It is poplar for its unique patented bracket design so that you can install it in multiple ways like put at the top of the display,fixed to a tripod,placed on the table and installed on the wall or ceiling for your different meeting requirements.
★High-Performance
1080P PTZ camera with CMOS sensorcomes to dynamically graspeveryone in details. With big lens at 12X optical and 10X digital zoom and flexible rotation at +/- 170° pan range and +/- 30° tilt range,you can no longer crowd all the attendees into a tiny space when hosting a meeting.
★Powerful
Africtionless video conferencing experiencecan be guaranteed by its built-in powerful codec,which can support 1x1080P hardware encoding and 3x1080P hardware decoding. This high processing capability allows up to 25 video feeds per meeting.
★Flexible
While supporting dual displays,Meet X allows you to set one display for in-room content sharing while the other display for engaging with active video participants in the online meeting,which is quite suitable for different application scenarioslike medium-large boardrooms,training rooms,medium classrooms and etc.
Meet X only costs you$2399 and you can host meetings with more people in a larger room easily!
Get one to upgrade yourmedium-large conference room>>
2. Polycom
Polycom is one of the best video conferencing equipment in 2019 and it will give you what you to enhance virtual conferencing in your business. Speakers,screens and camera are all included in the package. You can choose screen of different size depending on the needs of your business. When you choose Polycom,you will have the opportunity to choose between 55 or 70 inch HD LED screen. The video quality of their equipment is 1080P. This is very important because it enables you to communicate effectively. Controlling Polycom conferring equipment is also very easy. A touch of a button is all that you need to. One feature that makes Polycom video hardware to stand out it the Eagle Eye,a feature that effectively tracks faces of participants in a call and adjust sounds accordingly. The new microphone technology the hardware uses helps to eliminate noise disturbance,a factor that improves the quality of audio sound.
Pros
Full HD video quality
Quality image and sound
This hardware comes with a screen
Cons
This hardware is expensive (needs proper budget)
Software function is limited
3. Cisco
As a well-known name,Cisco is also recommended in many video conferencing equipment reviews. The cisco DX80 features a 23-inch screen plus a camera. This hardware comes with 8GB internal storage,2GB of RAM,processing speed of 1.5GHz,TIOMAP4470 component and a video resolution of 1920 by 1080 pixels. This video conferring hardware also allows you to connect with your computer or other screen displays. Its camera has 38 degree vertical view and 63 degree horizontal view. All codecs are pre-installed meaning that you won't require any additional settings. The microphones and speakers are mounted in front of the hardware meaning that the quality of the audio is exceptional.
Pros
Excellent video and audio quality
Amazing camera view
High-quality components
The brand is mature and well known
Cons
It is expensive.
4.Tandberg
With more than 75 years' experience,Tandberg is indeed one of the best video conferencing system 2019. Tandberg owns an all in one video conferencing hardware and it includes USB video camera,quality audio speakers,monitors among many others. Tandberg is perfect for business dealing with large infrastructure projects as well as small businesses. It camera quality is 1080P and audio sound is also very clear.
Pros
Quality audio sound and video
Easy to use
It is reliable
Well-known brand
Cons
Needs maintenance of professional ID admins
5. Avaya
If you are looking for an effective video conferencing solution that works virtually on any device,then you won't go wrong if you choose Avaya. It will help you achieve quality video performance in real time. This video conferencing hardware delivers quality image quality (1080p),quality audio sound and stellar bandwidth efficiency. Avaya video hardware will make it seem that you are communicating face to face in the same room because of its ability to collaborate on spreadsheets,documents and other vital content.
Pros
Unified central management
Rich user experience
Easy to use
Quality image and sound quality
Cons
Complex installation
In conclusion,if you want to streamline communication in your business,you need to invest in a good video conferencing hardware. The above listed best video conferencing hardware have already been used by millions of people across the globe and have proven to give quality performance. You can chose in accordance with your budget while I think the ezTalksconference room solutionsare the most cost-effective solutions.
Source: photo via wallpaperkin