5 Best Video Conferencing Software for Windows 7/8/10/XP
There are many times you probably need to connect to coworkers which are on the other side of the world to collaborate for business thing,like working on a project,bidding for an investment,or attends staff training. Owing to geographical restriction,collaboration does not always go on smoothly. If you get stuck at looking for an ideal way to collaborate in real time,take it easy. Listed below are five best video conferencing software for Windows 7/8/10/XP with which you're able to collaborate with colleagues at any time no matter where they are.
1. ezTalks Meetings
ezTalks Meetings is full-featured and reliable video conferencing software for Windows 10/8/7/XP,creating a super-simple collaboration environment for you to interact with coworkers across the country and even the world. It is the first one in the video conferencing industry to offer 100-participant online meeting for every forty minutes for free,which is a great helper for those startups and small business that have strict budgeting. If you wanna host 100-participant online meeting without time limit,or you run bigger business,it still satisfies you. The only thing to do is to upgrade to its paid plans which allows up to 500-participant online meeting.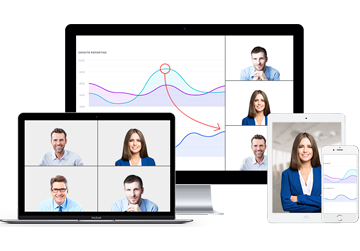 Why Choose ezTalks Meetings?
Free for up to 100 Participants
Fluent Group Video/Audio/IM Chat
Screen Sharing and Annotation
White Board and Collaboration
Record and Playback
DOWNLOAD NOW
As mentioned above,ezTalks Meetings is full featured. It gives you the ability to hand over the presenter role to any participant,share desktop and application,sketch out your thought with interactive whiteboards,as well as communicate with each other in HD video and HD voice. To learn more features,you'd better download this video conferencing software for Windows to have a try.
2. Skype for Business
As its name suggests,Skype for Business is video conferencing software for windows 8/10/7/XP developed by Microsoft to help simplify the way how you collaborate with your coworkers. It's fully integrated with Office 365 for easy file sharing. Its free plan allows 10 participants to appear in the video conference,while its two paid plans give you the power to host and attend a video conference that consists of 250 participants. It provides you with built-in instant messaging,which lets you to chat in privacy or group with file transfer. Besides,it supports audio/video conferencing recording,whiteboard sharing,presenter role transfer and more to make collaboration online effective.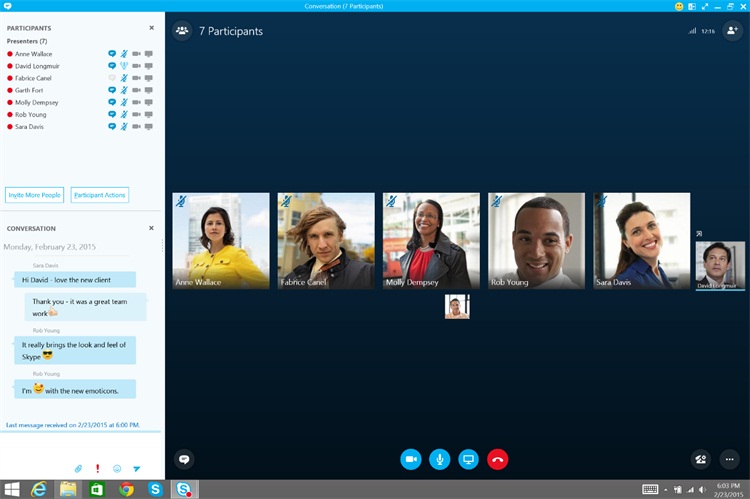 (Photo via Pikwallpaper)
3. TrueConf
TrueConf is an easy-to-use Windows video conferencing software which is fully compatible with Windows 7/8/10. It's featured in the ultra HD resolution video,instant messaging,content sharing,slideshows,remote desktop control,and more. With it,you're able to host group online meeting with up to 250 participants. To avoid forgetting something important,you can turn on the recording feature in this video coferencing software on Windows. Apart from hosting instant online meeting,it empowers you to schedule online meetings by setting a date and time and making up a list of participants.
4. BlueJeans
BlueJeans video conferencing software for Windows is powerful and enterprise-grade collaboration tool. Once installing it,you will get 14-day free trial. After that,if you wanna continue using it,you ought to pay for it. With its help,you're allowed to communicate and collaborate with coworkers from various placesface to face. Besides,it allows you to share your latest presentations,documents and video clips,chat with coworkers,record the online meetings for playback at any time.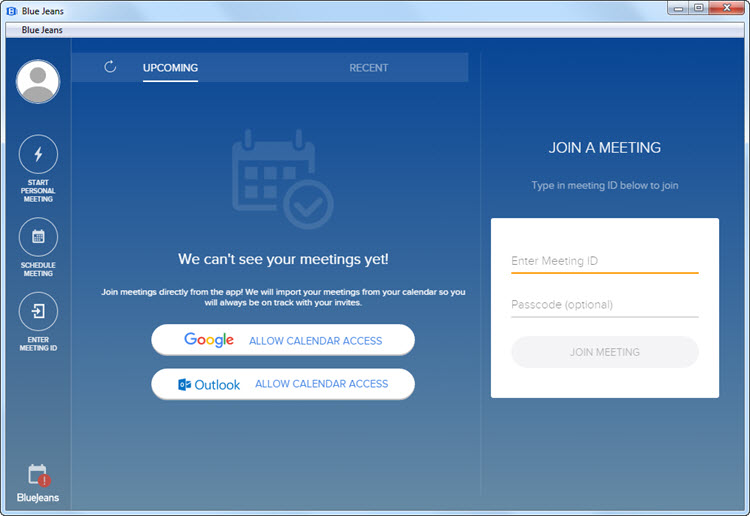 5. Zoom
As video conferencing software for Windows XP/10/8/7,Zoom wraps up private and group instant messaging,HD video,HD audio,screen sharing,whiteboarding,meeting scheduling,meeting recording and more. Zoom provides you with both free plan and paid plan. The free plan allows up to 50 participants to attend at the same online meeting lasting for 40 minutes. Like ezTalks Meetings,its paid plan supports up to 500 participants joining in an online meeting simultaneously. Therefore,Zoom is a decent collaborative tool to satisfy your different online-meeting needs.
These video conferencing software for Windows meet the needs of real-time collaboration in the globe,and build a meaningful connection to drive business growth. If you get interested in any software,you can download and give it a shot!
You Might Be Interested in
3 Must-have Video Conferencing Software for Mac OS
5 Best Free Video Conferencing Services to Challenge Skype
4 Advantages of Video Conferencing in Business Communication
Top 4 Free Video Conferencing Tools