10 Helpful Video Interview Tips
According to recent survey results released by the Association of Graduate Interviewers,video interviews are now used by around 42% of employers worldwide. Because of their trickiness yet ultimate importance to companies today,there are now organizations specialized in video interviewing to whom the task is outsourced by the employers. Today video interviews are used to hire people at all levels of the organizational structure,from top officers to starting-level employees.
A few years ago,before video interviews were considered an option,recruitment in most companies and for most job levels was limited to those who are geographically proximate to the company,meaning that they were close enough to attend a face-to-face interview without burdening the company with any transportation costs. Only interviewees for top-level management vacancies were willing to pay to fly Today with the availability of running video interviews via video conferencing,companies and interviewees were both able to substantially broaden their options.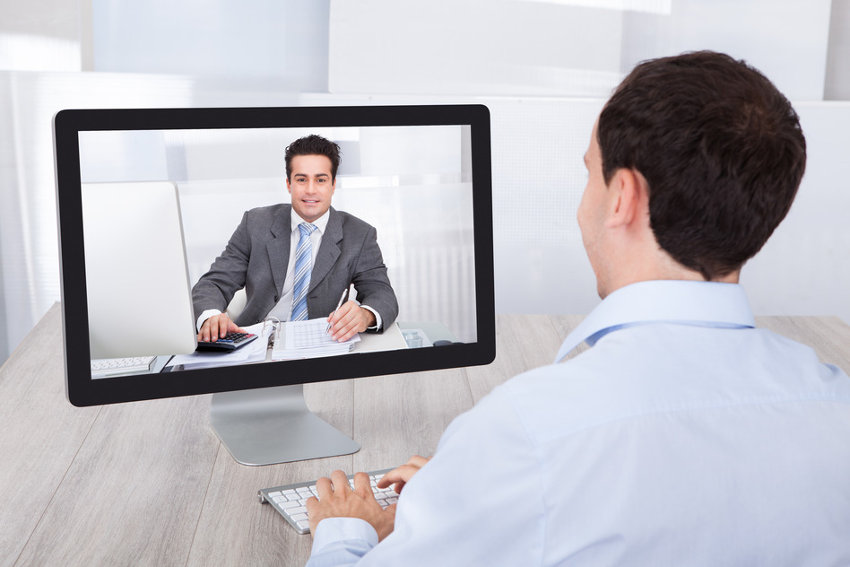 Here are 10 video interview tips that will help any interviewer master the process.
1. Focus only on what you really need to know
It is ironic that many companies using a completely untraditional method of interviewing that shows the changes occurring in how the world operates today,still keep the questions as traditional as they can get. One of tips for video interview is that in a video interview,the communication needs to be straight to the point,you do not want to keep beating around the bush with questions about the person's CV which you already have and could simply read. You need to prepare questions that get to exactly the aspects of the personality you want to know in order to make a decision.
2. Run a test
Before starting a video interview,make sure to test the microphone,the camera,its angles,as well as how you look on video. You can even make a brief recording of yourself asking a couple questions you are planning to ask during the interview. That way you can see yourself in a video interview mode before you get to the real interview. You can even run a test interview with a coworker of yours.
3. Use the right video conferencing solution
This is a decisive element in the success of a video interview. One that is extremely highly recommended is eztalks video meeting software. It is a relatively recent platform,but the set of features included in make it to be most suitable for conducting video interviews. These features include having an inbuilt whiteboard tool to use in explaining anything to your interviewee,instant content sharing,as well HD video and audio capabilities. Besides,you can even benefit from the video meeting scheduling features if you will be running several consecutive interviews,as well as the video meeting recording option to have these interviews to view at a later time for closer examination.
4. Read the body language
Unlike in face-to-face interviews where your focusing on the person's body language might be too obvious and create a source of discomfort for the interviewees,talking via video interviews can enable you to look at their body languages in an invisible way. That is a bonus,of course. You should exploit it to the fullest,especially when the interviewees express their real body language more than that in a meeting room. Learn more aboutTop 10 must know body language tips for video conferencing>>
5. Think of it as just an interview
Many interviewers are completely fine with face-to-face interviews,but when it comes to video interviews they tend to get a somewhat nervous. That might be because of the intimidation some people from various fields feel when a technological element is added to their working process which they are unfamiliar with. They could even be familiar with it on a personal level (most of us make personal video calls today),yet uncomfortable with it as a business tool. If you're one of them,you need to see this for what it is,and it is nothing but an interview. If you can do that in real life,you should certainly be able to do it over a video interview.
6. Avoid distractions
One of the tips for a video interview is that as an interviewer,whether you are conducting video interviews from the office or from your home,you need to make sure your background is subtle enough for the interviewees to take seriously yet not get distracted. You need to inform of those around you that an interview will be conducted right now,so as to have nobody interrupting the conversation which might lose your sense of professionalism.
7. Get fully dressed up
Do not think that because it is a video interview,so that only the part of your waist up is what matters. How you are dressed up highly influences your posture and way of speaking,even without you realizing it. That is why it is necessary for you to dress up from top to bottom the same way you should have dressed up in a face-to-face interview. You should also try to use the right lights to give you a professional shade and give out the image you want.
8. Take signs from your surroundings
If you determine to conduct a video interview at your own home,please takes signs from your surroundings,and keep clean and in good order. This will help leave a good impression on interviewees that you're professional. If you regard it "just a video interview" and make a mess around,then this is a red flag. How professional an interviewer perform is also a significant point.
9. Look in the right direction
Many of us when making a video call tend to keep looking at the screen to see ourselves and the person,which takes our eyes away from the camera,thus making us look like we are not even looking at the person we are talking to. It is important to focus on the speaker when they talk,and of course to check yourself out every now and then to make sure you have the right look. Therefore,when you speak in a video interview,you should focus on directly looking into the camera because this will let the interviewees feel as if you are making eye contact with them,which is certainly of great importance in a job interview.
10. Know how to impress via video
The last one of the ten online video interview tips is that you should not forget that both interviewees and you are making business decisions through video. You are deciding who to hire,and they are deciding who to work for. You need to leave the interviewees with a positive impression and have them motivated to work for your company. That is in a sense not much different from a sales pitch. Know how to get comfortable and engaging enough over the video interviews. Simply,do not let the technological nature of the interview make you forget that you are still interviewing a person on the other side.
By combining these tips on video interviews correctly,you will be able to exploit this ever-expanding technology for the sake of a more efficient and effective recruitment process. These tips are not tough to master,they just require practice until you get comfortable with it.