The Best Alternative to Logitech Video Conference System
With video conference,meetings can be conducted anywhereanytime,saving companies and organizations a great deal of money and time. However,this could not be possible without dedicated video conferencing systemslike ezTalks and Logitech. Logitech video conferencing solutions provide several kinds of conferencing equipmentlike microphone,camera,and speaker.But its solutionshave attendees limit and too expensive.Fortunately,there are several alternatives to Logitech video conferencing equipment,one of them being the ezTalks.
ezTalks Meet S- One of the BestLogitech MeetUp Alternatives
ezTalksMeet S (previously named Onion)-supports multiple video conferencing software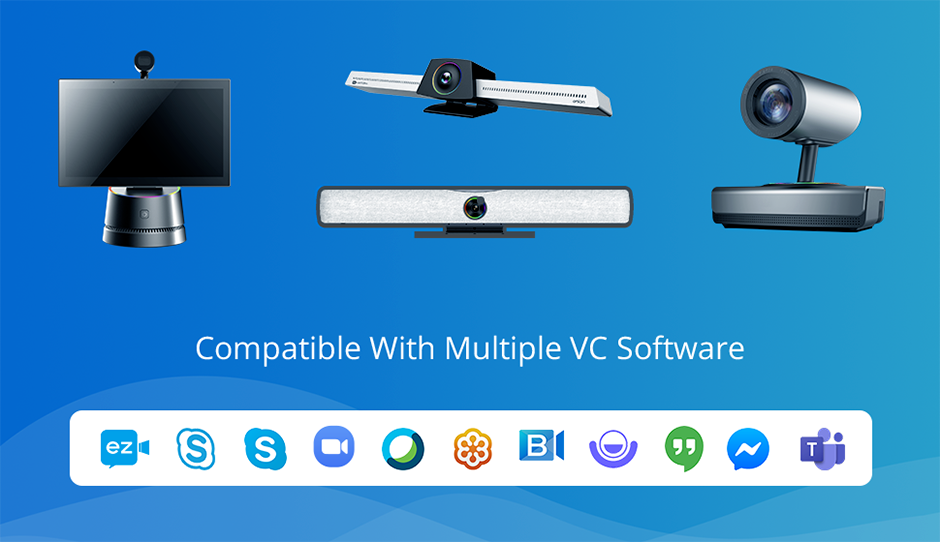 ezTalks Hardware
Supports Multiple VC AppsezTalks all-in-one video conferencing devices work with most popular VC apps like ezTalks,Skype for Business,Skype,Zoom,WebEx,GoToMeeting,BlueJeans,Lifesize,Google Hangouts,Facebook Messenger,Microsoft Teams and more as you require.Request A DemoezTalks Meet S brings down the limits of virtualcollaboration to a very cost-effective level.As for the all-in-one device,it not only comeswith open source platform that allows users to choose the video conferencing they prefer,but also has a powerful speaker,video camera,and microphone in a single unit.Its design makes it easy to install and use.It can loosely be described as a comprehensive system that is seamlessly integrated with a camera,microphone,video conferencing software,and speaker. The cost-effective product boasts of an ultra HD video with a resolution of up to 1080p,hence no image blurring and missing crucial details. The 120 degrees viewing angle ensures that all those individuals seated at a table are visible on the other end.It has very powerful control meeting features such as live chat function,lock meeting,video recording,file/screen sharing as well as annotation and interactive whiteboard.Moreover,it supports far-end control function,giving remote conference participants control over the camera at your site.If you are in a business environment and planning to hold live video huddle meetings with clients,suppliers,business partners and employees,then forget about the MeetUp system and embraces the ezTalks Meet S.Only a one-time fee at $899 can help you upgrade your huddle conference room.Want to try ezTalksMeet S now? You can sign up here or send a quotation via 24/7 live chat.Comparison between ezTalks Meet S and Logitech Meet UpAccording to its user reviews,Logitech Meet Up's audio performance is not good enough and if you want a optional extension mic,it isrelatively expensive. Besides,there is no included control software. For more productive collaboration,it is suggested t find alternatives to Logitech video conferencing equipment! ezTalks T-Voice100- BestLogitech Connect AlternativeezTalks T-Voice 100

T-Voice 100 is a great portable conferencing speakerphone with atouch screen. The product enables to deliver high-quality audio performance. The USB plug-and-play speakerphone cancapture sound from 360 degrees. The microphone of this product features details such as omnidirectional,noise reduction and echo cancellation,delivering the crystal-clear audio in the meeting room of up to 80 square meters without ceiling or satellite mics required.ezTalks T-Voice 100 not only guarantees the high-quality audio performance as a speakerphone,but also can be served as a smart controller to manage your meeting room as it has built-in ezTalks software with HD 5.5 touch screen,allowing you to easily control ezTalks Meet S and enjoy a seamless video conferencing experience.Want to improve your audio performance? Get one NOW!Comparison between ezTalks T-Voice and Logitech ConnectIf you are looking for a portable video conference solution with a camera,then Connect,another Logitech group conferencing system may be a choice to consider. Connect is fully optimized for a small group meeting of between one and six people held in small-size rooms.While both solutions are remarkable portable conference speakerphones,but T-Voice is more suitable if you have a high number of audiences. ezTalks Huddle Room SolutionHuddle rooms are excellent solutions for companies that believe and live for better production in fewer operation costs. And so,ezTalks Huddle Roomsolution is definitely a competitive logitech group alternativefor video conferences. It is not just a web-camera! It is indeed an all-in-one live video conferencing solution with software and hardware integration for a perfect room meeting. In other words,ezTalk Huddle Room comprises of microphones,speakers,monitors (or TV screens),and dedicated built-in software all integrated to form a powerful and interactive video conferencing equipment. It only takes a few minutes to set up and features flexible controls for seamless video conferencing. You can collaborate on any device,anytime from anywhere.Of course,ezTalks provides other solutions for any size of rooms. You can click here to get more information.ConclusionIt is apparent that having face-to-face collaboration is much better than an audio-only call. Nonetheless,video conferencing systems currently on the market are notaffordable to widely deploy or cheap yet of low quality. Now after we've reviewed and compared Logitech video conferencing systems and its alternatives,it is now easy to determine which solution best fit your needs. Solutions from ezTalks are typically way ahead of others as they remarkably bridge the gap by providing convenience,functionality features,and a friendly price to users.