Why Embraces eLearning with ezTalks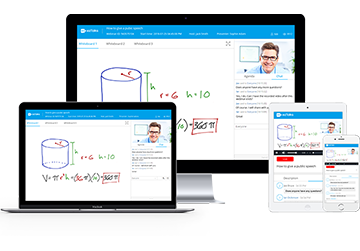 Embraces eLearning with ezTalks!
Free for up to 100 Students
Fluent HD Video/Audio Quality
Screen Sharing and Whiteboard
Polls, Survey and Recording
Rebranding and Paid eLearning Courses
Sign Up Free NOW
eLearning design involves using digital technologies to deliver, support and enhance the teaching and learning experience. With today's knowledge-based economy, learning is essential for individuals and organizations to advance. Formal education, training and skill development that play an important role is successfully evolving in the Information Age.
Best eLearning Software
ezTalks Webinar is the world's driving eLearning design software that empowers you to participate in online education, training and skill development at any place and at any time. It is a user-friendly platform with up to 100 active participants and 10,000 audiences for free, intended to convey instruction through electronic means. The following features contribute to an attractive and effective eLearning experience.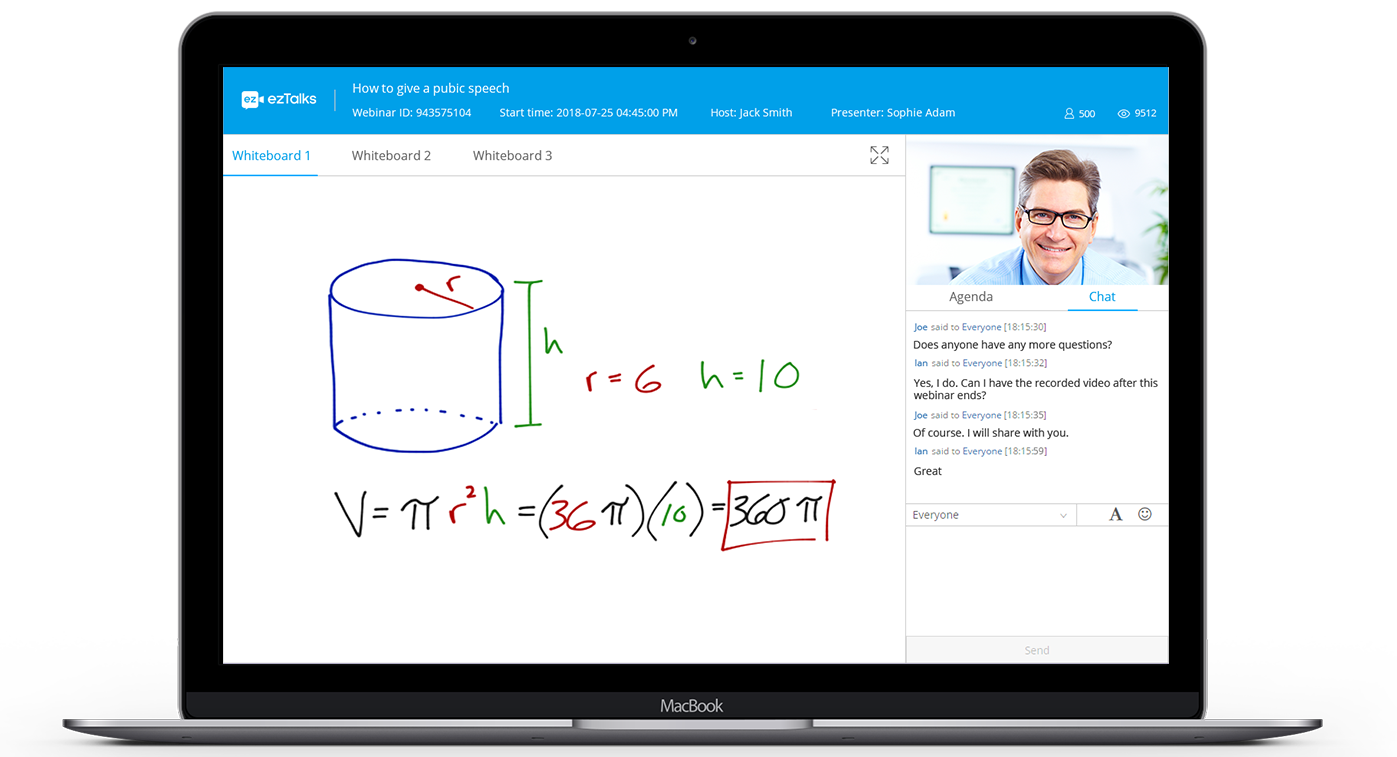 a) Coordinated with HD audio and video quality, all the information during the class can be accessed in real time.
b) Choose the optimal time for more traffic and schedule your eLearning courses in advance.
c) Customize your eLearning room by adding your logo and background image and designing learning agenda for students' deeper impression and a more clear understanding of the course.
d) It supports to set up paid eLearning sessions via PayPal integration.
e) A brimful of features like smooth file & screen sharing, interactive whiteboard, instant messaging and quick polls & survey make your online presentation more intuitive and creative.
f) 1GB free cloud storage is ready for your eLearning course recording.
g) Increase productivity by analyzing the statistics and reports to track the eLearning process and improve your upcoming courses.
This eLearning design software greatly helps you swim in the ocean of knowledge easily. Why not embrace eLearning with ezTalks Webinar?

Why You Need Formal Education in eLearning Design Using ezTalks Software
Understudies intrigued by a profession in eLearning outline utilizing ezTalks need to figure out how to make connect to intelligent online preparing. Pros in this field outline curricula and interactive media presentations with wikis, web journals, feature sharing and online networking. 
To set yourself up for a remunerating eLearning vocation, you have to get the correct online training. Though formal instruction gives an in number establishment that gives you an edge in the occupation market, eLearning outline training projects facilitate you in various abnormal state ways as follows.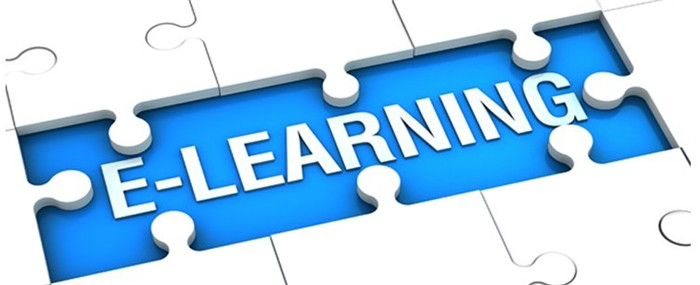 1. Growing your points of view. A formal instructive system will open you to resources you may some way or another not have accessible. You'll be obliged to peruse vital books on the topic. What's more, you'll to think, compose and apply the information you pick up. 
2. Testing your present recognitions. While finishing an eLearning outline program, you'll be joining with a mixed bag of individuals with new thoughts and methods for considering. This differences can convey new ideas and alternate points of view to your manners of thinking. A percentage of the associations you make in school can likewise end up being companions or business contacts long after you complete your system. 
3. Doing new and diverse things. Formal projects in eLearning outline give you the chance to take a shot at differing undertakings. Presentation to a wide assortment of undertakings gives a profound comprehension of the topic and sets you up for business.
Skills and Competencies of eLearning Design Education via ezTalks software
A decent eLearning project from an authorized school ought to give you the fundamental abilities and information to find a job. Towards the end of your instruction, you ought to have a strong handle on the best way to direct the accompanying eLearning configuration ventures.
1. Separation learning utilizing online instruction rather than eye to eye gatherings to spare cash. 
2. Mixed instruction utilizing a mix of online and up close and personal learning encounters.
3. Synchronous instruction utilizing ongoing, online instruction in which the teacher drives numerous understudies.
4. Nonconcurrent instruction utilizing online instruction as a part of which the educator and understudies associate discontinuously. 
5. Self-study utilizing online tutorials, exploration and disclosure learning occasions. 
6. Self-study with topic master utilizing mentoring, tutoring and honing. 
7. Electronic tutorials utilizing self-guided online resources. 
8. PC-based tutorials utilizing DVD and other stockpiling media resources.
Of course, eLearning configuration is not just about ezTalks Webinar software technology. It's about utilizing diverse approaches to bolster learning. With today's information-based economy, learning is the key for people and associations to progress.