3 Useful Telehealth Video Conferencing Software
Video services such as the video conferencing have effectively taken the healthcare industry to another new level. With facilities to train and confer with physicians,experts,and doctors situated anywhere across the globe,many healthcare institutions and hospitals have updated or changed themselves to a great extent.
By adopting telehealth video conferencing software,healthcare experts are ensuring constant consultation & regular follow-ups with the regular patients and reaching patients from far away areas or rural areas. Physicians and doctors can monitor the patients from anywhere and collect personal data and information,while the patient can enjoy his/her house's comfort.
Here is a list of telehealth video conferencing software that is very useful for hospitals and healthcare organizations.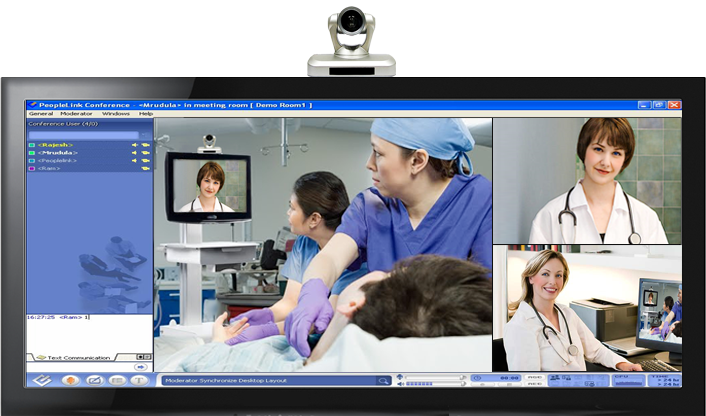 1. Polycom Healthcare Video Conferencing Software
This software enables direct interaction between patients and doctors. Users need to login first to access. This wonderful software offers the solution of video collaboration and connects doctors with patients,doctors and the entire team of patient care. This software also helps expand one's medical knowledge and share latest expertise in healthcare expertise and innovative techniques in various treatments. For the benefits of healthcare professionals,this software helps in making better decisions,improving efficiency,communication,productivity,and project management. Further,it also enables a new and updated era of research and development in the field of medical science with the help of new and latest collaboration tools. It also helps in bringing latest medical facilities to rural areas with facilities of lower cost. This software will certainly deliver better care and avoid unnecessary readmissions.
2. ezTalks Telehealth Video Conferencing Software
This is another excellent software for telehealth video conferencing software. ezTalks offers video conferencing with high definition video with audio; that includes the communication between doctors and patients via the traditional face-to-face option with an ultra-high-definition video and crystal-clear audio that will encourage a better communication. One can also start drawing up their unshaped ideas and proposals with pencils,text,highlighter,remove it with an eraser,take a screenshot with the screen capture option,and try all the other useful tools. One can also share the screen with all the participants while demonstrating their operations and techniques in the real-time as well as with Word,present PPT,and other relevant document file required for co-annotation. One can also choose to send the instant messages; both in public or private. This software is also capable of supporting future playback and easy sharing; anytime on any device. Furthermore,one can also try other useful features such as arranging a meeting orderly with facilities such as muting all or some speakers,give permission to speak,make a presenter,even shut out any member out of the conference,and many other settings.
3. Vidyo Telemedicine Video Conferencing Software
This software offers many benefits such as in-home care,which includes providing a reliable and better quality over the unmanaged devices and networks to enhance video visits and patient monitoring in remote and rural areas. This software also offers facilities such as consultations among clinicians with integration of diagnostic devices and EHR. For acute care,this software offers optimized clinical efficiency with the interactive,scalable & centralized monitoring of the patients.
An investment made in healthcare video conferencing is actually justifiable looking at all the benefits of it and realizing the return coming in several measures. With the help of a video conference,one can effectively connect with a right doctor,save the expenses on travel and also the valuable time.