Secure Video Conferencing: Everything You Should Know About It
Video conferencing has been associated with numerous benefits including increased ROI,reduced travel costs,and improved relationships between employers and employees,coworkers and coworkers,companies and its clients. However,these benefits are not easily sustainable unless you maintain secure video conferencing. You become susceptible to cyber-attacks if you lack proper security measures on your video conferencing,after all these attacks occur at lightning speed.
Video conferencing solutions are widely used in contemporary businesses. If your company adopts video conferencing solution,it is your responsibility as a business owner to ensure that your video conferencing is secure. Doing so allows you to protect all your mission-critical information from service attacks as well as information breaches. The entire process of holding a video conference is daunting. In fact,IT experts take some time to secure your video conferencing from these threats. Fortunately,staying safe is not impossible.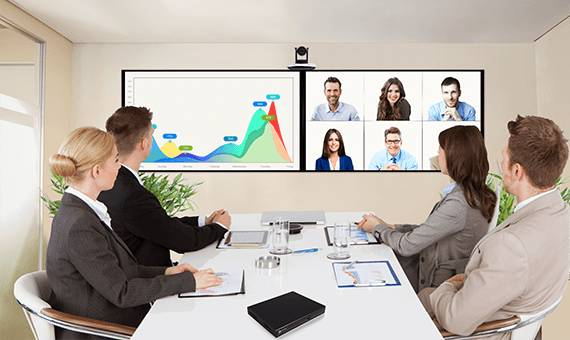 Part 1. Importance of Securing Video Conference
Having secure video conference is crucial for any business,that's why many companies take measures to keep video conference secured. The following benefits come with secure video conference.• It offers you ways of sharing content securely
When your video conferencing system is secure,you can safely create and transfer content with your coworkers and clients in real time. Sharing documents from your screen and sketching out ideas on interactive whiteboard become easy,no matter whether you are using mobile-based applications,using a computer or from a video conference meeting room.• It eliminates eavesdropping
Securing your video conferencing locks out all unwanted listeners by providing end-to-end encryption system on your network. This improves the confidentiality and security of all your communications and shared documentations./
Part 2. Tips on How to Keep Your Video Conference Secure
Securing video conferencing entails collaborating with your network provider and video conferencing provider to ensure that the products and services you mark as confidential are secure. The only way you can be sure that you have chosen the right network provider and video conferencing provider is by asking the right questions on data security,desktop applications,back-end,and the devices used. The following factors are worth considering.
• Encryption of data
Encrypting data regardless of whether it is dormant or in motion should be given first priority. Conversations between all parties with your company should also be encrypted. To ensure that you have the best encryption measures in place,procure the services of network security vendors and video conferencing provider who use 128-bit AES (Advanced Encryption Standard) and have Transport Layer Security (TLS) encryption by default.
• Firewall
All your systems,applications,and devices should be put behind a firewall. Get a provider who will offer you this kind of service. This provider should also manage all your traversals through an authenticated server.
• Updates:
Firmware updates usually have more secure and robust updates,otherwise they contain vulnerabilities. To make the best of updates,they need to be automatic,timely,and done through a cloud-based service.If your company is using video conferencing software,update it when it's possible.
• Physical security
Consider the location of your provider's data centres. They should be in a secure place and provided with round the clock security. The centres should also be audited on a regular base to protect them from any physical intrusion.
• Updating Your Default Setting
Using default administrative passwords can slow down cyber-attacks on your video conferencing system. Ensure that you have updated your passwords and use a strong pass phrase that is too difficult for hackers to crack. When it comes to passwords,it is also important that you password protect all your confidential meetings. You can receive these services from professional video conferencing providers.
• Ensure Your Home And Office Network Is Secure
Most cyber attackers use your network as an entry point to your accounts. If your network is unsecured,it poses a danger to all your company's files and devices by acting as a gateway. Secure your network by doing the following things.
# Restrict access to approved personnel only.
# Block any email attachments that appear as follows .bas,.exe,or .vbs extension.
# Test the security holes regularly.
If your coworkers work remotely,they should also be vigilant about securing their networks to ensure that any possible loophole is closed.
• Educate your Users and Employees
When it comes to network security breach,human beings are always the weakest links and their errors cause security breaches. It is,therefore,important for you to ensure that you have educated all your employees on the importance of maintaining a network secure. Teach them the following things if you want them to develop secure video conferencing practices.
# Securing home routers by using virtual private network or by turning on the wireless network encryption.
# Setting strong passwords for their devices in addition to changing their devices regularly.
# Using secure settings when joining a video conference.
# Switching off their devices when they are not in use.
# Being responsible while using the network,regardless of whether they are at home or in the office.
Part 3. Free Secure Video Conferencing Solution - ezTalks Meetings
To ensure your video conferencing secure,one of the best way is to utilize secure video conferencing solution. ezTalks Meetings is the most secure video conferencing software that offers you up to 100-participant online meetings safely with no costs. ezTalks Meetings values a lot about your privacy and tries its best to protect your financial and personal data with full encryption and advanced fraud protection. ezTalks Meetings offers you two plans.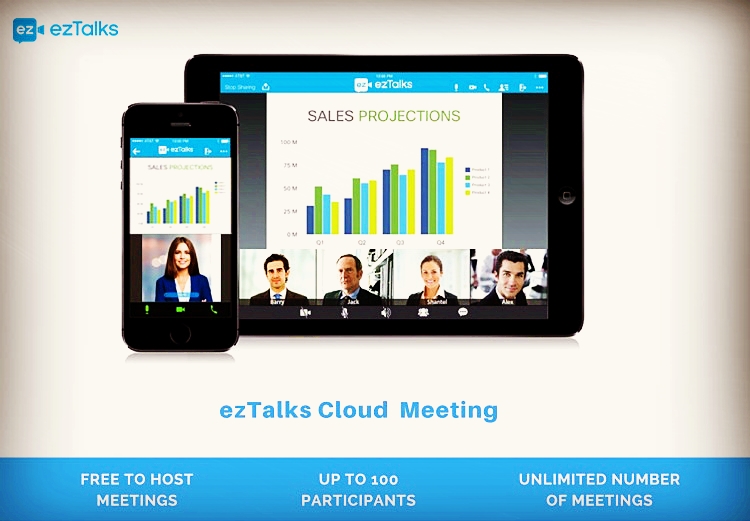 Free plans have the following features.
• Support up to 100 users per online video meeting.
• AES 256 bits encryption
• Holding unlimited cyclical meetings.
• Support screen sharing,whiteboard sharing with 100% secure.
• HD video and HD audio delivering.
• Ability to hold live broadcasting via browsers.
• Lock online video meeting to keep unrelated individuals out.
• A 40-minute limit for each group meeting.
• Capability of holding private meetings and group chats.
• Gallery view and full screen view capabilities.
• Supports ezTalks Onion,a brilliant video conferencing equipment.
The premium plan of ezTalks Meetings,on the other hand,requires you to pay a fee of at least $12.99 per month only. It offers you a highly secure video conferencing solution. Moreover,it includes all the features that are present in the free plan in addition to these following features.
• REST API.
• User management.
• Hosting up to 500 users per meeting.
• Ability to hold unlimited duration of all meetings.
• Full admin feature controls.
• 24-hour email and live chat support.
Sounds great? Why not download ezTalks Meetings and make secure video conferencing a reality!

Note: Click the Download button to download ezTalks Meetings on your Windows computer. If you're a Mac user or you wanna use it on your smartphone,please click Download centre to have a right version.