Main Benefits of Telepresence for Business Organizations
In the emerging period of technology,the whole world is about to get in globalization. So we need such a strong medium for conversation among peoples,and business group meeting. Telepresence is the best solution to keep us connected virtually around the all locations with great reliable connection. Telepresence is not a magic,and really this works naturally. At your location,you can feel the others with their voices and videos on situated in another location.
Telepresence is a kind of set of advanced technologies equipped with the latest devices like for HD video camera with controller,microphones,monitors,and speakers etc. Telepresence used own embedded built in software and really hardware and software both interact well with each other in order to make sure to provide the excellent quality of audio and video live streaming on both ends among the group meeting.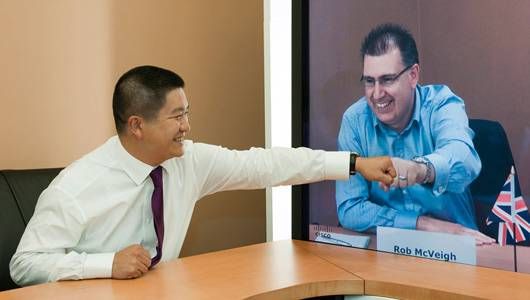 Nowadays,telepresence has a lot of benefits for business organizations,some of them listed below:-
1. Full-fill your business objectives
2. Impressive communication among people
3. Cut your expenditure
4. Reinforcement the globalization
5. Increase the productiveness dramatically
6. Make the process of recruitment easy
7. Boost your ROI
8. Helping in developing green climate
Now,we'd like to further explain these benefits one by one.
Full-fill your business objectives:
One advantage of using telepresence is that it can full-fill your business objectives easily. Nowadays,telepresence is a great tool to meet your business goals. Telepresence plays an important key role to communicate between employee and employers in an effective way without any inconvenience. This helps your small business to set up a conference room with high quality displays. You can share with your employee and clients the all required things like for file sharing,video sharing,and exchange the words on the spot. This also saves the time. Ultimately,telepresence is the key value for your organization in this emerging period of used technology.
Impressive communication among people:
Voice communication is the main things while communicating other peoples. Telecommunication is a virtual process on remote location who also facilitate live video streaming,means you are visible to everyone participate in the meeting,and you can easily do face reading of others thus face expression and your body languages make your messages more impacting. The video conferencing also reduces your workload,and as a participant,you can easily exchange your new ideas,come prepared with your docs and this will result in a greater output of telepresence meeting.
Cut your expenditure:
A telepresence meeting refers to virtually on remote location. Telepresence meeting has a conference room where the participant people get together. So really this saves your travel expenditure. You do not need to travel at the destination for meetings. Telepresence allows your group meeting at your end. This saves up to 100% traveling,and accommodation cost. Telepresence is a best tool to cut your cost and overhead expenses.
Reinforcement the globalization:
During the present year,the globalization of all over the world,among the all countries is the key fact for development of globe equally in all sectors like for medical,science,outsourcing of works etc. The deployment of telepresence is time to time an essential tool for your organization. According to the survey the telepresence conference rooms increased rapidly in the all countries,especially in USA and UK. Telepresence meetings are highly accepted by small and big both organizations in order to make sure a result oriented task in less time. The government of many countries also have adopted telepresence products in their all ministry department. Ultimately telepresence helps in globalization of the world and connect countries in an effective manner.
Increase the productiveness dramatically:
Telepresence allows better collaboration in organization among employee,employers,clients,and suppliers. Telepresence boosts up to 40% productivity of your services due to its quick decision making,saving your travel allowance and overhead expenses and ultimatum your organization can perform a large volume of work in less time compared to traditional communication. Telepresence meetings allow the all participants to share the presentation,exchange your views and face to face expression this result in,sort out the complicated problem on the spot comparison to traditional methods. Even your employee is on leave and you need any emergency help from him,you can easily communicate with him. Telepresence plays an important role from top level management to lower level. Telepresence significantly decreases the time taken in solving the complex problems comparison to conventional way. So if the problem solves quickly during the execution of projects,the project move ahead on next stage and completed in less time so generally productivity increases and the results surprises us.
Make the process of recruitment easy:
The traditional methods of hiring the employee vary lengthy,complicated,time taken process,and limited to particular areas. With the help of telepresence,you can easily schedule your multiple interview with interested workers and you can take it also there should be save video of each interview. This will help you to evaluate the best candidate for you need among the all candidates.
You can also search the talent worldwide,there is no limitation of location,and you can easily work with him on a remote location.
Boost your ROI:
As we talk over,by using the telepresence meeting,this cuts your expenditure,traveling costs,and overhead expense. Telepresence also helps you in time saving in project execution so less time converted to increase the volume of work on a day basis. Finally,these all truth boost your ROI dramatically.
Helping in developing green climate:
As we already know that telepresence meetings reduces the traveling by air,and car. So certainly this will result in decreasing the air pollution and this will lead to make a better green and healthy climate for us.
Conclusion
Wow,amazing,fantastic,telepresence becoming an essential tool for us nowadays. As we described above,telepresence has lots of benefits in our busy life. We can use telepresence in the all segments of our life. This is beneficial for business organization,connecting the people socially,and rule the government of countries. By using telepresence tools equipped with high definition camera,controller,multi-speakers,multi-microphones and display monitors,we can establish a fast and reliable connection,and could communicate with people on remote location without any interruption. So really we would urge the current generation to follow the telepresence technologies.