The 5 Best Conference Room Solutions
Conference room systems have become more popular in recent years due to the number of benefits. Conference room video conferencing is being used in almost all the industries including financing,military,and education. Conference room video systems offer higher efficiency and productivity,more flexibility,and effective and instant communicationfrom different locations. In this article,we will discuss the 5best conference room solutions.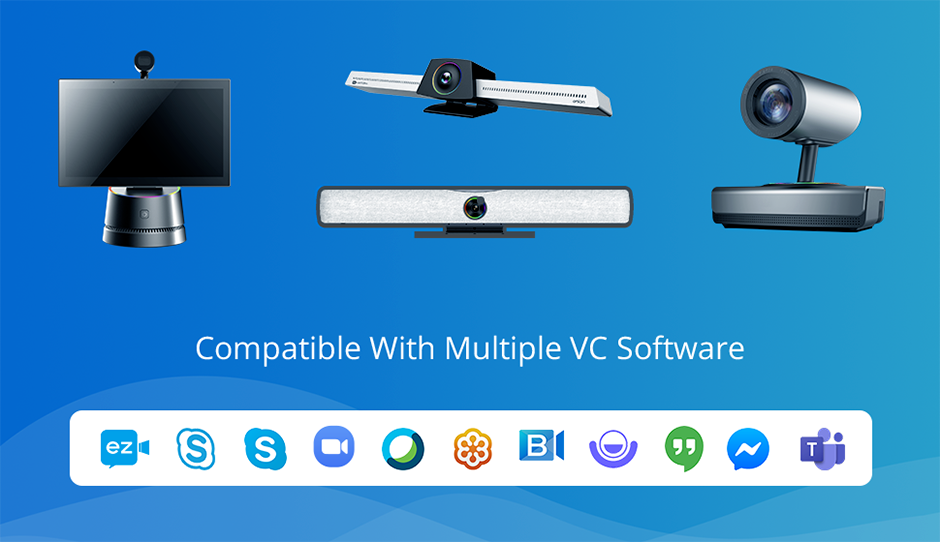 ezTalks Hardware
Supports Multiple VC AppsezTalks all-in-one video conferencing devices work with most popular VC apps like ezTalks,Skype for Business,Skype,Zoom,WebEx,GoToMeeting,BlueJeans,Lifesize,Google Hangouts,Facebook Messenger,Microsoft Teams and more as you require.Request A Demo
1. ezTalks Conference Room Solutions
ezTalks provides a series of conference room solutions for meeting rooms of any size,which are created innovatively to improve your conference room video conferencing.They include focus conference room solution (Meet Mini),huddle conference room (Meet S),small conference room solution (Meet Pro) and medium-large conference room (Meet X). All of them gives great compatibility with multiple VC software to let you grab the freedom to personalize your conference room.

Focus Room Solution
Meet Mini is an all-in-one video conferencing device with microphones,speakers,camera,displays,codecs,Wi-Fi and software that suits not only for the personal or mini/focus/executive conferencingroom,but also for remote support or education,live streaming,surveillance by far-end control,and etc. The 11.6-inch touch screen and 1080P wide-angle camera bring an exceptional meeting experience with HD video and sound. The rechargeable built-in battery makes it a portable device that is easy to set up and use in various settings.
Huddle Room Solution
Meet Soffered in the plan has speakers,mics,built-in HD camera and the cloud video conferencing software,which empowersyouto host a meeting merely with one device. There will auto-adjusting exposure,wide-angle camera,and noise reduction technology to offer a flawlessmeeting experience to the users.With built-in ezTalks software,you can control and manage your huddle room via desktops,laptops,tablets,Macs,mobile devices and T-Voice 100,quite flexible as you want it to be.
Small Room Solution
Meet Pro is also an all-in-one solution with a microphone,speaker,codec,wifi and ezTalks softwaredesigned for video conferencing for small conference rooms.It is very convenient and easy to install.Owing to the ePTZ remote camera with 4K sensor and HDR video capture,the video and audio provided are excellent. The sound pickup range is amazingly up to 5 meters.The 1080p video stream is ensured by the high-end processing technology while up to four 720p video streams can be also accessed.
Medium and Large Room Solution
Meet X is the conferencing solution integrated with camera,codecs and software,which is quite powerful to manage your medium-large conference rooms.With Meet X,you can capture everyone in picture with 1080P PTZ wide-angle camera. Its codec supports hardware encoding and decoding,and up to 25 video feeds by software decoding. While supporting dual screen feature,you can share the presentation on one screen and notice the active video participants on another screen as well.
All of the solutions are worth a try because the one-time feeis affordableeven for ever-lasting use,then you can upgrade your various conference rooms NOW! Go for it>>
Unlike the traditional conference room solutions,ezTalks conference room solutions offer you the quick,easy and affordable way to connect with your teams effortlessly. Also,the built-in ezTalks software enables you to own lots of useful features to make your meetings/webinars more successful and engaged,like whiteboarding,screen sharing,instant messaging,scheduling and so on. Powerful hardware and software are available for your brilliant presentation!
2. Zoom Rooms
The next one is Zoom rooms. Zoom conference room video systems are appreciated by users for flawless experience,integrated audio,quality videos,wireless content sharing. In addition,you will have one touch to start your meeting and join from different devices including smartphone,desktop,or any conference room systems. You can overview the management and status as well. It will enable you to contact with any type of legacy endpoint that might be Lifesize,Cisco,and Polycom. In addition,there will be a beautiful display,whiteboard,screen-sharing,and digital signage.
3. GoToMeeting
GoToMeeting is the combination of hardware and software. You will need only a couple of minutes to set your conference room. You can start a meeting with remote participants wirelessly. It comes with a lot of advanced features to make video conferences more effective. There are Chromebox computer,Revolabs USB phone,Wireless touchpad and keyboard,and 1080p HD Logitech webcam. Some benefits are affordable conferencing,easy setup,and enhanced experience.
4. Anymeeting Room
Anymeeting is appreciated by small and medium-sized businesses. You will have video conferencing and screen sharing. It offers both free and paid options. Some key features are VoIP calling,unlimited meeting,and chat. It synchronizes with Outlook and Google. It enables the users to share YouTube videos during the meetings. You can also hold your meetings.
5. Skype
Skype is one of the best conference room solutions. It has both paid and free versions. The free version can be ideal for hosting an online meeting. The paid version comes with a number of advanced features. You can start a video conferencing with your colleagues instantly. It will include group chats and group calling. You can start a video conferencing with up to twenty-five attendees. The best part is that you can start a video conference in free version. It is compatible with Xbox One,Windows,and OS X.
Conclusion
These are best five conference room solutions. All these are designed to help the users to communicate with their colleagues in real time without any barrier of location. You can choose any of them depending on the specific needs of your business. You should go through the features to know which one is able to serve your interests in the best possible manner. If you are looking for the best broadroom video conferencing solutions or other types of video conferencing solutions,I would recommend ezTalks. It is affordable and comes many improved features to make the conference seamless and more effective.