How to Pick the Right Conference Room AV System?
Needless to mention,the conference room is nowadays considered to be an essential collaborative space and AV system is the primary cornerstone of conference room for effective business collaboration. Therefore,if you are planning to implement a conference room into your business space (for an effective and efficient collaboration hub),please make sure to choose the suitable conference room av system.
Not sure about how to pick the right conference room av system for your business space or enterprise? Do not worry anymore as you are going to reveal four easy and helpful steps to determine and choose the conference room av control system for maximum benefits.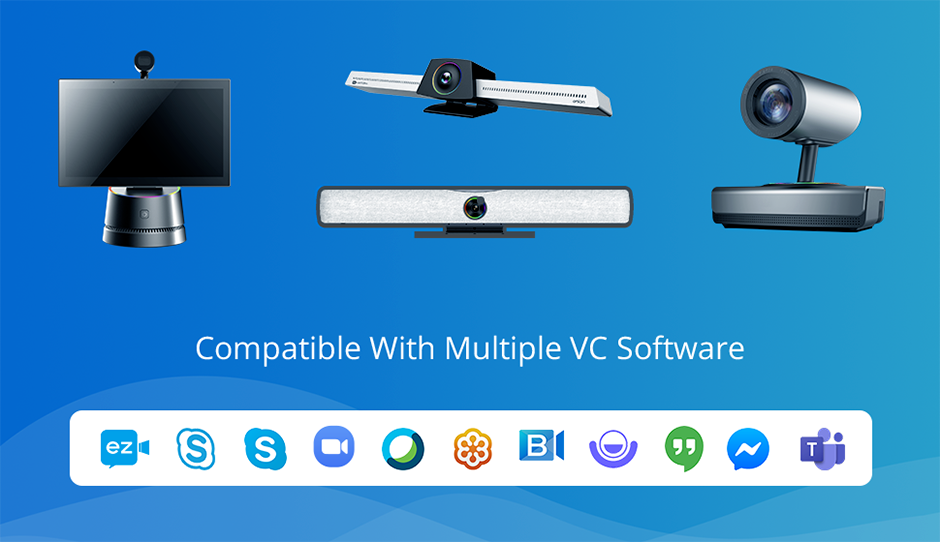 Advanced Video Conferencing
For Any Conference RoomezTalks all-in-one video conferencing devices work with most popular VC apps like ezTalks,Skype for Business,Skype,Zoom,WebEx,GoToMeeting,BlueJeans,Lifesize,Google Hangouts,Facebook Messenger,Microsoft Teams and more as you require.Request A Demo
Reveal Four Easy and Helpful Steps to Pick the Right Conference Room AV System
I) Audio: The audio is the key component of any conference room av system. You must ensure to provide a superior and uninterrupted audio experience for the users. Otherwise,it may result in an annoying communication experience for the participants. Ideally,the audio quality needs to be crystal clear and lag-free. Unfortunately,many conference rooms encounter the problems of noisy audio experience where the hosts and participants fail to interact properly. You should choose some high-quality speakerphones for your rooms that will ensure your meeting experience.
Take ezTalks as an example,it boasts of offering its users the best audio conferencing experiencewith the best conference room audio video system. Being one of the most renowned and reputed providers of audio and video conferencing solutions and av systems,ezTalks has introduced T-Voice 100 that's able to capture sound from every angle (360 degrees) and offer an outstanding audio experience for each user.
II) Camera: In the previous section,you have understood the purpose of implementing an advanced audio system in your conference room. Now,when it comes to picking the right conference room av system,you can't overlook the necessity of implementing a good camera.Take ezTalks Meet X as an example,it is a premium medium conference room solution with integrated camera,codec and software. It adopts a highly integrated 1080P PTZ Camera with big lens,contributing to grasping everyone in details even in a large space with about 20 people. It also adopts high-performance built-in codec to support powerful encoding,hardware decoding,and software decoding. Besides,it allows for dual display for flexible meeting presentation. Last but not least,it is easy to set up in various installation ways.

Please note,the ideal situation is that the overall-total conference room av solutions are available to play the part of audio device as well as video device. For example,ezTalks offers several kinds ofall-in-one conferencing devicesthat comes with a high-end built-in HD camera,speakers,mics,and video conferencing software.
What's more,the amazing thing aboutezTalks all-in-one video conferencing devicesis that all the hardware is compatible with most popular video conferencing Software includingSkype for Business,Microsoft Teams,etc. Thus you are free to use the all-in-one VC devices for seamless video meeting experience with your favorite meeting app.
Meet Mini
This is a portable all-in-one video conferencing device for focus rooms to bring you unparalleled meeting experience.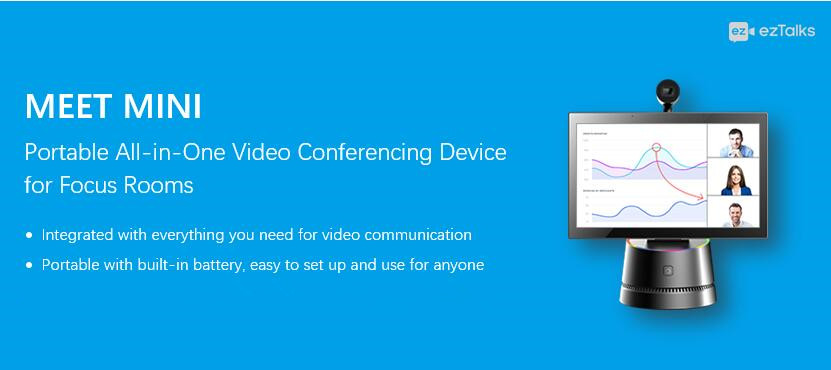 Main Features:
a) Ultra HD Video & Audio
b)11.6'' full high-definition touch screen
c)High-performance processor (Powerful 64-bit CPU +QOS anti-lost technology) d)Support simultaneous display in dual screen
e)Responsive far-end control
f)Cost-effective (ONE-TIME FEE at $699 without any further cost)
Meet S
This is an excellent huddle room solution with a single device. With such an all-in-one conference room solution,you can remove the complexity every time you set up the meeting room.

Main Features:
a)1080p with 120° wide-angle lens for clear image and dual microphone for enhanced voice performance
b)Control from any device as you want
c)Only three steps to install and deploy
Meet Pro
Thispremium solutionis createdto deliver premium video conferencing experiencein small and huddle rooms.
Main Features:
a)High-performanceprocessing technology
b)4K sensor and wide-angle lensto guarantee unmatched video quality
c)ePTZ controlto deliver dynamic images without any delay
d)Can avoid leaving alone complicated installation process
e)Can control as you want
III) Pricing: While picking a conference room audiovisual system,you must also consider its pricing aspects. Based on your business requirements and budget preference,you may have a specific budget limitation. Isn't it? Well,keeping this factor into consideration,ezTalks has brought a range of plans at competitive pricing.It only starts from $699 at one-time fee without any further cost. Thus,you have plenty of choices to choose the best plan as per your own requirements. Thus,you have plenty of choices to choose the best plan as per your own requirements.
IV) Additional Features: The top-grade conference system now comes with some additional features that can be extremely beneficial for the meeting participants including hosts and attendees. Other than the audio and video conferencing experience,additional features for your av conference room system will be welcome and add value to your productivity. ezTalks offers the following features (apart from the standard HD video conferencing and audio conferencing) i.e. live broadcasting,screen projection,screen sharing,white board annotation,live chat,recording,remote control,make presenter,and more.
Each of these aforementioned features will make your business communication process better,smoother,and more effective.
The Final Verdict:
With this,you have revealed four steps or factors that come into consideration while picking the right conference room av control system. In these four factors,ezTalks features to be the best and most recommended solution that will help you set up a flawless communication cum collaboration hub in your business space. ezTalks has many attractive pricing plans that will suit your business preference and requirements (irrespective of any size and type of business). If required,you may even contact the customer support team of ezTalks for any customization.