2 Ways on How to Make a Group Chat on iPhone
Group chatting has become one extremely popular option for many users like most business owners,or among friends sharing study materials,and other professionals who wants to share information with many at one single time. Business owners set the basis of communication with customer,partners and suppliers through group chats. In this article,we're going to show you two ways on how to make group chat on iPhone.
Way 1. How to Make Group Chat on iPhone with ezTalks Meetings
Video conference as a technology is now developed and helps you to make video conference on iPhone with no limits and whenever you need. Apple users are allowed to begin one-to-one video chat involving other iOS device users easily through FaceTime,built-in app. However,in case you need to make one group video conference through iPhone with clients or you team,you need a video conferencing application for iPhone for accomplishing the task.ezTalks Meetings offers HD audio/video conferencing services for Mac,Windows and Android and iPhone users,files sharing,meeting recording,interactive whiteboard,group chat,screen sharing,remote control,and free meeting scheduling,etc.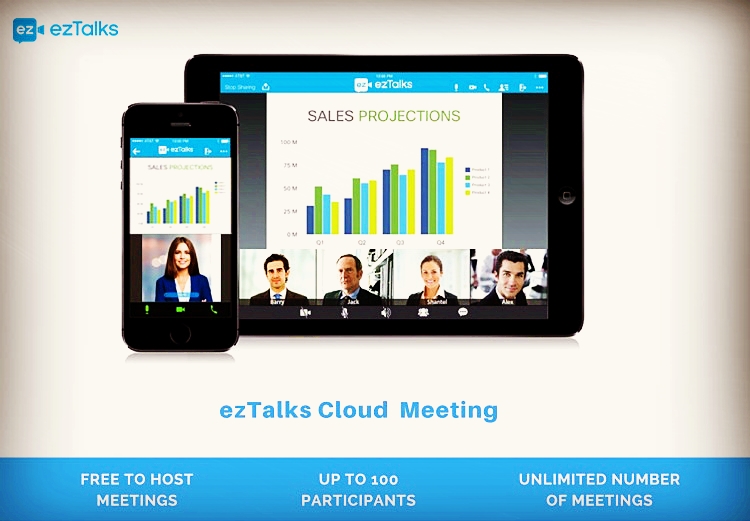 A free version can be downloaded for making a video conference with a maximum of 100 participants for free and the call duration is no more than forty minutes. You may buy a paid plan for satisfying the actual needs. The following steps show the way of using ezTalk Meetings to make an iPhone group chat.Step 1. Download ezTalks Meetings from App Store and install it on your iPhone.
Step 2. Run this app and sign up by using an email address and password,or directly sign into with Facebook or Google account. If you are an existing ezTalks member,you can type in the email address or password.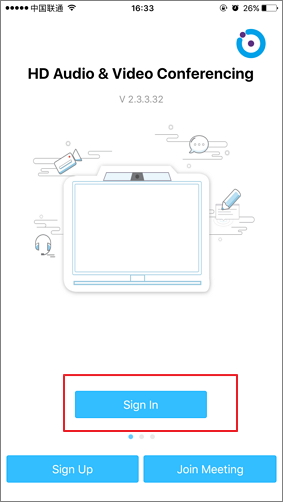 Step 3. The speaker,microphone and camera are made ready. When you get the primary window,click "Start Meeting". You may invite others to attend the group chat by simply sharing the link or Meeting ID to others. In the pop-up window,you can input other attendees email addresses and click "Invite" to invite them to join the group chat.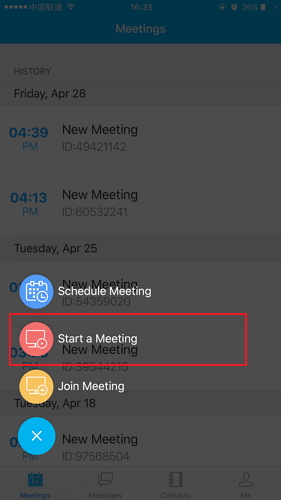 This is definitely a powerful solution that allows you to hold up to a maximum of 100-participant iPhone group chat for free of cost at a time,which absolutely can meet your requirements.
Way 2. How to Make an iPhone Group Chat by Using iMessage
Do you know how to make a group chat on iphone? You can use iMessage,also called built-in Apple's instant messaging service for that. It helps you send texts,videos,pictures,sound,and locations fast and easy to someone else by use of iMessage on various devices like iPad,Mac,iPhone,or Apple Watch.
Apple is constantly bringing significant updates to iMessage in form of emoji,screen and bubble effects,digital touch and handwriting,and iMessage apps. On iPhone,iMessage stays alongside MMS and SMS,to help you keep in touch with non-Apple users. Some new effects like cloud,bubbles slam,gentle,or turning the whole screen to confetti,fireworks,balloons,lasers or shooting stars are incorporated in iMessage in iOS 10. You have the option of even naming a conversation thread so that it is easier for searching and keeping track of it,you may also mute it when it is too noisy to follow.
Steps to make a group chat on iPhone
Step 1. First,the iMessages app from the Home screen needs to be launched.
Step 2. Then,compose new message button has to be tapped which looks similar to pencil and paper. Your first contact's name has to be drawn.
Step 3. Next,contact's name has to be typed. Inside of the text field at the end of your message has to be tapped.
Step 4. The message has to be typed that you wish to send to the group. Lastly,tap Send.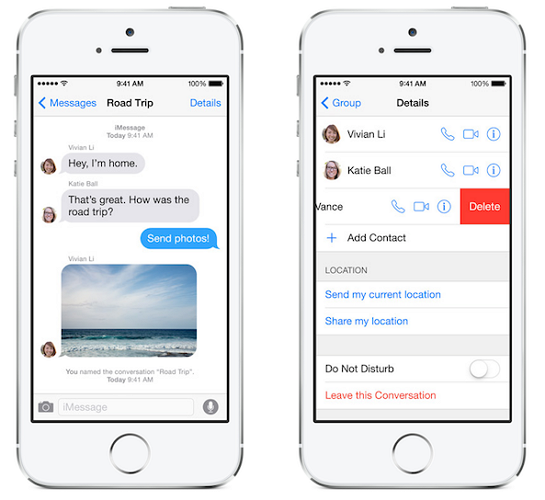 In this manner,you can start group chats,instead of texting each person individually and share information with hundreds of intended audience at one go,helping to save time and making the chat more interesting with input from one and all.
Conclusion
iPhone group chat apps have enabled apple users to communicate with a large group of people at one time and it has so many benefits in different fields,like education,business. Photos,texts,and anything that needs to be shared with two,three or more people are now easily done through group chat in iPhone. Now you'll be able to start group chats,instead of having to text each person individually.