How to Book a Conference Room?
Do you seek a platform to book your online conference room meetings? As technology develops,conference room booking is just a click away!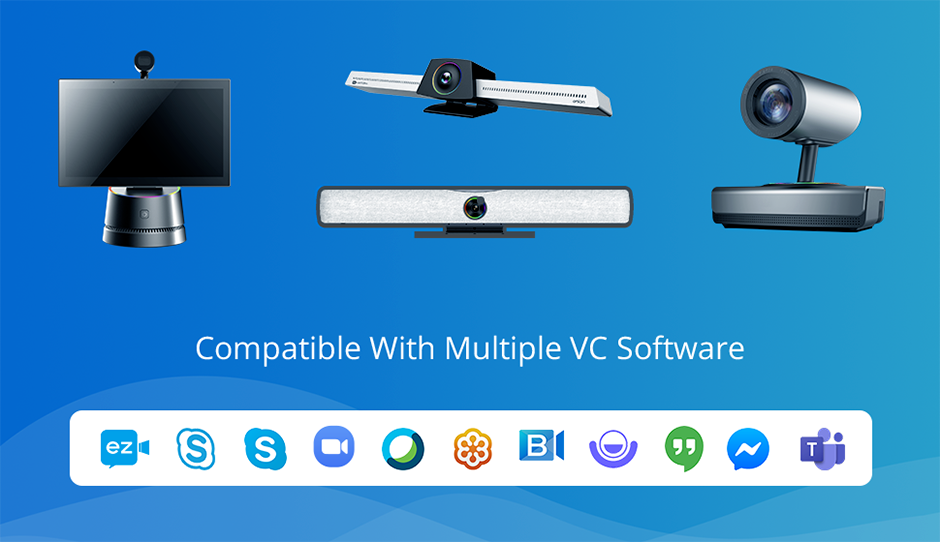 ezTalks Hardware
Supports Multiple VC AppsezTalks all-in-one video conferencing devices work with most popular VC apps like ezTalks,Skype for Business,Skype,Zoom,WebEx,GoToMeeting,BlueJeans,Lifesize,Google Hangouts,Facebook Messenger,Microsoft Teams and more as you require.Request A Demo
How to Book a Conference Room?
In this part,you will be introduced how to book a conference room using the conference room booking system. Today we will use ezTalks Rooms Software as the example to explain.
ezTalks Rooms software is designed with great features that makes it an effective and easy-to-use tool for your conference room booking. Most intriguing is the ease of booking for meetings with the mobile app which works on Windows,Mac,Android,and iOS devices.
Here are fast and easy steps to schedule a conference meeting through ezTalks Rooms Software:
Step 1: Download the ezTalks Rooms Software on your PC or Mac
Click the above link to download ezTalks Rooms Software to your local computer.
Step 2: Connect your conference room hardware and setup software
Connect your microphone,camera,speakers,and monitor,then,install ezTalks Rooms software to your mobile phone or PC.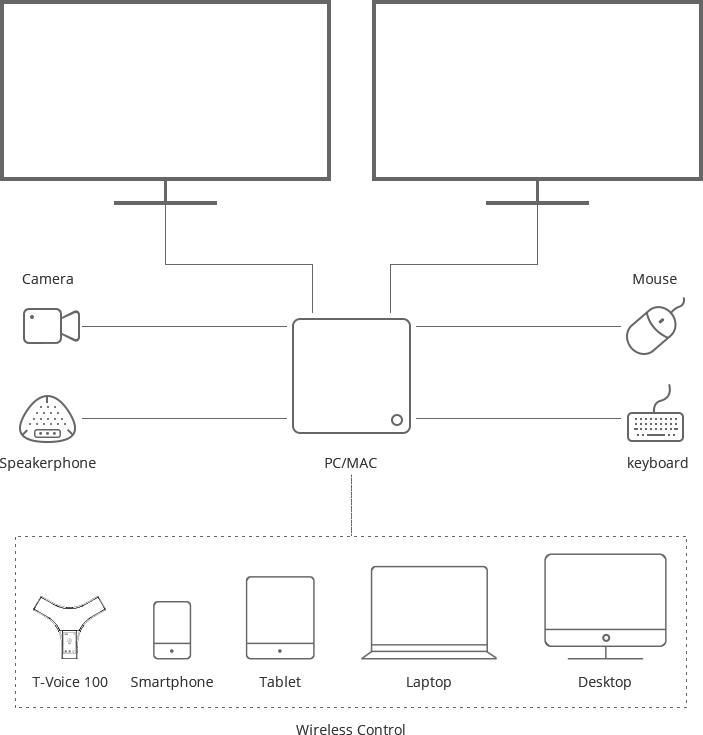 Step 3: Get your Controller App and add chat rooms
Download,install,and signup on the ezTalks App for free. The app is compatible with Windows,and iOS operating systems. Sign in on the app and add up ezTalks Chat Rooms.
Step 4: Book a meeting with ezTalks Rooms Software
Book a conference meeting with your ezTalks Control App. Simply select "Move to Room" on the interface of the app and choose a room. Type in your Room ID to begin,or to book a meeting with the rooms.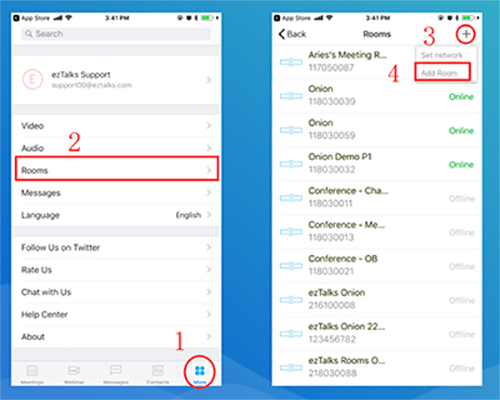 Step 5: Scheduled meeting info displayed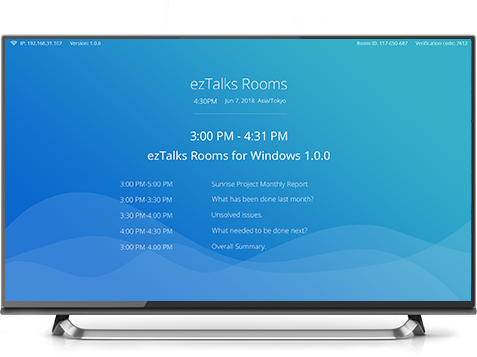 Once you have successfully booked the conference room,the information will be shown on the display. The schedule will be informed to all the participants via email or a link.
The room booking system makes it super easy to book your conference room and besides that,users could also benefit rich features from some of the meeting room booking solutions like ezTalks Rooms Software. You can have the multi-screen video,smooth and easy configuration,cloud recording,effortless control,and wireless content sharing with ezTalks Rooms software.
Features of ezTalks Rooms Software
1) Fast and easy access to meetings
ezTalks Rooms Software supports fast and easy access to online video meetings. As soon as the conference meeting invite is received,participants can easily log in with their unique meeting number alongside their names. And in a minute,or less,you are right in the conference room.
2) HD Video and Audio Quality
Two basic features of online video conference are quality sounds and video. Interestingly,these are key features of ezTalks software. The device's 1920 x1080p HD resolution offer participants top quality video and image. The device,however,gives users a range of resolutions to choose from – depending on individual bandwidths.
3) Screen sharing
Here is another outstanding feature of the ezTalks Room software. To solicit opinions,you may choose to present Word,PDF,or PowerPoint files to participants after drafting,perhaps,a proposal. All you need is to begin the ezTalks video conference meeting and unveil your Ideas to colleagues/participants for discussion.
4) Cloud recording
With ezTalks Software solution,you can record an entire meeting for future reference. At the end of meetings,simply click on the 'Stop' button and the system will save the video,automatically. You can then go back to watch this video or even share with your colleagues – particularly the absentees.
Don't get bothered about the length of the meetings; the software will capture every moment and save in different shorter files if the meeting gets too long.
5) Book Meetings
ezTalks Rooms allows conference room scheduling and send invites to participants ahead of time. This notice of meeting informs and gets all parties prepared beforehand. The software allows organizers specify needed participants for the video conference.
To send an invite to all participants,simply click on "Schedule",and all participants will receive an email containing details of the meeting.
6) Text Live Chat
Besides face-to-face video calling,the ezTalks software supports live text chats too. In the event you want to send your website URLs or a private message to a participant without obstructing the conference room,this text live chat feature comes handy.
7) Be in Control
As the conference organizer/host,the ezTalks software gives you full right to control the room. So,you can lock the room,remove,or mute any of the participants – as you wish. You can also delegate another participant to make presentations when he/she has something to share from their end.
ezTalks has made giant strides in recent times. The video conferencing service provider has enjoyed wide-spread,and yet increasing popularity lately. ezTalks Technology Co. Ltd is a major software and hardware solution provider that offers top-notch products and services to small,medium,and large-scale businesses.
Conclusively
Booking meetings ahead of time helps boost productivity,as it offers attendees enough time to get well prepared. When it comes to booking online conference rooms,ezTalks is a trusted partner.
With its amazing features,little wonder how ezTalks gets increasingly popular among big,and even small-scale organizations. Its efficiency and potency makes it the desire of most organizations. Just as organizations are enjoying the benefit of this amazing software,you too can get started now and discover the unending possibilities with video conferencing.