What is Huddle Room?
Nowadays,many companies start to move away from the standard meeting rooms surrounded by four walls to smaller,simpler and more practical ones,known as Huddle rooms. Since standard conference rooms have the capacity of higher numbers of people (20,50 or more),the chances of having effective conversations are little. That being the case,companies have come up with a solution by creating huddle rooms. But what is a Huddle room? What makes Huddle rooms different from conference rooms? First things first,we need to understand a Huddle room meaning.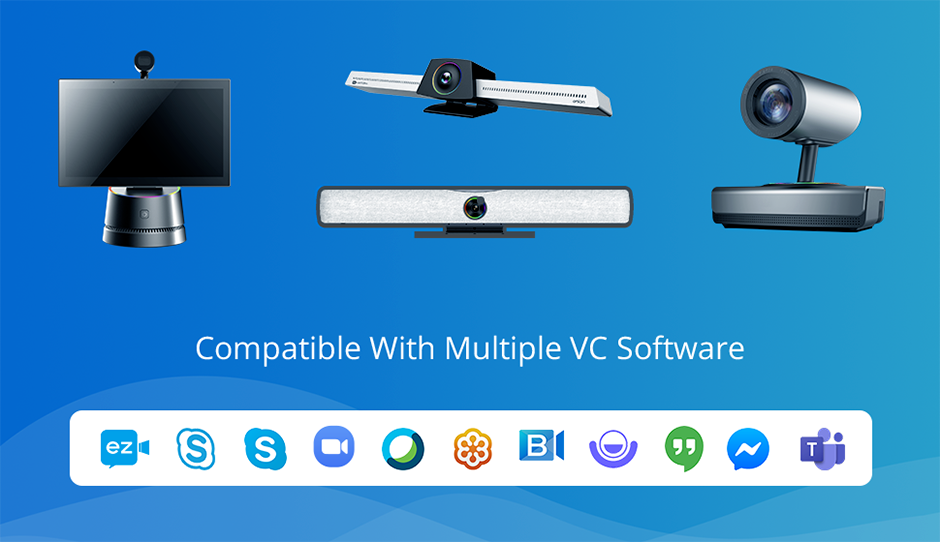 ezTalks Hardware
Supports Multiple VC AppsezTalks all-in-one video conferencing devices work with most popular VC apps like ezTalks,Skype for Business,Skype,Zoom,WebEx,GoToMeeting,BlueJeans,Lifesize,Google Hangouts,Facebook Messenger,Microsoft Teams and more as you require.Request A Demo
What is a Huddle Room?
As a result of the problems faced with the conference roomscreated the need for a more collaborative and problem-solving working environment with maximum communication opportunities. Office huddle rooms are developed by the idea of creating more intimate,minimal and comfortable meeting places in companies. They are designed for approximately 4 to 6 people,yet no more than 6 people. Huddle rooms are assisted by some audio-visual aids which allow for more attendees by telecommuting. They are practical because they not only provide a secure environment with the privacy needed for the meeting,but they also allow for an open work space with the use of technological tools.

What are the Benefits of the "Huddle Rooms"?
Huddle rooms provide a perfect environment for small meetings with team members,discussions with clients and interviews with the employee candidates. When compared with conference rooms,they are smaller in size; therefore,they take up less space which is highly important for the effective use of the offices in a company. Also,since they are designed for spontaneous use,they do not require a reservation. Due to their small size,they can be installed in more numbers by companies. Therefore,the availability of many huddle rooms in a company doesn't require any reservation and they are suitable for impromptu use,compared with the conference rooms where employees have to wait for a couple of weeks to use them.
Another important advantage of huddle rooms is the effective use of the equipment. Huddle rooms are equipped with many audio-visual tools that allow for more participants to be involved in a meeting. This facility supports the ideal meeting environment where the need for an open space meeting with total privacy can be provided.
Which Equipment is used in "Huddle Rooms"?
Huddle rooms are designed for a technology-enabled environment. One of the most practical uses of technology in huddle rooms is video conferencing. Video-enabled huddle rooms create an opportunity for the remote employees to attend the meeting regardless of their location. Moreover,speaking in front of maximum six people is much easier and effective for both the remote attendee and the other attendees as the meeting environment is more intimate and the participation rate of the total attendees is higher. In this case,huddle rooms create a better opportunity for the remote participants to feel as if they are real parts of the meeting. Therefore,the use of technological equipment is much more effective compared with the conference rooms.
Other equipment that is used in Huddle rooms includes:
• TV,LCD or LED monitors
• a small central table for the attendees to gather around with a few chairs
• whiteboards (interactive or regular)
• flipcharts and scrum boards (optional)
• a flat panel display may be used for the attendees to present from their own devices
How to Design a "Huddle Room"?
Simplicity is the keyword for huddle rooms as the less space and furniture,the more effective and productive the meetings become. The reason behind this is the desire to achieve comfort and creativity between the attendees in a meeting. As they feel comfortable,their focusing on the discussions and brainstorming abilities can be enhanced.
Huddle rooms include minimum numbers of furniture with basic designs,whereas conference rooms are usually designed with fancy furniture which means more money is spent on the style rather than function. Thus,Huddle rooms are more practical and profitable for companies to design since they require less but enough.
Summary
In today's workplace,a shift from larger conference rooms to smaller meeting places can be observed. The main reason for this transition is the need for a simpler,more productive and collaborative working environment. Huddle rooms are the perfect fit for answering these needs since they only allow for the things that are required. The meeting capacity of huddle rooms is limited for the intention of creating a more intimate,secure and manageable working atmosphere. The use of technological equipment also contributes to the effectiveness of the meeting sessions,therefore it would not be wrong to say that Huddle rooms will take the place of standard conference rooms in the near future in terms of their practical use and benefits.