How Big Is a Huddle Conference Room?
Companies and organizations are increasingly opting for the use of smaller meeting spaces instead of using a large conference room. These smaller meeting spaces,also commonly known as huddle rooms,are usually equipped with the appropriate equipment to enable video conferencing capability.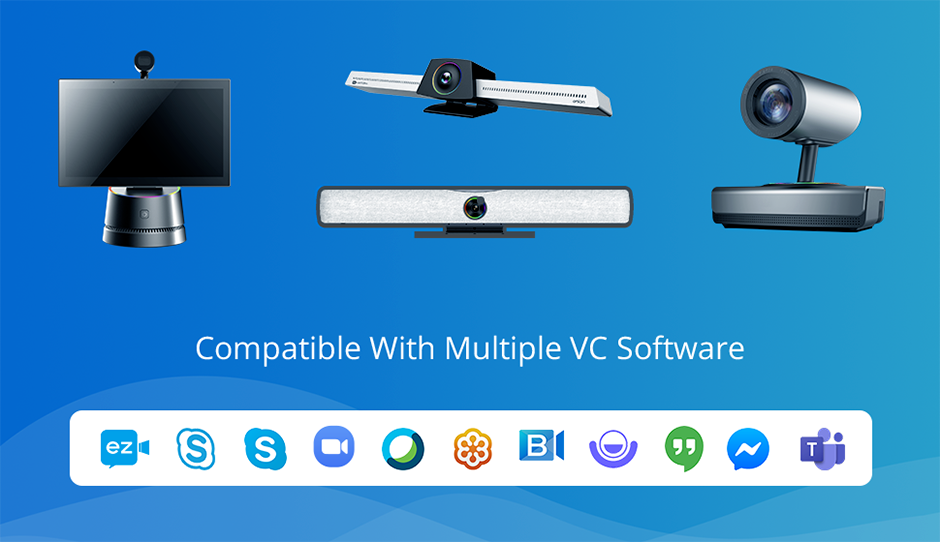 ezTalks Hardware
Supports Multiple VC AppsezTalks all-in-one video conferencing devices work with most popular VC apps like ezTalks,Skype for Business,Skype,Zoom,WebEx,GoToMeeting,BlueJeans,Lifesize,Google Hangouts,Facebook Messenger,Microsoft Teams and more as you require.Request A DemoThese small and convenient meeting spaces are designed to enable only a few people or employees to meet quickly. Huddle rooms are often designed in different shapes and sizes. If you are wondering about how big is a huddle room then it should be noted that these small spacescan accommodate about 4 to 6 people.
Meet S- Huddle Room Solution
Meet S offered by ezTalksis widely regarded as the best choice if you are looking for the perfect huddle room video equipment solution. This video conferencing equipment solution is not only affordable but also offers an all-in-one design. This type of design guarantees that the installation process of the equipment is simple and easy to follow and that an excellent huddle room solution is provided. Consequently,some of the different reasons for you to choose ezTalks Meet S include:

★Great Compatibility with VC software
Meet S is amazingly compatible with multiple VC software that you like including ezTalks,Microsoft Teams,etc.
★ HD Touch Screen
Meet S is equipped with an HD touch screen of 11.6 inches. The touch screen has incorporated the use of a tilt and pan range that is flexible. The touch screen displays stunningly clear images and delivers a touch control that is responsive.
★Crystal-clear Audio Quality
Meet S is also equipped with an ultra HD dual microphone for the purpose of delivering a vocal performance that is enhanced. The technology that enables noise reduction and echo cancellation has also been implemented for the purpose of eliminating the usually annoying background noise and enhancing voice clarity.
★Professional Wide-angle Camera
The Meet S has an ultra HD 1080p camera with a wide-angle lens of 120°. The professional image sensor incorporated ensures that everyone participating in the meeting and every detail is plainly visible. The wide angle lens guarantees that the entire huddle room is captured and that no participant is missed.
★Integrated Design
This huddle room solution has incorporated the use of a fully integrated design involving microphone,speaker,HD camera,CODEC (coder-decoder),touch screen,and an in-built multifunctional software. This full integration of hardware and software delivers a small workplace meeting experience that is simple,quick and unparalleled. Choosing this one-in-all device enables you to avoid spending a lot of your cash in purchasing the traditional and complex video conferencing equipment and still have a perfect meeting room.
★Easier & Simple Control
You can control your huddle room from anywhere you are and at any time using the ezTalks software. One is able to manage and control Meet S via mobile devices,tablets,laptops,desktops,Macs,and T-Voice 100.
Definitely,when you are looking for the perfect meeting room solution,there is no doubt about which is the best video conferencing solution available around having looked at Meet S. This video conferencing solution incorporates the use of the different hardware and video requirements for your business communication to be fluent and efficient.
Click here to get one for permanent use>>
Note: In addition to huddle room solution,ezTalks also provides other conference room solutions for different size of your conference rooms,including focus/minirooms,small rooms and medium to large rooms.

Why You Should Use Huddle Conference Room?
First,it is important to understand that the size and proper design and implementation of a huddle room really matters. The size of a huddle room will depend on the available office space. Typical huddle room dimensions usually are around 10x10ft or a 12x12ft. The aforementioned standard huddle room dimensions are able to accommodate 4-6 people. The standard huddle room sizesareguaranteed to deliver meetings that are more efficient and collaborative. Consequently,below are some of the benefits of a huddle conference room.
a)Intimate Communications For Smaller Meeting Groups
The traditional large company''s employees meetings are usually associated with strained attention spans,heavy eyelids,and long monologues. And so,a huddle room is important for the purpose of avoiding the usually unproductive staff meetings.
b) Flexibility
Instead of just having a single huge conference room,now businesses and organizations can have several small conference rooms. The advantage of having multiple small conference rooms is that there is no need for reservation or advanced scheduling of a room. Even if there is an unexpected event,a team is still able to immediately meet in the smaller conferencing room. Moreover,since a huddle room is equipped with audio and video technology,communication is possible with remote partners and colleagues.
c)Cost-effective
For you to hold a video conferencing in a huge room,that means that proper equipment must be purchased and installed. The installed cameras are required to be very sensitive to capture finer details and also to have a zoom feature that is powerful for proper display of all the attendees. For you to install the best equipment for a huge meeting room,you will have to spend a considerable amount of cash.
However,if you opt to use a huddle conference room,there is no need for you to invest in equipment that is highly expensive. That is because the available meeting space is smaller. Huddle rooms only need the use of a camera that offers stunningly clear images. There is no need for an extremely high-resolution camera with a powerful zoom feature. Huddle rooms are indeed a budget-friendly option.
In conclusion,you should not be fooled by the small nature of the standard huddle room size. The reason is that a huddle room enables you to do more with its less size. The productivity potential of huddle rooms is about 4 times compared with the traditional single big conference room. With a huddle room,you can take care of different business activities such as hosting job interviews,sales presentations,and webinars.