Brother OmniJoin Alternative and Competitor
The concept of telecommunication is always the platform where advanced technologies happen and transform the way people live,work and enjoy. Being applied to most of the efficient teams and business,video conferencing is not far away from this promising industry. New technologies help to innovate service and solutions for company staff and business partners to enjoy the virtual meetings in a cost-effective way with accessible cloud meeting software. Brother OmniJoin is the outstanding representative of these innovations which give you the possibility to host meetings with good visual experience. Despite its functionalities,the weakness of Brother OmniJoin meetings,makes its users look for other alternatives. And this article will introduce Brother OmniJoin and its alternative to the audience.
Part 1 What is Brother OmniJoin Meetings
Brother OmniJoin is a cloud-based video conferencing software that allows you to host meetings with sharing function,cloud storage and video/audio communication. It saves your budget from travel cost and also increases your efficiency of communication. However,the app seems not so good,as users reviewed on Googleplay. The price is a little bit high compared to other service providers such as ezTalks Meetings service. Audio is not so stable with awful meeting experience. Consequently,some of the users are looking for a Brother OmniJoin alternative. In the following this article will introduce the highly recommended alternative and its features.
Part 2 The Best Brother OmniJoin
ezTalks Meetings is the cloud-based video conferencing service which allows you to have free use for the lifetime. Unlike Brother OmniJoin,ezTalks Meetings enables up to 100 participants in each meeting for free and more functions like screen sharing,group/private video chat,whiteboard,recording and playback etc. You can deploy this service even when you are on the train because it is mobilized and flexible to create a workplace at any time.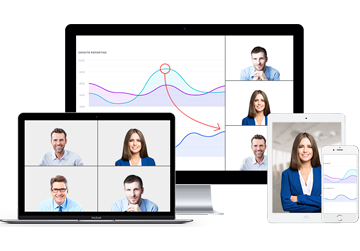 Why Choose ezTalks Meetings?
Free for up to 100 ParticipantsFluent Group Video/Audio/IM ChatScreen Sharing and AnnotationWhite Board and CollaborationRecord and PlaybackSIGN UP FREE NOWKey Features of ezTalks Meetings1. HD Video and AudioezTalks supports up to 1080p HD video meeting. It's almost like meeting people face-to-face with high-definition video and audio. And if you have poor bandwidth,it will adjust into the suitable resoution according to the bandwidth and device to keep the meeting going on smoothly.2. Screen Sharing and WhiteboardezTalks Meetings allows you to enjoy free screen sharing and whiteboard annotation. Participants can control and manage your screen if you share the screen and grant them the authority. You can also discuss your project key points with your teammates on the whiteboard and save into your local files for review.3. Cross PlatformsezTalks allows to start/join meetings via different platforms including Windows,Mac,iOS and Android. It means you can have a meeting with your partners in your house,on the café or along the seaside if you like. All platforms are synced to the cloud and you won't miss any data and meeting details.4. One-click to Join the MeetingIf you are not willing to download the apps for a meeting. Do not worry! Click the meeting link and join the meeting via your browser without any hassles.5. Lifetime Free UseezTalks Meetings Starter Plan enables you to try the service for free and will never expire. The free trial includes full-featured functions with up to 100 participants in per meeting. Your basic requirement of meetings and collaboration is covered!Since video conferencing technologies help to lessen travel costs,optimize efficiency and increase return,it will add great significance to your company if you are making use of it. Thus the selection of the right video conferencing solution is also important. The discussed ezTalks is the best alternative to the Brother OmniJoin and you can first to give a try if you are not ready to buy it now!