Difference between Web Collaboration and Web Conferencing
Virtual collaboration and communication are the essential components driving the success of any organization. The need for these elements is dynamic,and it is increasing tremendously as the business grows. An organization may have different collaboration and communication need compared to others. This explains why a similar solution might not benefit and appeal equally to all business in a given industry. The web collaboration and web conferencing are some of the commonly heard terms when it comes to virtual communication. Indeed,solutions supported these services are some of the most widely used and adopted solutions among organizations. Is there any difference between web collaboration and web conferencing?
Quite often,you will realize that people get confused between the two terms. In fact,a majority of them think that both are same and this explains why web conferencing and collaboration used interchangeably. Nonetheless,there is a significant difference between both of them,and more importantly,each of them caters a particular segment of individuals and their collaboration and communication need. Before unveiling some these differences,let's have a glance at the definition of each solution.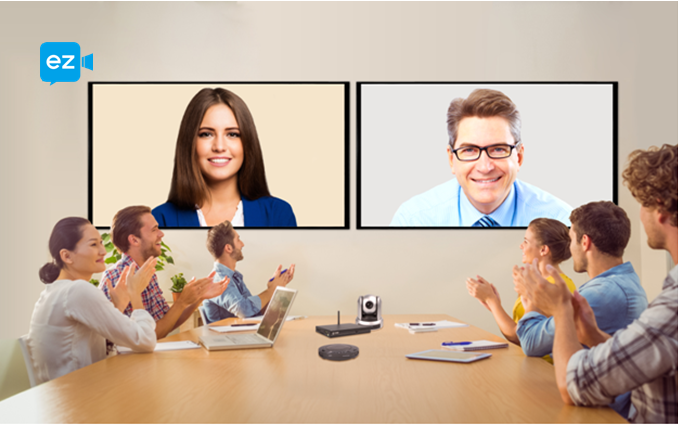 What is web collaboration?
According to the definition given by some of the most reliable dictionaries,collaboration is a process of gathering input or information from one or more individuals and then incorporating their input into a final product. As far as this context is concerned,web collaboration,also known as online collaboration,is the process of allowing a group of individuals works together in real-time,often over the internet. This program provides organizations the ability to collaborate not only with employees but also with clients. Those participating can work cohesively without being in the same office at the same time on Power Point presentations,word processor documents,and even for brainstorming. In most cases,web collaboration packages include web-based tools that support text/phone chat and remote multi-user seminars/conferences via phone or intranet systems.
What is web conferencing?
Web conferencing generally refers to the various kinds of technologies that allow two or more individuals based in different locations to hold and conduct real-time conference over the internet. As the name suggests,many web-based conferencing solutions incorporates web cam video and voice audio as well as text-based communications. Some tools that support web conferencing like ezTalks Meetings also provide polling,screen annotation,speaker management,shared whiteboards,chat discussions,recording option,and much more features.
Web conferencing provides an engaging,sophisticated communication platform for users collaborating remotely. It allows them to conduct virtual seminars,business meetings,conduct online education,lead presentations,and offer direct virtual customer support through keyboard-mouse control. Any participant can take the role of the main presenter because most solutions allow control of the sessions to be passed seamlessly among users. It is important to note that most web conferencing solutions are accessible right through the web browser,but of course,users may be required to down and install a client into their devices to take advantage of all the product features. By and large,web conferencing platforms offer the flexibility of allowing communication anywhere anytime,hence it is increasingly becoming an essential tool for increased productivity and workability in the modern workplace.
Difference between web conferencing and web collaboration
Based on concentration
As earlier stated,there is a significant difference between the two terms. One of the divergent differences is the concentration. Web conferencing allow people from different locations to meet online in real-time. It is much more like a face-to-face meeting,for instance,because it is more about a discussion rather than working together on presented documents. On the other hand,web collaboration involves teams or people from different locations working together,more often than not,on documents and spreadsheets as its primary mediums.
Based on purpose
Another clear difference is on purpose. In most cases,online collaboration solutions allow users to work cohesively in achieving something. However,when it comes to web conferencing,the software allows the leader or manager to hold a seminar or meeting over the internet discussing general arising matters in the business.
Based on features
The features between the two online-based solutions are different. Collaboration solutions use web conferencing as part of the software. The tools often used in the collaboration include emails,chat support,discussion threads,and much more,all of which allow users talk to each other. Web conferencing,on the other hand,features elements such group conversation,video and audio calls to enhance communication.
Conclusion
Most people often think that web collaboration and web conferencing solutions are the same. Nonetheless,they have distinct differences. They are indeed different in their concentration,purposes,and features. Still,they have some few similarities. Therefore,when selecting a solution for your business,it is essential to consider the field of your work. Besides,you need to take note of the reliability as well as the features of the product.