How to Manage ezTalks Contacts
Whether it is to host online meeting or schedule virtual meeting online, you must invite people first. And ezTalks Meetings solution provides you 2 modes to invite attendees:enter each invitee's email address one by one or directly choose from ezTalks contact list. To save time once and for all, there's every reason to manage contacts in ezTalks beforehand.
At first, download ezTalks Meeetings software via the download button below. Install it on your Windows PC and run it. Sign in ezTalks Meetings software. Then, the primary widow appears.

Note: ezTalks empowers you to host virtual online meeting from Windows, Mac, Android devices, iPhone and iPad. Click Download Center to download and install your desired version. Here, let's take software as an example.
1. How to Add Contacts in ezTalks Meetings
In the primary window, click "Add Contact". A small window pops up. Fill in your wanted contacts' email addresses. Each two email addresses are separated by a semicolon. Click "Add". All contacts you add will appear in the contact list.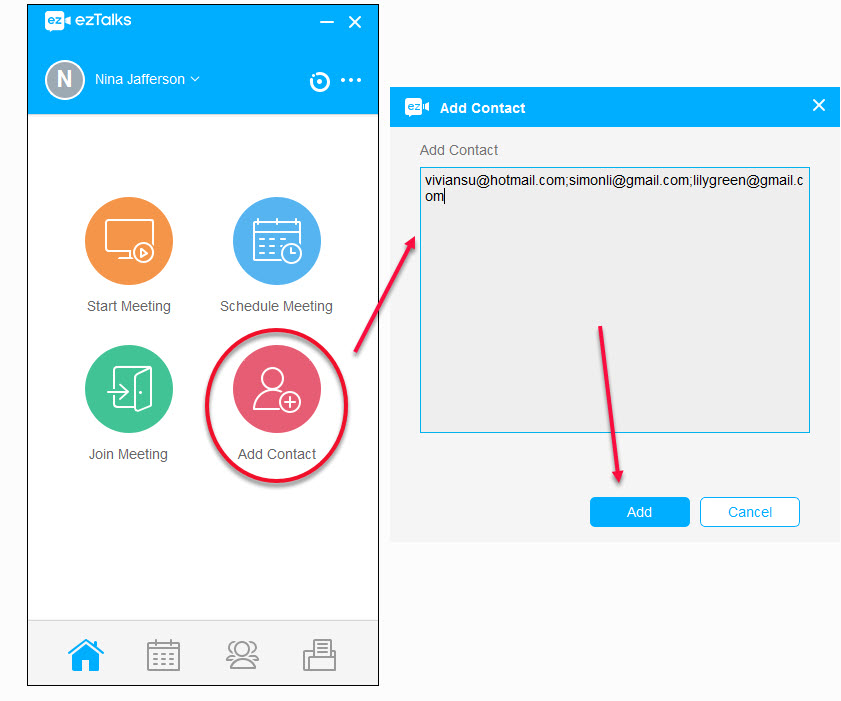 2. How to Delete Contacts in ezTalks Meetings
Click the contacts button in the lower of the primary window. It brings the contacts management window. Right click the contact you want to delete and click "Delete". Then, click "Yes" in the pop-up window to confirm your deletion.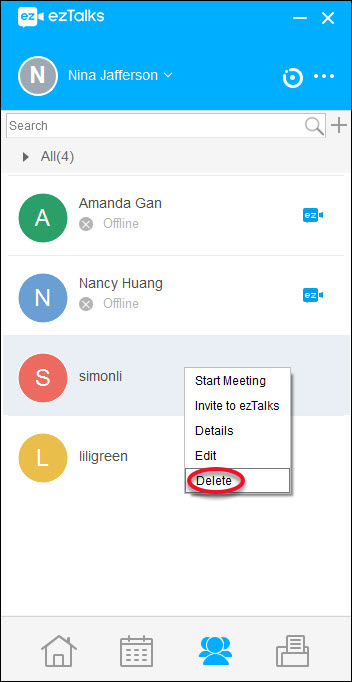 With 2 tips above about contacts management in ezTalks Meetings software, you must be good at contact management of ezTalks Meetings software. And now you can quickly invite your contacts to online meeting!
3. How to Invite Contacts to ezTalks Meetings
As you see, there're two kinds of contacts. One is ezTalks contact, one is not. If you want to invite non-ezTalks contacts, you just right click the contact you want to invite. In the pop-up window, click "Invite to ezTalks". A small window appears on the right. There're 4 ways for invitation. Just choose one to invite your wanted contact.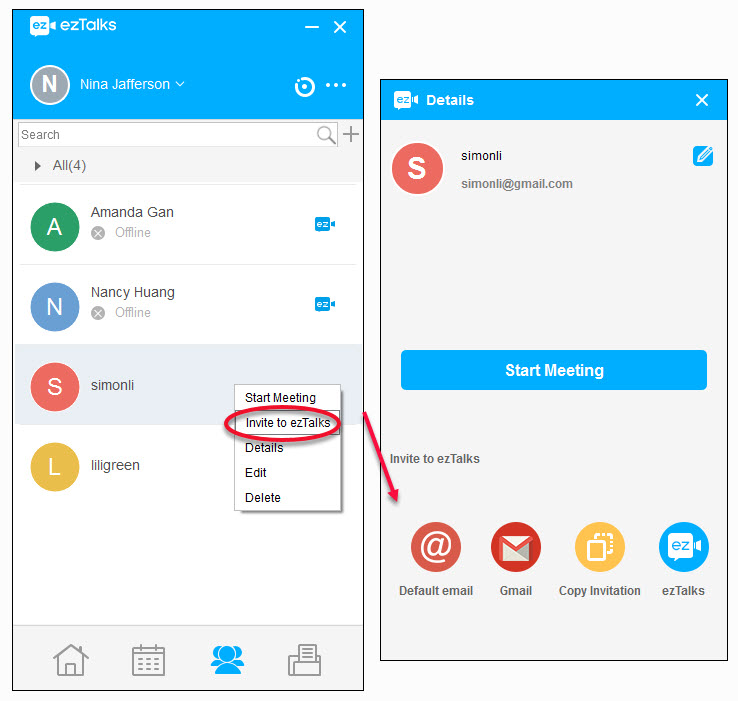 4. How to Start Virtual Online Meeting with ezTalks Meetings
Wow, you quite understand how to manage contacts in ezTalks Meetings software, don't you? Now, start a virtual online meeting. Choose a contact from the contact list and right click on it. In the pop-up window, click "Start Meeting" to start a virtual online meeting