Top 10 Tips for Successful Desktop Sharing
Desktop sharing has become a common thing in our daily life activities. This is a technology which allows a user to view or access remotely and to collaborate with another people's desktop through a graphical terminal emulator. Desktop sharing has enabled people to make meetings, presentations, training and other tasks with audio-visual aides. Here are the top tips for successful desktop sharing:
1. Use suitable desktop sharing software
Using suitable and reliable software should be one of your priorities. This will ensure your desktop sharing is successful without any technical hitches. ezTalks is one of the recommended software which is used for desktop sharing and other related activities. It can keep smooth desktop sharing without lagging which delivers a good sharing experience.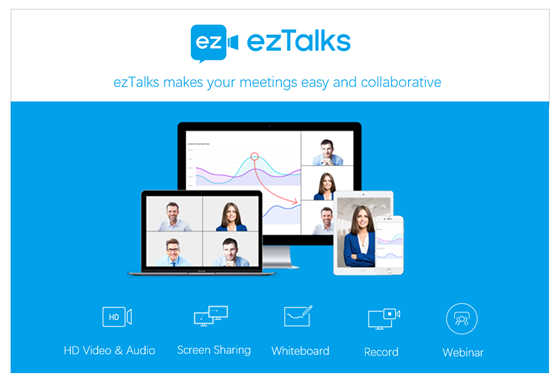 ­
Using ezTalks in your desktop sharing will enable you to make presentations, prepare annual reports, demonstrate your goal or offer online training. It has been developed well with powerful integrated features to provide desktop sharing free and fast. Your desktop sharing is also safe for ezTalks encrypts all presentation content at the application layer with the Advanced Encryption Standard (AES) 256-bit algorithm.
ezTalks will also enable you to have free cloud web conferencing, audio conferencing and video conferencing in real time. It has been widely used by the enterprises, government and other entities for team collaboration, online training, teaching, webinar and video presentation.
2. Inform the participants before sharing
Before you start desktop sharing, always make sure you have informed the other participants about your intentions. This will enable them to assemble the tools required and prepare well. Requirements like the good internet network and a reliable desktop device should be put in place in advance to avoid problems in late rush hours.
3. Testing first
Before you begin your sharing, always make sure all the tools work well, such your pc, laptop or internet. Usually you will have start an audio or video chat for better presentation while sharing desktop, then check the sound and camera system if it works well and produces good quality images. When doing video conferencing ensure that the pictures are in HD 720 or more so that the other participants will see what you are sharing clearly. Also, ensure that the microphone you'll be using works well and has features for noise canceling. And make sure you have good lighting which will improve the quality of images being taken to ensure the other participant sees you. Test your video first by moving around your room and avoid direct sunlight or any other lighting behind you.
4. Turn off notifications on your computer
Notifications can be very disrupting when doing desktop sharing online. When notifications are on, in case someone sends you an email or any other message, then all the participants will see your private chat. Always ensure nothing will pop up during the sharing.
5. Use reliable internet
Using a slow internet will cause an awkward drop out during the sharing. Having a good reliable internet connection will ensure that your online sharing will be steady without any hitch. Also, make sure to optimize your bandwidth. Insufficient bandwidth will limit your sharing and destroy your experience in sharing. Always test your internet before the actual sharing.
6. Choose the screen you'll be using
If you are using more than one monitor, ensure that you integrate all of them to be displayed in one of them during a conference. Also, ensure the camera you are using is attached to the screen you are using to other participants looking at you as if you are doing other tasks or concentrating on someone else.
7. Have the documents ready
Before you embark on the desktop sharing, ensure you have all the necessary documents ready and easily accessible. This will, in turn, make your share more professional and it will ensure that you don't leave or keep the other participants waiting for long.
8. Check-in and confirm with your participants
Sometimes you might think the participants get you regarding audio and visual. It is good to check in with them and ensure that they see and hear you. Without this, they might be not understanding what you are explaining and talking.
9. Ensure you are well prepared for what you are going to present
When you are video conferencing or any other related sharing, ensure that you have prepared the content you are going to talk about or present. It is good to focus on what the other participants will be going to see or hear. A good sharing should be characterized by well grooming and being well conversant with the topic, showing some signs of unpreparedness will make the whole sharing awkward, and nobody will be willing to listen what you are saying.
10. Utilize the screen controls
When doing desktop sharing, don't be afraid to use the control available in your device for the best performance. If you have an important document on your desktop and you need to access it privately, you can select the specific area to share you document or just pause the sharing and find the files you are looking for.
Conclusion
Inventions of modern technologies have made life much easier. Through the new methods such as desktop sharing and utilizing the software such as ezTalks, it has enabled people to make presentations with other participants easier within a small period. With the integration of this technologies, one can even simultaneously multitask jobs at their comfort with the use of internet only without the need to attend in person.