What Is Virtual Training?
People all over the world learn many things throughout their life through a number of ways like from personal experiences as well as from the guidance of others based on their own experiences and time tested facts. There are many ways to learn things from others like traditional classroom training and online training or virtual training after the introduction of various technological developments during last few decades. In this write-up, we are discussing what is virtual training and how it is useful for businesses.

Definition of virtual training
Before discussing the use of virtual training you should know what virtual training is? As per virtual training definition, it is a training method in which virtual environment is used by an instructor to show, explain or test certain skills that can help others to learn something. The instructors, as well as students, have to use some effective video conferencing software like ezTalks Cloud Meeting etc. to communicate with each other face-to-face. Virtual training is used not only for educational purposes but for commercial as well as industrial training also.
Why should a company use virtual training instead of classroom training?
Since the introduction of computers and internet, many technological developments have emerged which have changed the entire scenario of training and education. Earlier educational, as well as professional trainees, have to attend training classrooms to improve their skills but today it is available online with the help of a number of software options available online. In order to know why a company should prefer virtual training over classroom training, you will have to compare their pros and cons.
Pros and cons of virtual and classroom training
Engagement of audience: Some learners prefer direct training from the instructor as his body language and several other things make a healthy learning environment. It can be possible in classroom learning as well as live online learning through some video conferencing tool like ezTalks Cloud Meeting etc. But in other types of virtual training like learning through videos etc. have their own pros and cons. Usually, adults like video training to get the immediate effect as per the needs of their job.
The flexibility of training: Virtual training provides flexibility to the students as they can skip the part, of course, they have already completed. They can use this time for more important works like learning the next lesson etc. The classroom training, on the other hand, focuses on equal training for all the students whether some of them need it or not. But it also involves the entire group to participate in a discussion which can help in getting as well as processing latest information. However, both the training options offer the opportunity to practice your new skills through hands-on exercises.
Convenience: Learners who have internet connection can learn anytime and anywhere through asynchronous virtual learning or through recorded videos. But in classroom training or live training through some video conferencing software like ezTalks Cloud Meeting etc. the students will have to follow a fixed schedule as they will have to remain in the classroom or in front of the screen at the set time.
Cost: The cost of virtual training is much less than classroom training as the students need not spend on traveling from their home to institution and back to their home. Moreover, people studying through recorded videos can learn without disturbing their work schedule. Similarly the cost of employees in virtual training is negligible once the video is created. But in classroom training or live online training, the cost of employees is calculated while assessing their overall cost. All these things can increase the cost of training the employees for a company
Protected learning: Though virtual learning allows you to learn in the comfort of your home or workplace it also distracts you from learning. The classroom training, on the other hand, trains you in a disturbance free environment and the instructor monitors the performance of the students.
How to create virtual training with ezTalks Cloud Meeting?
ezTalks Cloud Meeting is a video conferencing software that can help in creating virtual training in a very flexible and cost effective manner. It allows you to install it on any of your computing devices including Linux PC, Windows PC, Mac PC, iOS and Android devices. Here are 3 steps to create a virtual training with ezTalks Cloud Meeting.
Step 1. Download and install the ezTalks Cloud Meeting virtual training software on your PC or mobile devices. Take ezTalks Cloud Meeting for Windows as an example, you can get the latest version of the software from the following download button.

Step 2. Sign up with your email account or just sign in with your Facebook or Google account.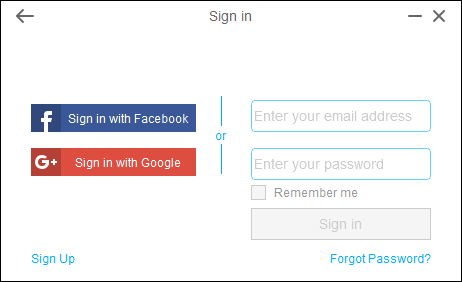 Step 3. After signing in this software, you can start conducting virtual training now by just clicking on the 'Start a Meeting' icon. This virtual training tool allows you to share your desktop screen, presentations through interactive whiteboard, files and applications with your employees as well as send text messages to your employees during the course of virtual training.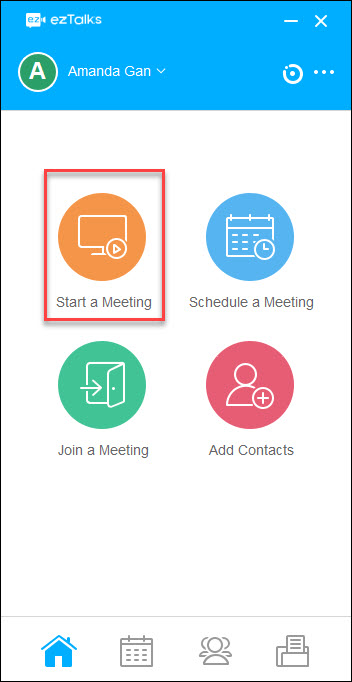 This virtual training software also allows the host to record some important parts or the entire training course and save it on your computer so that your employees can use it in future if they have missed something.
Conclusion
Though, both virtual training and classroom training have their own pros and cons still virtual training is preferred by the companies as it trains its employees as per the requirement of their jobs at a lower cost.