Active Speaker Mode on ezTalks Mobile apps
ezTalks has updated a tremendous feature,which is Active Speaker mode for the mobile apps,including Android,iPhone and iPad. This feature is also available on the PC apps as well. With the new feature,users will have a pleasant experience in video collaborating with team members.
Part 1 What is Active Speaker video mode?
When there are three or more participants in the meeting,ezTalks dynamically detects who is speaking and automatically shifts the video feed to the active speaker,which means the larger video window keeps switching to the active speaker. However,if it is just you and one other participant,your own video will be the smaller one and the participant is the larger one.
Part 2 How to enable theActive Speaker mode?
Sign in the ezTalks app on your iPhone,iPad or Android device. Go to More--Meetings and you can enable the Active Speaker mode as below: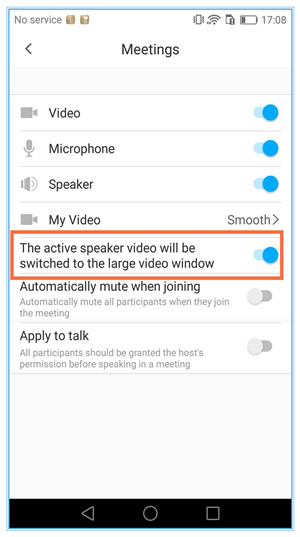 Download the apps to enjoy the new feature now!